Augmented reality (AR) is defined as "an overlay of visual elements, sound, or other sensory stimuli onto the physical world in order to enhance one's experience." Its main difference from virtual reality (VR) is that it adds to the real world, rather than creating a completely new, alternate one.1 Both realities, however, are immersive and are being used by brands to engage customers and prospects in three-dimensional ways.
In this realm, augmented reality piques our interest for several reasons – its potential for mainstream adoption through smartphones like the iPhone 12 Pro, platform enhancements by Google, Pinterest and Snap, and its pandemic-fueled growth as marketers work to improve both the online and brick and mortar shopping experience and expedite consumer decision-making.
In a recent study, more than 5 in 10 consumers claim to "actively seek AR experiences," and while Gen Z dominates, older millennials and Gen X also demonstrate interest.2 In the words of a strategist conducting tests with 5G phone owners, "those exposed to AR love AR." Its immersive nature has broad appeal.3
The best way to understand how this technology contributes to the world of food and beverage is through examples. Here are a few from the last decade that bring it to life:
CPG
In this segment, brand packaging, print ads and mobile apps are leveraged as springboards into an AR experience.
M&M's Mix Bags scannable print ad launches a Snapchat experience involving M&M characters revealing how the different flavors are getting along inside the bag.4
Coca-Cola's mobile app and scannable cans and bottles unlock holiday polar bear experiences.5
19 Crimes Snoop Cali Red's scannable labels bring stories of crime and punishment to life.6
Absolut Vodka's mobile app and scannable bottle neckhangers take users on a 3D tour of Åhus, the Swedish village where the vodka is produced.7
Jack Daniel's mobile app and scannable bottles launch pop-up book style dioramas to tell stories about the brand, product and distillery process.8
Francesco Rinaldi Pasta Sauce's mobile app and scannable label brings Mrs. Rinaldi to life, as well as tells a sustainability story about the jar.9
RETAIL
While other retail segments such as beauty and fashion are exploiting AR opportunities, grocery retail lags behind, with few examples.
Kroger's DigitalFood mobile app and scannable circulars allow shoppers to unlock deals, price and item information.10
Coop Sverige's mobile gaming app transforms grocery shopping into an interactive opportunity for Swedish kids to play along during the trip. They can plan a menu with parents, choose recipes and then help find the ingredients within the store.11
RESTAURANTS
Even pre-COVID-19, analysts were suggesting that AR had the potential to "reinvent the dining experience from ordering to employee training to entertainment."12 There is ample evidence of its broad applications for brands, especially in QSR:
AR gifting, where cutomers scan a code within the restaurant to pull up a menu of items and dishes to gift. The recipient then receives a mobile AR experience when opening it.13
Domino's,where customers can create their own pizza and bring the food to life in front of them virtually.14
White Castle's scannable comic book art on collector's cups.15
Panera's Facebook and Snapchat filters triggered by yawning into a phone, which then displays a sunrise, cup of coffee and an animated breakfast tray.16
Burger King's mobile app that overlays fiery images on top of competitors ads in Brazil and burns them away to reveal a coupon for a Whopper.17
Starbucks mobile app that invites patrons of The Reserve Roastery in Shanghai to point their phones at key, on-site features and receive a digital tour.18
The proliferation of augmented reality is coming. Now is the time to think about it in new ways. How might it be used to enhance product education for consumers or operators? Could it drive efficiencies for the salesforce? How could it bring your product to life on a crowded shelf? And lastly…what could it mean for your trade show booth? Happy brainstorming!
[1] Investopedia.com
[2] "AR's role in shopping poised to swell in next 5 years, Publicis and Snap find", Marketing Dive, 5/27/21
[3] "5G promises to unlock wider adoption of AR in marketing", Marketing Dive, 4/15/21
[4] "BBDO New York's Print Ad for M&M's Mix Bags Is Not Your Average Print Ad", Adweek, 5/25/21
[5] "Coke brings cartoon polar bears to life with AR-activated cans", Marketing Dive, 11/06/19
[6] "Snoop Dogg's for-thepeople label and an exclusive club mark extreme poles of the wine world", The Washington Post, 9/11/20
[7] "Absolut Vodka launches augmented reality app", Campaign Alive, 1/24/12
[8] "Jack Daniel's turns bottles into pop-up books with AR app", VentureBeat, 4/15/19
[9] "Leading-edge New Mobile App Now Available from Francesco Rinaldi®; Links Tradition and Innovation", PRNewswire, 11/01/18
[10] "Kroger's Food 4 Less feeds appetite for deals via augmented reality", Retail Dive, 5/20/15
[11] "Grocery store chain engages and retains shoppers with immersive augmented reality game", Microsoft, 1/22/21
[12] "How Augmented Reality Is Transforming the Restaurant Industry", AR Post, 8/01/19
[13] "How Restaurants Are Using Interactive AR in 2021", Street Fight, 2/16/21
[14] "Domino's debuts augmented reality pizza ordering", CMO, 11/08/18
[15] "White Castle teams with Coke on AR-powered collector's cups", Marketing Dive, 3/17/21
[16] "How Panera Reached Guests Through Augmented Reality", QSR, 6/20
[17] "Burger King sets rivals' ads aflame with AR app", Marketing Dive, 3/21/19
[18] "Through the looking glass: Starbucks' first in-store augmented reality experience", Starbucks Stories, 12/06/17
Source: Engaging Buyers Using Augmented Reality | Thought for Food™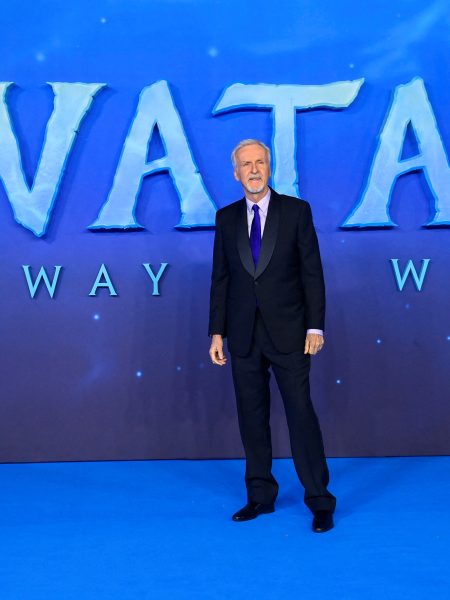 Could the metaverse help predict and produce movie blockbusters? | World Economic Forum
James Cameron, promoting his new Avatar film, which used metaverse-comparable methods during shooting. Image: Reuters/Toby Melville The metaverse is expected to open a $10 billion opportunity in Indian media and…