Six Epson laser projectors fixed with a UST 'periscope' lens, are providing a 360° experience designed by Sysco Productions at a new DC-Comics themed restaurant and bar venue in London.
The Monarch Theatre is a 20-seat restaurant venue, serving an eleven-course tasting menu with drinks for £195 per person, subtly paying homage to some of DC universe's most iconic super heroes and super-villains. Dishes by Exec Chef Karl O'Dell (formerly of Michelin-starred Texture) take guests on a culinary and visual journey with the help of floor-to-ceiling screens and 360-degree projection mapping.
Located within a new Park Row DC Comics-themed hospitality venue to be opened by Wonderland Restaurants in London, the Monarch Theatre experience is designed to trigger specific emotions through the environment of the room and the food on the table which tie into the theatrical narrative of the evening. Highlights include a 'poisonous' mushroom made from a rich and earthy parfait; a decadent scallop, oyster, caviar and white chocolate dish topped with gold leaf; a USDA Black Angus tenderloin with truffle fit for the Bruce Wayne dinner table; and edible jewellery.
In DC lore the Monarch Theatre was once the epicentre of entertainment for Gothamites until it shuttered its doors following the tragic deaths of Dr. Thomas and Martha Wayne in the alley adjacent to the iconic movie house over 20 years ago.
To immerse guests into the Monarch Theatre experience, a 360-degree projected surrounding is provided by 6 x Epson EB-L1075U laser projectors, all fixed with an ELPLX01 ultra-short-throw 'periscope' lens, which delivers varying content across each course. The display solution is delivered and installed by AV solutions experts and story engineers, Sysco Productions.
Sysco Productions was approached by Wonderland Restaurants, which had a vision to do something truly original and stunningly impactful with their latest restaurant project. Wonderland wanted to weave a narrative through the dining experience, combining world-class gastronomy, with the iconic stories of Gotham City, which Sysco brought to life through multi-sensory immersion. It was clear from the outset that the media would need to be crafted in a way that would intrigue, amaze and delight the fans of these stories, as well as conjure up the sense of the characters without overtly referencing them.
Sysco Productions assembled a multi-disciplinary team, including ISO Design (which designed and produced the extraordinary media), Fraser Randall (project management), Epson (projection technology), to craft and deliver the experience.
Teresa Juncosa, Sysco's engineering director and lead AV designer for Park Row, commented: "This has been an incredibly exciting and unique project, and it's one that gave us a real scope for creativity in that its goal was to push the boundaries of the sensory dining experience. Working with Wonderland offered an amazing opportunity to collaborate with a team who were equally as passionate about designing the perfect show technology that would enhance the DC Comics story narrative, and deliver an extraordinary experience."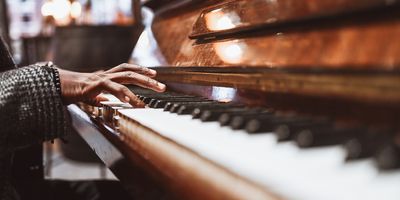 Learning to Play Music May Improve Multisensory Processing, Reduce Depression | Lab Manager
ISTOCK, ALEKSANDARGEORGIEV According to a small study published in Scientific Reports, learning to play the piano can improve one's ability to process multisensory information and reduce depression, anxiety, and stress. Researchers from…