Visitors smell Nichole van Beek's artwork made with mushroom foam combined with beeswax, rose petals or hemp seed at the Sustainable Studios exhibit at Millersville University's Eckert Art Gallery. The exhibit, which runs through May 5, features art made with biodegradable and found materials.  Michelle Johnsen
When Samantha Sanders needs ink for her artwork, she doesn't hit the nearest art supply store or shop online. Instead, she visits the black walnut tree growing beside Manada Creek in her parents' backyard in Grantville. She knows 20-25 whole black walnuts will yield enough ink to fill a medium-to-large-size Mason jar.
That's enough for the 2016 graduate of Pennsylvania College of Art & Design to create her yearly output of about 20 works on paper. After the walnut tree, she heads over the neighbors' field and forages for some goldenrod she can use to make a rich yellow-hued ink.
Sanders' work is featured, along with three other artists, in Sustainable Studios — an exhibit of eco-friendly art work and series of programming and workshops — at Millersville University's Eckert Art Gallery on view through May 5.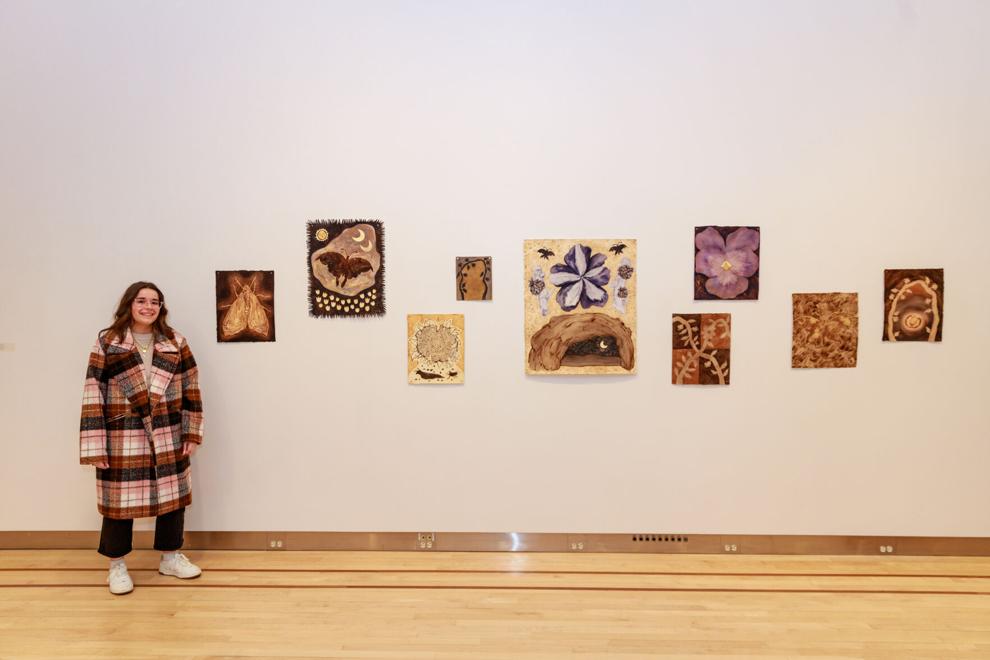 Positive energy
Heidi Leitzke, an associate professor of art at Millersville University and director of the Eckert Art Gallery, says she was inspired to curate the exhibit by her own love of nature and the general growing sense of urgency to protect the planet.
"If you love a particular landscape, then you feel this desire to care for it and preserve it for future generations," Leitzke says. "I think that kind of sentiment probably would feel familiar to lots of people in Lancaster County, because we have such a beautiful environment around us."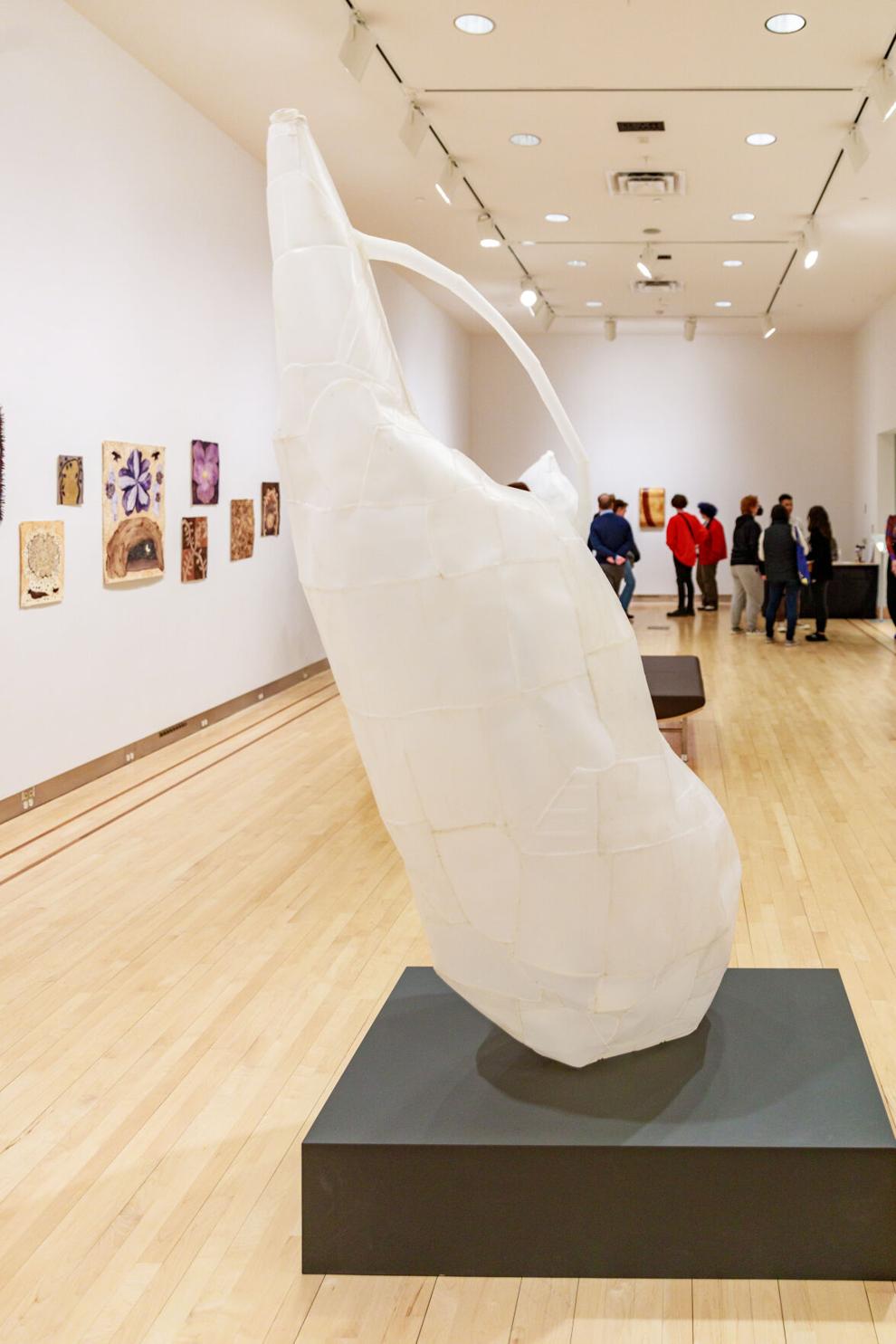 The college campus is an ideal place to talk to future generations, and Leitzke found that climate change was one of the students' main concerns.
"Last year a student was applying to be an intern for the gallery and I asked her, 'What are some of the concerns that you and your friends have?' Climate change was one of the things she expressed that she and her friends were really upset about and having anxiety related to that," Leitzke says. "I wanted to create an opportunity for some conversations about that on campus."
The Sustainable Studios exhibit is supported by Millersville University's Positive Energy Fund. The program funds student and staff-led projects that address social needs while protecting the environment through sustainable practices. Funds come from utility rebates from the Lombardo Welcome Center — a zero energy building which produces its own energy onsite through renewable sources and is one of only 100 buildings of its kind in the country.
Living colors
The Sustainable Studios exhibit features work from four artists using diverse sets of materials to create their pieces. Along with Sanders' bio-ink creations, there's Nichole van Beek's wall-mounted sculptures made from mushroom foam and kombucha leather. There are also Jill Good's traditional hourglass-patterned quilts using discarded household items and worn clothing, and Silas McDonough's elegant sculptures using reclaimed industrial material and found objects.
"One of the things that happened at the opening for this show that probably hasn't ever happened (at an Eckert Art Gallery show) before is that people were smelling the artwork," Leitzke says. "Some of Nichole's pieces have aromatic materials combined with the mushroom foam like beeswax, rose petals or hemp seed that you can actually smell."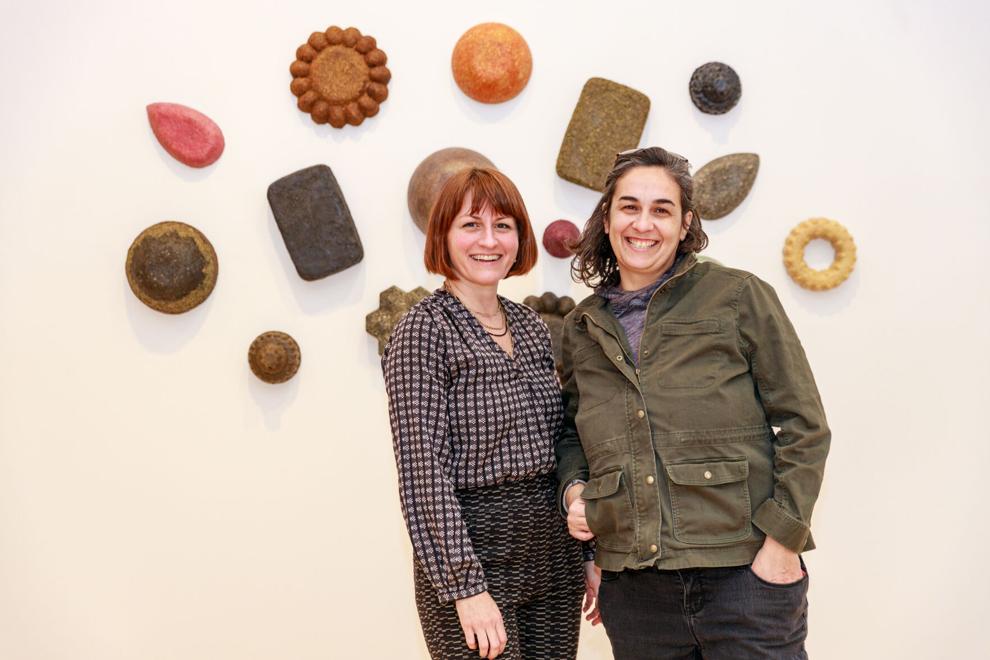 Much of the media used in the show is made from biodegradable materials. Leitzke took the opportunity to pose questions to viewers to explore while viewing the work, like what does sustainability mean for artists and makers? Or, does this work of art need to last forever?
"I like that my work has an ephemeral quality to it," says Sanders, 29, of Philadelphia. "I don't make the work thinking this needs to last 1,000 years. I like that, for the most part, it's biodegradable. So, at some point, if it can go back into the earth, that's fine."
While her work may not last for 1,000 years, Sanders is using techniques that artists may have used more than a thousand years ago.
"There's history behind it," Sanders says. "For thousands of years people were making paint out of things they could find."
Sanders says she began to explore the idea of foraging for material to use to make her own ink, as well as paper, after earning her master of fine arts from Pennsylvania Academy of Fine Arts in 2018. During her years as an art student, Sanders says she was making large pieces on canvas. While her subject was still gardening and nature, her materials were synthetic petroleum-based acrylics, glitter and other non-biodegradable items.
"I was using materials that were bad for the environment," Sanders says. "And I'm giving money to these companies who are pulling oil up from under the ground and making these, you know, polymer-based things."
Sanders says continuing to paint with those materials didn't feel right, so as a way to inspire herself, she began to look for alternative materials.
"It was a way to be in nature and try something new," Sanders says. "Once the pandemic hit in the spring of 2020, it was a great way for me to get outside and out of my little studio apartment after being cooped up for so long."
Soon, she was making her dreamlike earth-tone works on paper depicting plants and animals using ink made from black walnuts, goldenrod and even food scraps like avocado pits and onion skins.
Sanders says her homemade ink can last several years. An ink made from goldenrod begins as a bright, almost neon, yellow and over time ages into a softer, warmer tone.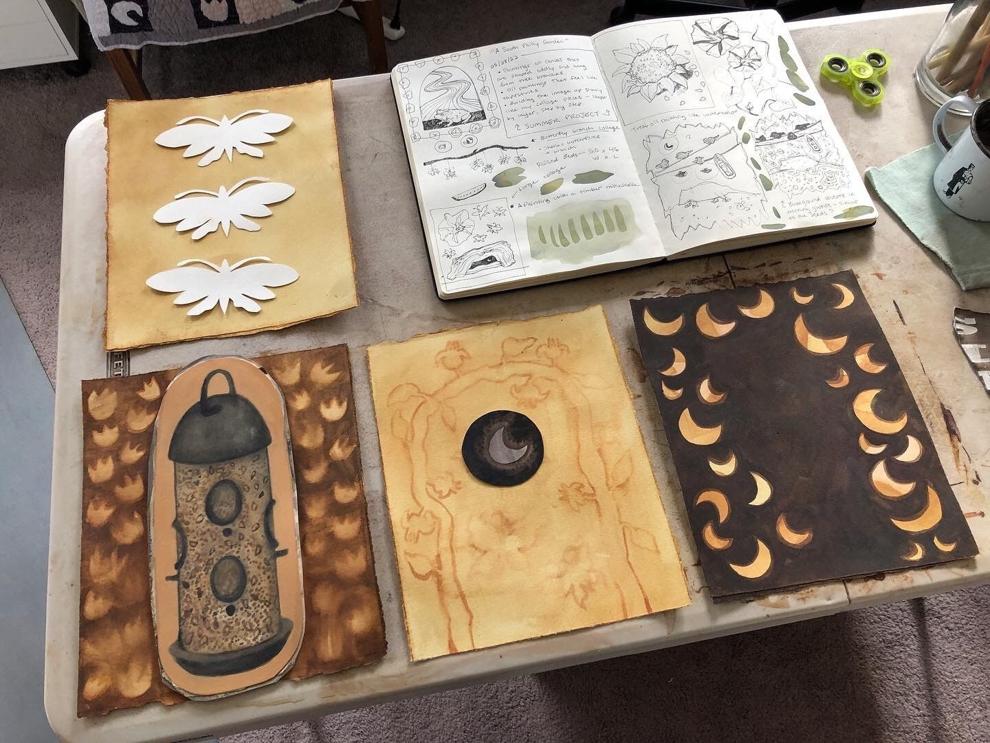 "I make sure to tell everyone that your ink is a living color so the color will change over time," Sanders says. "I like that transformation because again, it's alive. My work is about plants, animals and ecosystems, so I like that I'm taking a piece of the natural world, and it's infused in everything I'm doing and it's going to change."
She's currently planning her spring container garden on her patio, which will have milkweed to attract monarch butterflies she hopes to paint. She's also researching if there are native flowers she could use to create ink.
"It's mainly just a resource to go out and paint from life and build that deeper connection with nature," Sanders says. "And then I can turn those experiences into future paintings."
Source: Art made from mushroom foam, walnut ink and more featured in Sustainable Studios exhibit | Entertainment | lancasteronline.com