If advisors have clients staying in suites on Discovery Princess or Enchanted Princess, we'd suggest encouraging them to accept Princess Cruises' invitation to the new "360: An Extraordinary Experience." With commentary by actress/model Brooke Shields, it's a fabulous, immersive Mediterranean-focused experience.
Bottom line? Once travelers enjoy this special experience, many will likely be motivated to head for the future cruise office aboard or call their travel advisor to book a Mediterranean cruise—and to do so, right now!
Beginning the Journey 
Travel Agent boarded Discovery Princess at the Port of Los Angeles recently to experience this new offering first-hand. It's an orchestrated, multi-sensory "journey" through the Mediterranean—from the hilltops of Santorini in the Greek Isles to Italy's Amalfi Coast, vibrant Barcelona, Spain, and the lovely lavender landscapes of Provence in France.
Guests can expect a mix of storytelling, a seven-course gourmet experience, local fine wines (many not readily available elsewhere) and stunningly gorgeous visual entertainment that unfolds around the room on massive LED screens. The experience was introduced late last year on Discovery Princess, and then added to Enchanted Princess in February 2023.
It's an invitation-only event reserved for suite guests (tip: check below for some other ways to possibly snag a reservation). Two 90-minute experiences are offered nightly. From our perspective, it's far from a simple travel presentation. It's a "deep dive" into the lifestyle, culture and tales of each region—with vivid storytelling, tastes, sounds and aromas.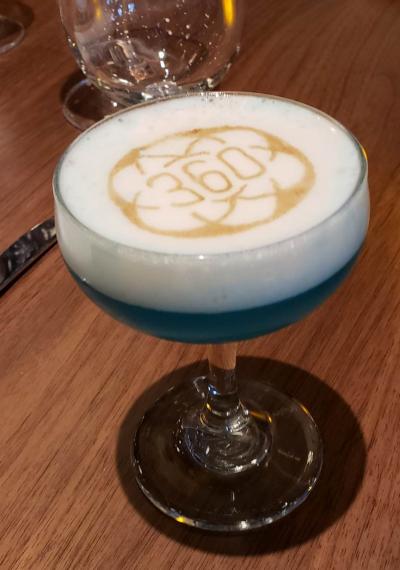 Here's how the "360: An Extraordinary Experience" unfolds. First, guests meet in the ship's atrium. They're invited, like movie stars, to pose against a backdrop, with the ship's photographer on hand to snap their photos. Those photos are then used later in the program. So, posing nicely is great, but so is striking a fun pose.
To begin the experience, guests are asked if they'd like a creative, cool cocktail (see photo at right), with the "360: Extraordinary Experience" logo. This tasty drink is crafted using blue Curacao, Riesling wine, Grey Goose vodka, cachaca, lemon juice, apple syrup and pear puree. Nonalcoholic alternatives are also available.
Then, two violinists arrive to serenade guests with classical tunes. A short time later, the "360: Extraordinary Experience" host (a tour guide of sorts) introduces themselves. They invites the guests to "follow us" and, fittingly, the violinists lead the way as they transition their music into a fun rendition of "The Love Boat."
So, guests follow and venture a bit deeper inside the ship to a window-less private dining space. It's not viewable as a public space to other guests. (It's good to tell clients, though, that once inside the private dining room, guests are not permitted to take photographs during the experience itself.)
A Visual Experience 
Large, wall-mounted curved screens (akin to those within a small movie theater, rather than a bunch of smaller TV screens) surround the room. Guests are directed to one of two large curved tables, located on opposite sides of the room. This experience can accommodate 20 guests at a time, 10 at each table.
One nifty thing? Diners' names are projected on the table so they'll know exactly where to sit. Akin to a ringmaster, the host then orchestrates commentary—descriptions of what's about to happen—from the center of the room. They also open wine bottles and direct the servers when to place the plates or drinks in front of guests.
Guests have attentive servers providing them with small plates, courses and wine pourings. In addition, guests also see something else on the table—fun animation projected at certain times. For example, we had a small bull and, on another occasion, bees that showed up on the table in animation. The bees showcased the production of lavender and honey in making a particular dish that guests were sampling.
At other times, guests push their hand across the table to create/stop the animation action. But it's not continual animation, and we felt the mix of elements was just right. Tech-wise, the venue personalization is enabled by the OCEAN platform that powers the exclusive MedallionClass on all Princess ships,
While the host provides live commentary to introduce what's happening throughout the journey, much of the time, the enticing Mediterranean destination videos on the LED screens tell the tales. Shields' storytelling reveals interesting factoids about "the locals," their lifestyles and agricultural products.
The servers and host leave the room at times, allowing guests to enjoy the visual experience without distractions. On continual LED wall screens that encircle the room, guests watch 4K cinematography, enjoying 360-degree views of such lovely destinations as a Provencal vineyard, a Spanish cantina or whitewashed Santorini homes.
Genuine in Nature
Despite the high-tech approach, we truly liked that the entire experience seems to unfold naturally. In other words, it doesn't feel "contrived." It's also not a thrill show. So, you won't feel that you're in a theme park experience. To us, it was relaxing and genuine in its nature. It's also clearly designed to promote the Mediterranean region, but we never felt that it was hard sell or a pitch from the line.
While soaking in the sights and listening to Shields' commentary as well as tales from the locals (regional artisans, vintners or growers), guests will sample small plates or appetizers, sip on local wines, savor a main course and "ooh" and "aah" at many sweet treats.
We enjoyed watching video of a quaint Greek fishing harbor, waves on the water and street musicians, while tasting grilled octopus and sipping on a Santorini cocktail. During the Amalfi Coast part of the programming, we tasted wine from the Naples area while enjoying fresh Italian mozzarella and heirloom tomatoes. In particular, we'd recommend the spaghetti a limone, which is pasta with a fabulous lemon flavor.
Tip for clients? Tell them to turn around at times to get the complete destination experience. Some scenes vary from one side of the room to the other. Even the two doors on either side of the room become a video screen. That gives the complete "in the round" feel to the experience.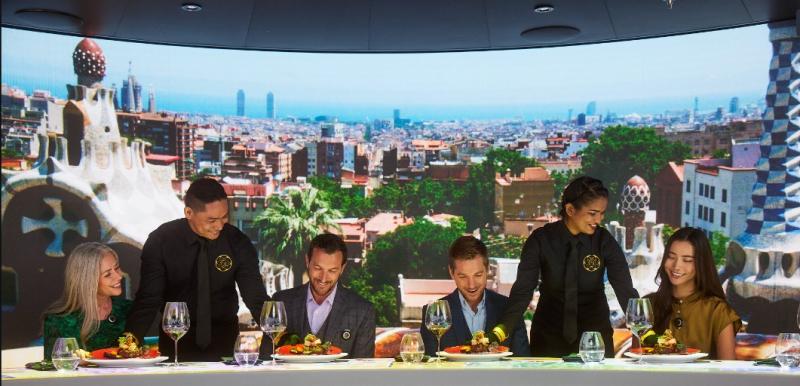 In immersing ourselves in the Spanish experience, we savored a succulent steak and tasted Spanish grenache that's unbelievably aged for six months "underwater." Yes, that's correct. Cruise guests, in particular, are enchanted by the undersea connection. The bottles are placed undersea for six months near Costa Brava. As servers pour the grenache, guests can even see barnacles on some of the bottles.
Many wines served during the "360: Extraordinary Experience" are local and not available to order elsewhere on the ship or anywhere outside of the local destination. Important tip: During the program, you'll sip and savor a lot of food and beverages. So, be sure to arrive with a good appetite.
The experience concludes with a visit to France, during which guests learn about edible flowers and the music of France. Thanks to the animation, they'll look down to see lavender sprigs swirling across the table. Guests will also learn about the Drappier family, makers of champagne for more than 200 years. So, corks pop, Champagne is poured for guests and "virtual bubbles" float to the ceiling via the LED screens as guests listen to strains of "Can-Can" music.
Toward the end of the program, those guest photos taken earlier in the experience also show up on the LED screens. And chefs and servers gather in the center of the room to say a fond farewell.
Nitty Gritty Details
While this experience is open by invitation only to suite guests on Discovery Princess or Enchanted Princess, there are a few other ways that a guest might snag an invitation. One way is to book a future cruise with suite accommodations on any Princess ship, including Princess Premier at a non-cancelable rate. Princess may also choose to extend an invitation to guests who participate in specific "VIP" casino gaming and retail event sailings.
Each guest taking part in "360: Extraordinary Experience" will receive a limited edition "360" Princess Medallion, only available to guests participating in this experience.
As stated earlier, the best part of this experience for travel advisors is that if clients haven't booked their next cruise to the Mediterranean, they may be ready to do so immediately after exiting this relaxing "trip" through the region. So, be sure to call or email clients immediately after you know they've completed the experience. Ask them how they liked it.
From our viewpoint, it's a fabulous marketing tool for the trade. How so? This synchronized Mediterranean journey effectively immerses people in the sights, sounds, textures and scents of the Mediterranean. Personally, we were ready to book a European vacation right away after the experience concluded.
For more information on "360: Extraordinary Experience," visit www.princess.com.
Source: On Site: Princess Cruises' Multi-Sensory Dining Experience