Olfaction may play an important role in the motivation to seek voluntary exercise, according to a new study. The University of California, Riverside (UCR) researchers speculate that "individual differences of exercise habit may be accounted for by a differentiated perception of specific smells."
How are certain smells linked to exercise motivation?
The recent study (Nguyen et al., 2020) of the chemosensory system and voluntary exercise behavior in mice suggests that activating specific pheromone-sensing neurons can motivate mice (and other mammals, such as humans) to seek aerobic activity by upregulating dopaminergic reward via ventral tegmental area (VTA)-nucleus accumbens (NAc) circuitry. These findings were published on Nov. 25 in the peer-reviewed journal PLOS ONE.
For mice living in laboratory environments, voluntary wheel running (VWR) is equivalent to a "runner" being self-motivated to jog on a treadmill or a "biker" taking a spin class remotely on a stationary bicycle at home. In general, mice like to exercise more than humans; but just like people, some mice are more eager to seek exercise than others. As the authors explain, "VWR is an intrinsically motivated and naturally rewarding behavior, and even wild mice run on a wheel placed in nature."
"Some people like to exercise more than others do, but why this is so is not well understood," lead author Sachiko Haga-Yamanaka of UC Riverside said in a news release. "Taken together, our results show vomeronasal receptors as trait locations for voluntary exercise behavior in mice."
"It's not inconceivable that someday we might be able to isolate the chemicals [i.e., smells] and use them like air fresheners in gyms to make people even more motivated to exercise," senior author Theodore Garland added.
For their recent (2020) chemosensory system and exercise behavior study, UCR's Garland Lab used a selectively-bred strain of "high runner" (HR) mice that are predisposed to like voluntary wheel running more than typical mice. HR mice are akin to "cardio fanatics" and are intrinsically self-motivated to exercise more than the average mouse. Garland's lab has a High Runner Mice website dedicated to their ongoing HR mouse experiments.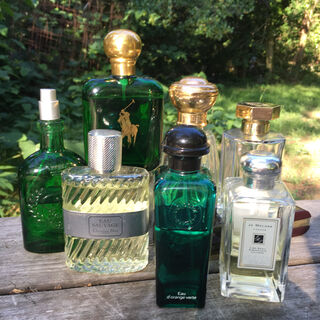 Source: Christopher Bergland
Specific Smells Have Been Motivating Me to Voluntarily Exercise for Decades
The latest Nguyen et al. study provides neuroscience-based insights into something I stumbled on as a pheromone-driven teenager who wore obnoxious amounts of cologne in the early '80s and discovered that specific smells inspired me to run longer and harder. In a Proustian way, certain smells instantly take me back to what it felt like to be seventeen on an endocrine level and make me feel young again.
Even as a middle-aged person with a middle-of-the-road libido, smells from my adolescence—such as classic Coppertone sunscreen mixed with a spritz of vintage Polo Green cologne—still give me a "Vroom!" feeling that gets my juices going. The same smells that I used to run five back-to-back marathons through Death Valley in near 130º heat and to break a Guinness World Record by running 153.76 miles on a treadmill decades ago, still motivate me to go for daily jogs at a "conversational pace."
On days when I'm feeling unmotivated to exercise or lack the oomph to get-up-and-go, I'll use the olfactory combination of sunscreen and a retro powerhouse fragrance from the '70s or '80s to kickstart my motivation. Many of these old school fragrances contain animal-derived "musk" ingredients that have since been banned or are prohibitively expensive.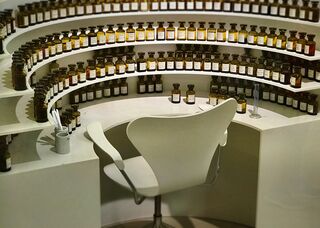 Source: Tristan Mimet/Pixabay
Since the 1990s, most perfumers use cruelty-free synthetic musks that trigger the same pheromone response as natural ingredients derived from the ambergris of sperm whales or Himalayan musk deers' glandular sacs (i.e., "musk pods") that hold a pheromone-rich liquid that arouses sexual attraction during their mating season (Aryal, 2005).
In my first book, The Athlete's Way (2007), there are numerous examples of how I used aromatherapy to optimize both mindset and performance throughout my ultra-endurance sports career. As a science reporter and blogger, I've written about the power of olfaction to help people step outside their comfort zones and how smells can drive human behaviors or unleash primal motivations. But, until now, there's been relatively little evidence-based research into the phenomenon of specific smells being an olfactory-driven motivator to seek physical activity.
Olfaction and Exercise Motivation May Go Hand in Hand
The latest research into olfaction and voluntary exercise motivation by Garland and his team at UCR suggests that vomeronasal sensory receptor neurons that pick up the smell of pheromones and other scents may trigger VTA-NAc activity in ways that promote physical activity. Based on their findings, the authors "propose that olfaction may play an important role in motivation for voluntary exercise in mammals."
"Olfaction is especially important for controlling such intrinsically motivated behaviors as food-seeking, social interactions, and reproductive- and fear-driven behaviors," the authors explain. Previous research (Ben-Shaul et al., 2010) has shown that the vomeronasal organ (VNO) plays a vital role in mediating pheromone-induced social and sexual behaviors. Now, it appears that this same chemosensory system may also motivate voluntary running behaviors.
"Although the role of the vomeronasal chemosensory receptors in VWR activity remains to be determined, the current results suggest that these vomeronasal chemosensory receptors are important quantitative trait loci for voluntary exercise in mice," Nguyen et al. conclude. "Combined with these previous observations, we propose that chemosensory signals detected by the VNO activate specific areas of the central nervous system that contribute to voluntary wheel running activity. Future studies are expected to reveal the role of the VNO in modulating physical exercise and other voluntary behaviors in rodents."
References
Quynh Anh Thi Nguyen, David Hillis, Sayako Katada, Timothy Harris, Crystal Pontrello, Theodore Garland Jr., Sachiko Haga-Yamanaka. "Coadaptation of the Chemosensory System With Voluntary Exercise Behavior in Mice." PLOS ONE (First published: November 25, 2020) DOI: 10.1371/journal.pone.0241758
Source: Need Motivation to Exercise? Olfaction Is a Primal Motivator
Recent smell-related articles