Robert John's dad came to the UK more than 50 years, he didn't really have much when he arrived but he built a life. A Pakistani man, who was Catholic but also played the role of the head of the family in the South Asian community he raised his children in. An identity that started to fracture as his hands started to tremor and his memories left him when he was diagnosed with Parkinson's in 2000 and then Alzheimer's too, he died in 2009.
Robert, 49, is an artist living in Tooting and his latest work relies heavily on surrealism and interpreting the world around him, he draws from the life his dad experienced in the years after he was diagnosed. Speaking to MyLondon, Robert said: "My dad never saw my work before he died, and we never talked about it."
For Robert, the project while exploring reality also explores displacement and selfhood, not really feeling like he had a space to belong as a first generation South Asian Pakistani man who grew up in a strict Catholic family. He adds: "Coming from a Catholic background and Pakistani background growing up in the 1980s. [I thought] where do I fit – [it's] the displacement that people who come from a lot of cultures feel."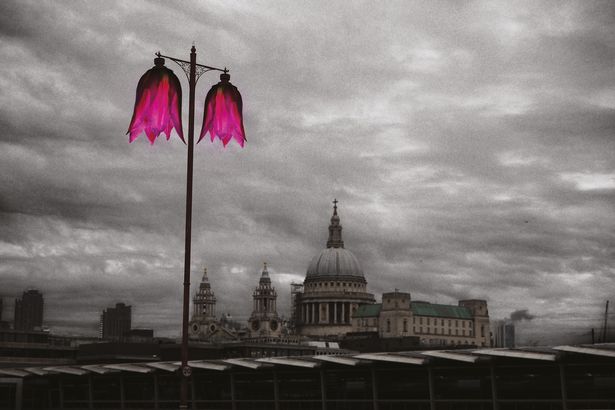 He grew up alongside his five sisters so as the only boy he felt there was always a sense of responsibility on his shoulders and being part of a big family filtered into the way he worked and his work itself. He said: "It filtered through to my work, being quiet and creating this thing quietly, being in a big family it's hard to be loud. If you are introverted and like art in the South Asian culture it's very strange or was then [in the 80s], but later this played a part in me accessing that world more in terms of my imagination."
He tells of the way his dad started to see and smell the world as his Parkinson's accelerated, adding: "He would see things not visible to the rest of, he would see children running around the house, but it was so real to him. One time he saw that the stairs were on fire and he wouldn't go up them. He was sweating and wouldn't go up the stairs."
Questioning the perception of what reality is through the reality his dad built for himself each day and also building a coping mechanism for himself, Robert's art explores what our concepts of reality is and what we choose to actually see. His work explores a surreal version of London that falls somewhere between a sci-fi fantasy novel and perceived reality.
He adds: "It's almost like having one foot in this reality and another in another world. It's the residual effect of what my dad went through."
Robert who didn't share his work with his dad also didn't share his work with his community, he added: "It's like there is this cultural deniability of Parkinson's, they didn't see the tremors and refused to accept his illness. All of us did to an extent."
"My work was very compartmentalised and very separate because the attitude was 'right we are going to pretend like nothing is wrong. We won't talk about it and carry on like we are.' I don't think the people in my community were trying to ignore the illness out of ignorance but in their way trying to keep dad's dignity and position [by not acknowledging what he had]."
Robert adds that growing up in the 80s, "we weren't raised to talk about these things." He said it took him a long time to talk about his art and his dad's experience adding: "I kept thinking am I using this for a purpose or is this something I genuinely feel."
Years later after counselling and talking to galleries, he has concluded that his work is a genuine reflection of his experience with his dad who lived with Parkinson's and Alzheimer's and he is sharing his work. You can find out more about the exhibition here and follow Robert's work on his Instagram.
Source: 'My dad's Parkinson's got so bad he started seeing and smelling things that weren't there' – MyLondon