Even with our newfound facility online, going virtual with food tours might sound like a bridge too far. And yet, for food explorer and founder of Wok 'n' Stroll, Karni Tomer, virtual food tours were not just a lifeline, but an opportunity to create incredible experiences around food that were no longer bound by geography.
WiT spoke to Tomer who was featured in GEVME's Virtual Experience Makers Episode 2. According to her, it all started as a way to keep her own spirits up, as overnight, her food tours were suspended due to Covid-19.
Unsure what to do with herself, Tomer did what she knew – headed into the kitchen, where she started making comfort food, or as she puts it "everything with flour [because] carbs make people happy".
Tomer also knew that she was not alone in being shaken and upset by the pandemic, and wanted a way to reach out to people and cheer them up. Soon, what started out as therapeutic cooking became a daily live cooking class, which led to her being picked up by Airbnb Experiences.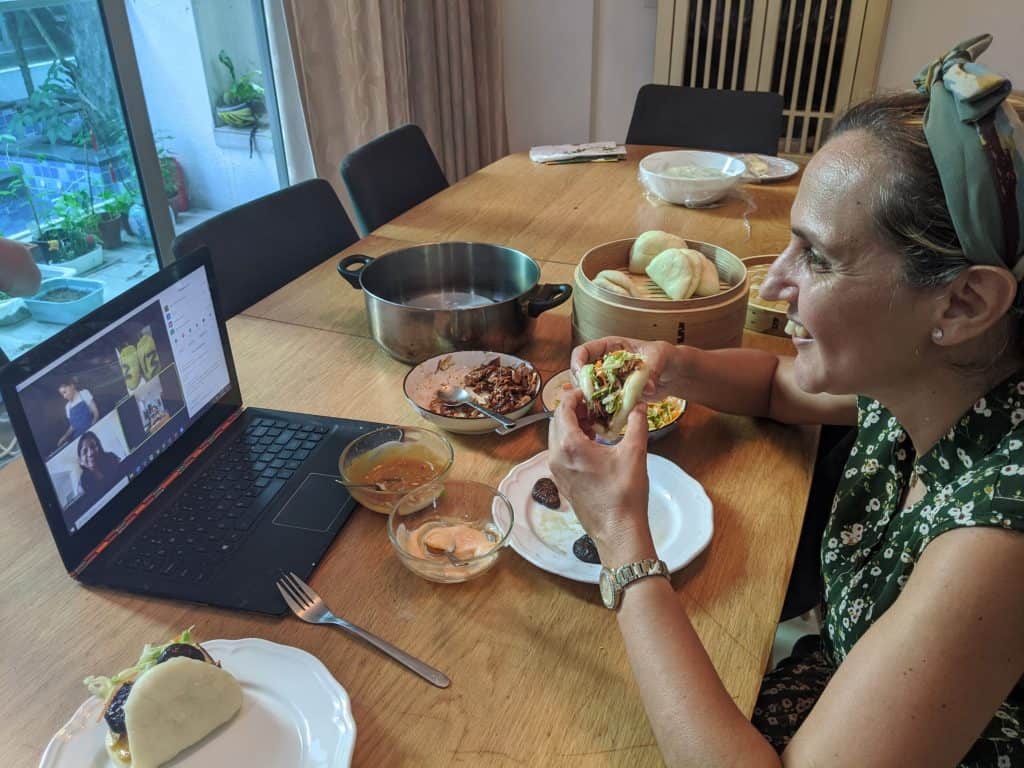 Of the three experiences in Asia then, Tomer's was the only one that had audiences cooking right along with her, and she realised that her virtual set-up would need to become much more sophisticated to do justice to the experience she wanted to share.
Right in the middle of circuit breaker though, Tomer had no way of bringing in a professional TV crew, so she did what any parent would – she roped in her three children as "crew", and just like that, Tomer was creating virtual food experiences for guests from all over the world.
With the help of platforms like Airbnb and Viator, word of Tomer's virtual cooking classes got around, and today Tomer also conducts her classes and presentations for corporates in Singapore and around the world.
"I think it takes them away from the routine, from the terrible news, from the stress. And for two hours, I'm taking them to Singapore, I'm taking them to a different country without buying any plane tickets." Tomer reflects on what she does, saying that guests can "make some flour, prepare some ingredients, and join me [in] my kitchen, or even to the Marina Bay area for a tour."
Hybrid elements lend another dimension to the experience
As Singapore emerged from Circuit Breaker last year Tomer began hybridising her virtual cooking classes, combining elements of virtual tours such as a visit to the hawker centre or the market, with a cooking class that follows it.
One of her more recent hybrid events took a group of university students from Boston to a hawker centre for a local Singaporean breakfast of kaya toast and kopi followed by a trip to some of Tomer's favourite stalls in Hong Lim and a durian "smelling" experience.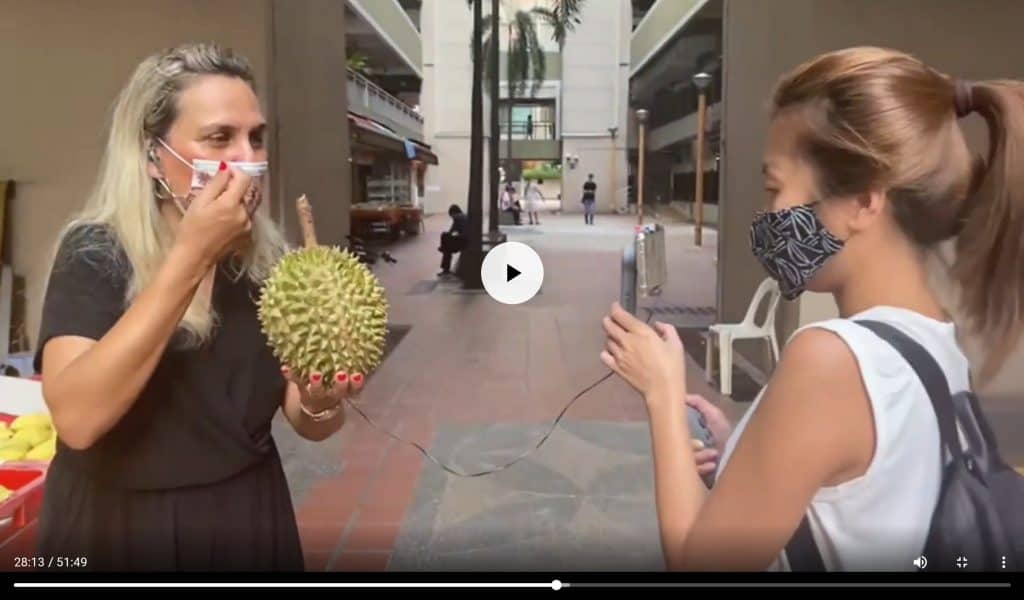 After a break students joined her again for a lesson in how to make satay and spring rolls, which the students followed along with at home.
Tomer describes the experience, "in three hours, I took them away from Boston, brought them to Singapore, they defrosted a bit, and they enjoyed the whole experience, which was virtual."
Watching some of Tomer's "must eat" videos, you can practically smell the "wok-hei" and the spice (which makes me really curious about that durian smelling experience), and that is one of Tomer's gifts; her interest and delight in the food she explores means she captures the moment and transmits it right through the camera to viewers at home.
How to make it look professional – with a little help from the family
Though she makes it look effortless, the reality of creating high quality virtual experiences is anything but. One of the first things, Tomer says, was that it was important to look professional. "I prefer to take a photographer that will go with me, rather than walk with the selfie. I know that when I do a cooking class, I want to zoom inside the pot."
"People want to see, because it's so difficult to engage people that are on the other side of the world," she continues, noting that there are already numerous hurdles with guests who may be working with substitute ingredients, or have dough that failed to rise, so for her part, she works to ensure the experience is as seamless as possible.
Tomer leaves the technology to the experts so that she can focus on telling a story and creating an experience for guests, which also means really understanding what they are looking for in a virtual experience.
This, she says can be pared down to understanding her audience, and understanding the medium through which they are interacting.
Viewers will want different things out of the experience, and her job, she believes, is understanding her audience well so that she can craft an experience that captures their imagination.
The medium too, is very different, as Tomer observes "people are in cubes in a Zoom, or in a Google Meet, and it's very different than an experience where they stand near you. Maybe they cannot hear you well, maybe they cannot see well, maybe there is some problem with the Wifi, a whole new world of bugs."
And bugs she encountered indeed. Sometimes even the best laid plans cannot inoculate you from Murphy's Law. Tomer is candid about having guests come for a virtual experience with dough that failed to rise, or as she describes it "looking like a flat pita bread", and doing recoveries by letting them come back for a free class at a later date.
The future remains virtual – and here are the benefits
Beyond a willingness to roll with the punches, would-be virtual experience makers need a certain audacity to stare down an uncertain future without flinching.
After all, if the world ever approaches a pre-pandemic normal, would everything they have invested in and built up become irrelevant? Tomer doesn't think so. She sees at least another year of heavy reliance on virtual events, and even after that she believes virtual events will continue to have a place in her business.
For people with mobility constraints such as the elderly or people who are immunocompromised for example, virtual events could unlock access to experiences that are prohibitively challenging to do in person. Not to mention opening up a massive global market that is now within virtual reach.
Understanding that virtual experiences are not going away, Tomer has her sights set on how to keep making them better. In her rebooted Peranakan experience, Chef Lionel gives a talk and a virtual demo, while food from his restaurant gets delivered to workshop participants at home.
Meanwhile, Tomer is looking for tech partnerships that could see her incorporating AR/VR into her experiences too.
Beyond that, she says, there are exciting times ahead, as Tomer is looking for partners to bring the Wok 'n' Stroll model to Portugal. A model she describes as "the Wok 'n' Stroll activity – the curiosity, the best guides and the best food places, with a local experience [of going] off the beaten track together with a lot of good wine."
Hearing Tomer describe Portugal with the same excitement that she brings to her virtual experiences, I have to admit, the excitement is contagious, and it's an experience I certainly wouldn't mind having, as long as the wine isn't virtual.
Featured image credit: Karni Tomer
Source: Not quite the sensory internet but Wok 'n' Stroll's Karni Tomer creates virtual experiences so real you can taste them – WIT