Choreographers and dancers Park Jina, left, and Heo Ji-eun perform at a set located in Microsoft's Mixed Reality Capture Studios in San Francisco in July 2018. / Courtesy of Production Company ONN
By Anna J. Park
Have you ever wondered how the latest technologies of virtual reality (VR), augmented reality (AR), mixed reality (MR) and extended reality (XR) could be used in fine art? XR art exhibition "Futuredays" will give you a clear idea.
For the next 10 days, starting Nov. 8, Project ONN brings various pieces employing state-of-the-art technologies to Korean art enthusiasts. It is Asia's first major XR art exhibition featuring Volumetric Capture technology ― the hottest virtual technology that creates 3D holographic videos by recording a footage with numerous sensors and cameras.
Visitors to the exhibition, which is being held at contemporary art center Platform-L in southern Seoul until Nov. 17, will be experiencing the first-of-its-kind multi-sensory art works, ranging from media and sound art to the performing arts. The art installations combine 3D holograms with real sensory experiences, such as touch and sound.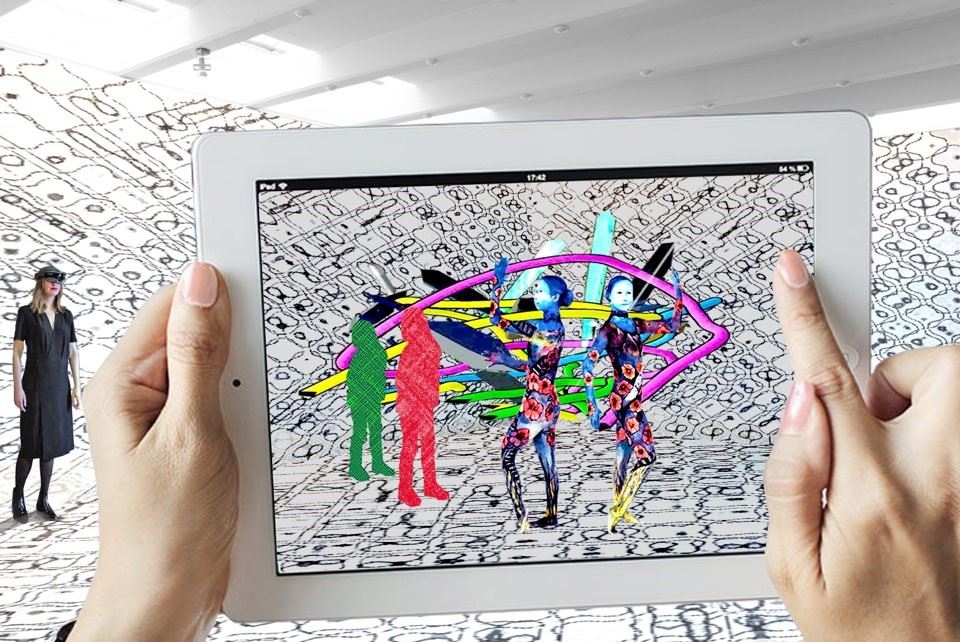 Visitors can experience MR or XR-based art, such as this holographic video of dancers, through iPads, which are available at the exhibition site. / Courtesy of Production Company ONN
Audiences need to use a HoloLens mixed reality headset, or iPad to fully enjoy the artwork. Both types of equipment are provided at the site. Unlike other conventional exhibitions, viewers can walk directly into displayed art works, experiencing new dimensions of space.
During an interview with The Korea Times, Kim In-hyun, artistic director of Project ONN, said it all started a couple of years ago.
"One day in November 2017, I read an article about Microsoft's Mixed Reality Capture Studios, where holographic videos can be created. At that time, myself and three other artists ― all now members of Project ONN ― were working on MR or XR-based mixed-genre fine art pieces combining music, media and dance. Upon seeing the article, I reached out to Microsoft, explaining our artistic initiatives and goals. In February 2018, we started to collaborate with them," Kim said.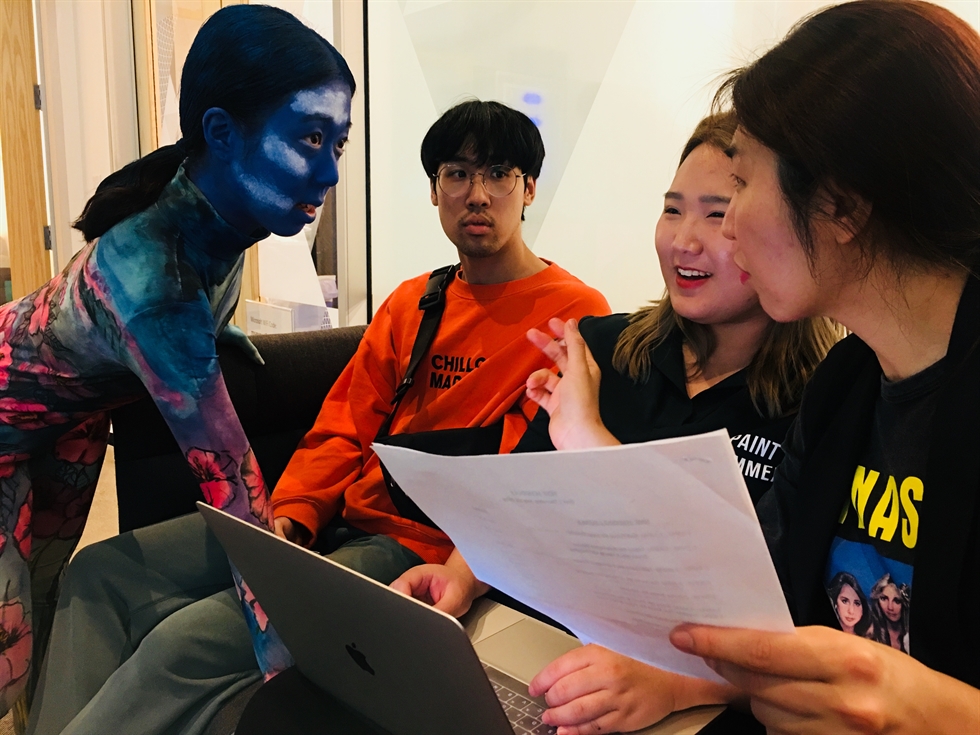 Choreographer and dancer Heo Ji-eun, left, talks with artistic director Kim In-hyun, right, during a recording session at a set in Microsoft's Mixed Reality Capture Studios in San Francisco in July 2018. / Courtesy of Production Company ONN
With such an initiative, Project ONN has become Asia's first creative group designated as Microsoft's archiving artist. The fine arts group's central four members are the artistic director Kim, who's also renowned composer, media artist Shin Joon-sik, as well as Park Jina and Heo Ji-eun, both choreographers and dancers. They met some three years ago through a VR art project, and have been collaborating together since.
"When a new technology is born, it is mostly the entertainment industry that has led its active development, as we have seen in the case of films. Now new technologies have been developed, the fine art scene has been somewhat reluctant to embrace these technologies. The world is ready to expand in both space and time using these technologies, and now is the time when artists need to create new content by proactively relying on such technologies," the artistic director stressed.
"We felt somewhat cramped at exhibitions that can be enjoyed only through wearing VR headsets. We thought gallery visitors could enjoy augmented or mixed reality artwork with more ease. Visitors at this exhibition can enjoy the art with both their own eyes and ears, while they can also experience another dimension of them by using smartphones, tablet PCs or headsets," she added.
She also emphasized that the main goal of the exhibition is to provide long-term artistic values and experiences to audiences.
"While most digital art works tend to give just short-lived novelty without emotionally-moving impact, we hope to give a long-lasting artistic joy that can touch visitors deeply with our storytelling in the displayed works. We hope it to be different from just browsing objects by wearing the devices, but a truly immersive experience," Kim added.
On Nov. 16, a dance performance titled "I was There and Not There" is also scheduled, which can be enjoyed with or without devices. With devices, the 50-minute performance adds the layer of virtual sets, creating and changing spaces of the work.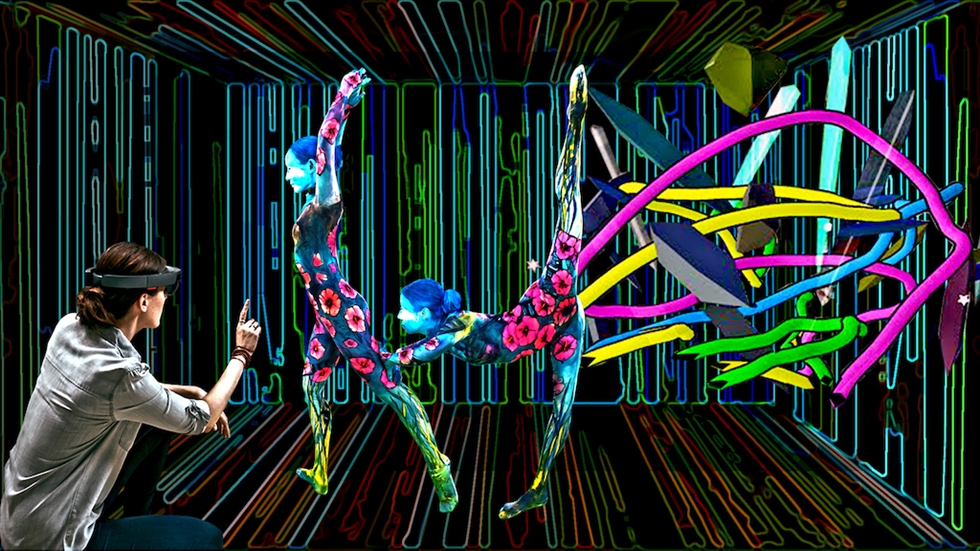 Reservation is needed to borrow an MR-headset HoloLens and each person can use it for 15 minutes. Reservations can be made on the exhibition's official website. / Courtesy of Production Company ONN
The exhibition runs from 11 a.m. to 8 p.m. through Nov. 8 to 17 every day except Mondays at Platform-L. Reservations are needed for visitors who wish to use an MR-headset HoloLens, which will be lent for 15 minutes for each. Other than Microsoft, Korea-based tech companies like K2 SOFT also helped to bring life to the project.
For further information, visit http://futuredays.kr/ or follow @futuredays.kr on Instagram. You can also download "Futuredays Pre" app for information.Source: [INTERVIEW] Extended Reality (XR) exhibit merges fine arts, technology