Ketra lighting can mimic natural daylightCourtesy of Ketra
Looking at a photograph of a beautiful room is a visual experience. But entering into the physical space can inspire all of the senses—and to great effect. The notion that "sensory design" can improve health by connecting the body and mind has begun to gain traction, and brands are taking note: "Sensory design is an integral part of wellness [in spaces] where we live, work and play," Sara Pereira, associate product manager at bath technology company Kohler, tells Business of Home. "Elements like light and sound have a great impact on how we experience a space. As designers and homeowners alike become more educated on the power of design on the wellness of a space, I anticipate it will grow in popularity."
Sensory design involves engaging any or all of the five senses. It "supports everyone's opportunity to receive information, explore the world, and experience joy, wonder, and social connections, regardless of our sensory abilities," reported the Smithsonian Cooper-Hewitt Museum, in an essay than ran along with its exhibit "The Senses: Design Beyond Vision." The installation, which was open from May through October, featured, among other things, lights that represented every color on the spectrum, videos of ice cream melting or smoothies blending, and a feather held afloat by a constant, narrow stream of air. "Sure, bring the kids. They will bliss out stroking a wavy, fur-lined installation that makes music as you rub it," The New York Times reported.
But the newfound focus on the senses isn't just a gimmick. A rising number of luxury brands are incorporating sensory design into their products with the goal of positively impacting users' mental and physical health.
Ketra is the first LED manufacturer to achieve bulbs and fixtures with a warm glow that can dim lower than a candle's flame. "There is a gradual understanding that lighting isn't just about function, but also [about] a sensory experience and can significantly change the way you feel," Liana Frey, Ketra's vice president of marketing, tells BOH. The lighting comes in hues of red, green, blue and white, allowing for designers to mimic natural daylight, illuminate festivities, and dim to a glow warmer than candlelight.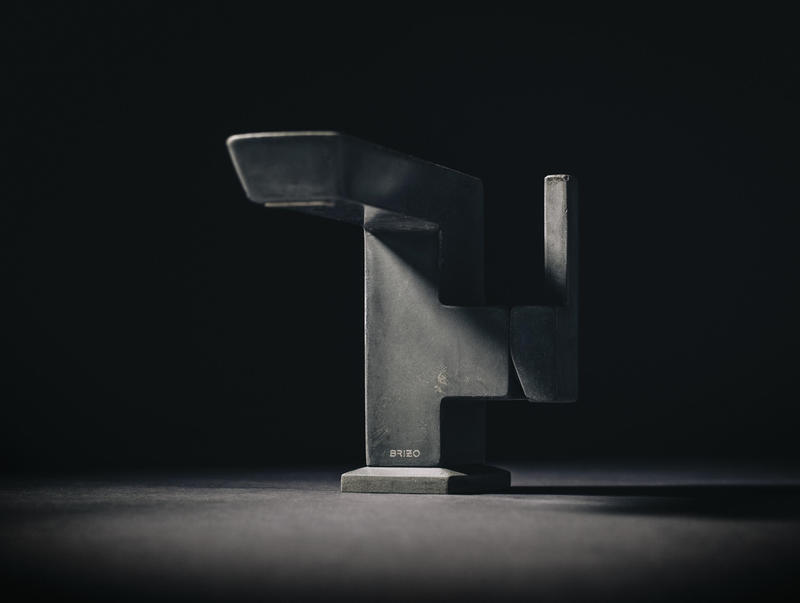 Luxury faucet brand Brizo recently debuted the Vettis Concrete Single-Handle faucet, which was inspired by the sound of flowing water. The faucet's shape, texture and function were all crafted with the senses in mind; each piece is handcrafted by sculptor Christopher Shannon. "The concrete faucet blends the finest quality of raw materials and an exquisite geometric form to create architectonic harmony, while the sui generis nature of hand-poured concrete gives each faucet a distinct texture, color and style," said the company in a statement.
Kitchen and bath manufacturer Delta has a number of items that fit the category: the HydroRain H2Okinetic 2-in-1 showerhead that sculpts water into unique patterns, the In2ition showerhead that shapes water into waves, and a voice-activated faucet that integrates with Amazon Alexa.
Texture and touch play a key role in sensory design, as well: Artistic Tile's Primal design re-imagines the scaly texture of lizard skin in its Caiman and Teju ceramic tiles; and the Rex table lamp from The Urban Electric Co. has a three-way touch sensor integrated into its brass base.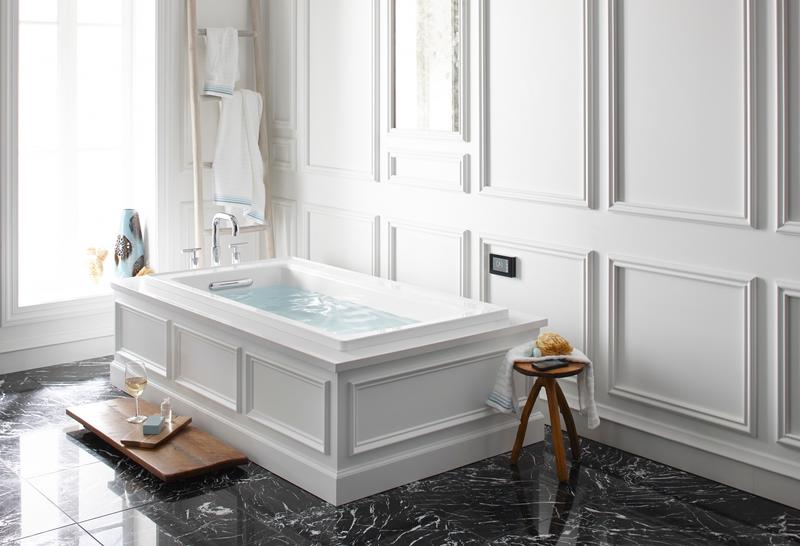 At Kohler, the goal of the DTV+ showering system and Vibracoustic bath, says Pereira, is to offer "multi-sensory therapy that eases tension and stress by sending vibrations through the body." They've done the research to back up those good intentions: "We collaborated with a sound therapist to create original compositions to help the body reach a state of total relaxation, using steady beats, the sound vibration and music encourage the breath and heart rate to synchronize with a slower rhythm," she explains. The bath comes with physical vibrations that can be adjusted to the desired level of intensity.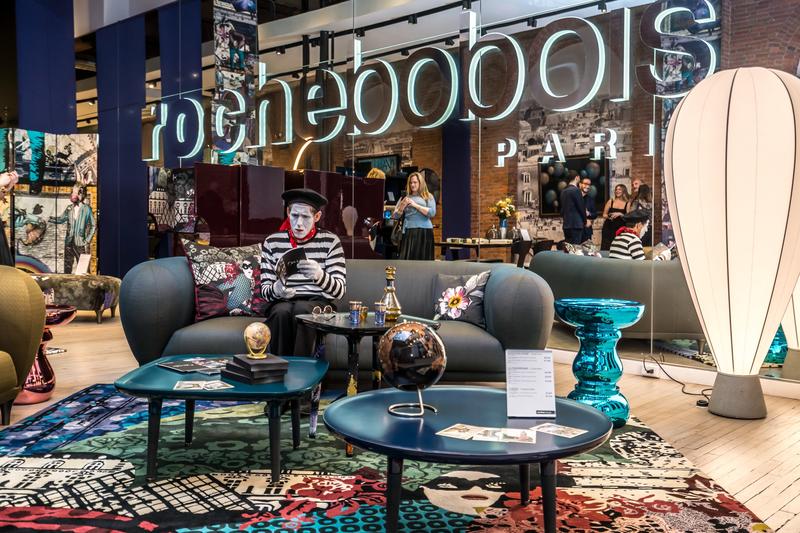 On opening night of Design Philadelphia in early October, the city's Design Districtorganized a sensory design–themed bar crawl with 10 "showcases" that were meant to explore the feelings of comfort, pleasure, awe and confusion, highlighting how people experience design differently. The various showcases honed in on different senses, from Teresa Chang's pottery that appealed to sight and touch, to Roche Bobois's "visual exploration" of Marcel Wanders's collection, to Biello Martin Studio and Kellijane's design.erotic exhibit, which included collaborations with pleasure activist Annie Sprinkle.
The feel-good benefits of well-executed sensory design seem clear. Time will tell if decor that invites us to engage our senses carves a permanent niche in the trade.