Sponsored
AROM is a new smart gadget for aromatherapy and scent layering, it is designed to allow you to mix and match your own personalized scents, you can even share them with your friends via the mobile app. This interesting device has been designed for the next generation of aromatherapy and scent layering and to provide a relaxing experience.
This is the ultimate smart gadget for aromatherapy fans and also people who want to try out aromatherapy for the first time, as it provides and easy guide to scent layering an aromatherapy. The AROM comes with a wide range of features that allow you to create the perfect scents for an relaxing an calming environment no matter what your mood.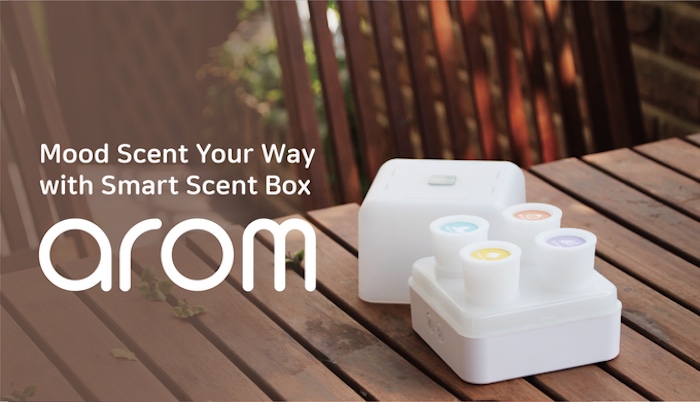 AROM is designed to create a relaxing atmosphere with its innovative approach to scent layering and aromatherapy. You can place four different scent capsules inside the device, each of these can then be controlled via your smartphone and you can choose a specific concentration for each scent, this gives you a lot more control over the scent you create and a lot more personalization options, when compared to other aromatherapy options.
The AROM smart aromatherapy gadget is different from any of the other aromatherapy gadgets available at the moment and this smart gadget allows you to layer different scents to create the perfect individual scent, for relaxing, reducing stress, boosting your well being and much more. The video below gives us a good look at the AROM and some of its features, we get to see the design of the device and how it works.
The ability to control the AROM with your smartphone sets it apart from other devices available and the sharing feature in the app is a great way to discover new scents and also share your favourite scents with your friends. It is the ideal accessory to create a relaxing environment in your home and it can also be used in yoga studios, offices, schools, hotels and many more places.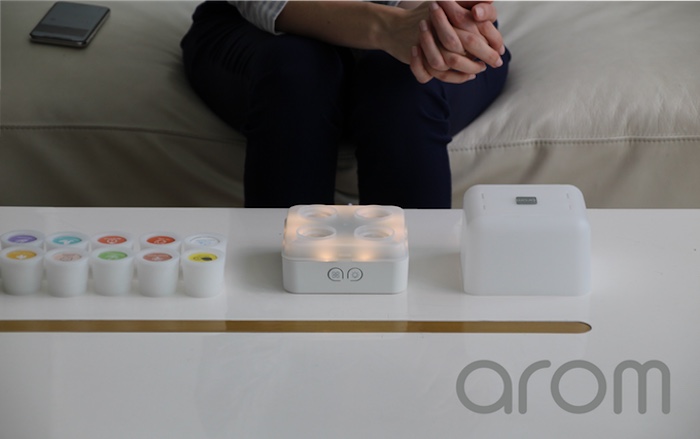 Many of us our shares photos, videos, messages, emojis, music and much more with our friends and family on a regular basis and now you can share your favourite aromatherapy scents with them from the innovative smartphone app that accompanies the device.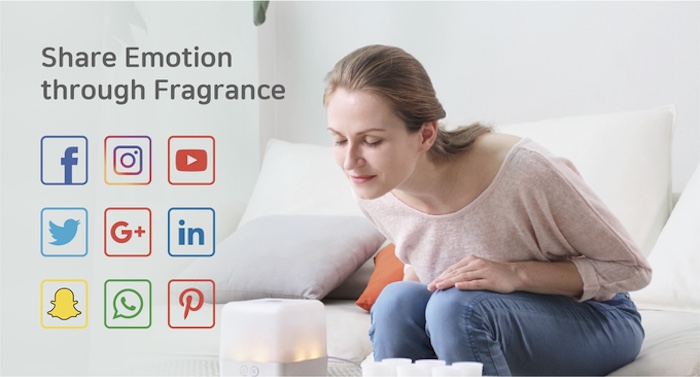 AROM uses individual scent capsules that have been developed using liquid encapsulation technology. The capsules provide natural aroma essential oils and also signature fragrance oils. All you need to do is insert the capsules into the AROM and the fans below the capsules then release the scents you have chosen. The app can be used to create interesting scent layers and it works with both Apple's iPhones and Google's Android devices, this allows for creation of the next generation of aromatherapy scents and scent layering, a unique and innovative device for aromatherapy.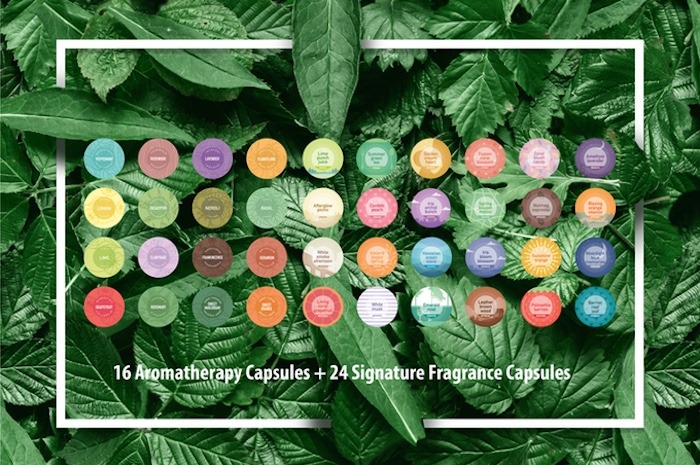 The AROM will give you a choice of 16 different aromatherapy capsules and 24 signature fragrance capsules, you can then combine any four of these capsules together in this smart gadget to create the perfect scent layer. The capsules will be available in packages of four capsules and there are 20 different varieties to choose from, this means that you will be able to create a wide range of scents to suit any mood and atmosphere. The video below shows how this smart aromatherapy gadget works with the capsules and also the smartphone app.
As well as being a smart gadget for aromatherapy, the AROM is also a mood light than can change color, this can be done via the smartphone app and will add to your relaxation experience whilst using the device. It also comes with a scheduling feature that allows you to set up specific schedules through the smartphone app.
This is a great idea and allows you to ensure that you have a relaxing environment when you come home from work, just what you need to relax after a hard or stressful day at work. The device is incredibly easy to setup and use, you just add your chosen capsules, adjust the scent to create your perfect personalized scent layer and sit back and relax.
The AROM is being funded on Kickstarter and prices for the early bird start at just $119 and that includes shipping,  you can find out more information about this innovative smart aromatherapy gadget over at Kickstarter at the link below.
Source Kickstarter
Disclosure: "This is a sponsored post. Geeky Gadgets has been compensated for this post. All opinions are that of the editor and were in no way influenced by the company."
Source: AROM is a smart gadget for aromatherapy and scent layering – Geeky Gadgets