The New Museum, New York. Image courtesy of the New Museum.
The Berlin- and New York–based perfumery Folie À Plusieurs recently released two new scents that, at first blush, don't seem too unusual. Aspects n ° 1 , as clear as water, smells hot and musky; Aspects n ° 2, an opaque, rose-ochre color, is more floral and metallic. But they differ from typical perfume in that these scents are sold exclusively at the 
New Museum
, and are intended to embody the art institution olfactorily. That is to say, their makers set out to create perfumes that emulate the actual smell of walking through the museum. 
Eau de musée
, if you will.
The first scent is said to include notes of, among other things, "neon light effect," "green," and "animalic"; the other scent is said to include notes of "damp concrete," "paper," and "cold." I was, I admit, won over by the perfumery's endeavor; there's something charming about attempting to translate between senses—forging ahead while recognizing the impossibility of the task. But synesthetic pursuits like this are a specialty of Folie À Plusieurs.
The perfumery's director, Kaya Sorhaindo, envisions for visitors to the New Museum to purchase the scents as they would a catalogue or a poster from the museum gift shop. "There's that element of going to the New Museum and experiencing a show and remembering that experience, then revisiting it olfactorily on your own terms," he said, adding that the scent is itself a kind of artwork that you can take home "and implement it into your daily life."
Folie À Plusieurs has been attempting such transubstantial feats for years, translating sensations of all kinds to scent. (Sorhaindo prefers the term "scent" to "perfume," as "perfume" carries with it too many connotations, and, as he put it, even though all of Folie À Plusieurs's scents are made to be worn, some of them are "on the border of not even wearable.")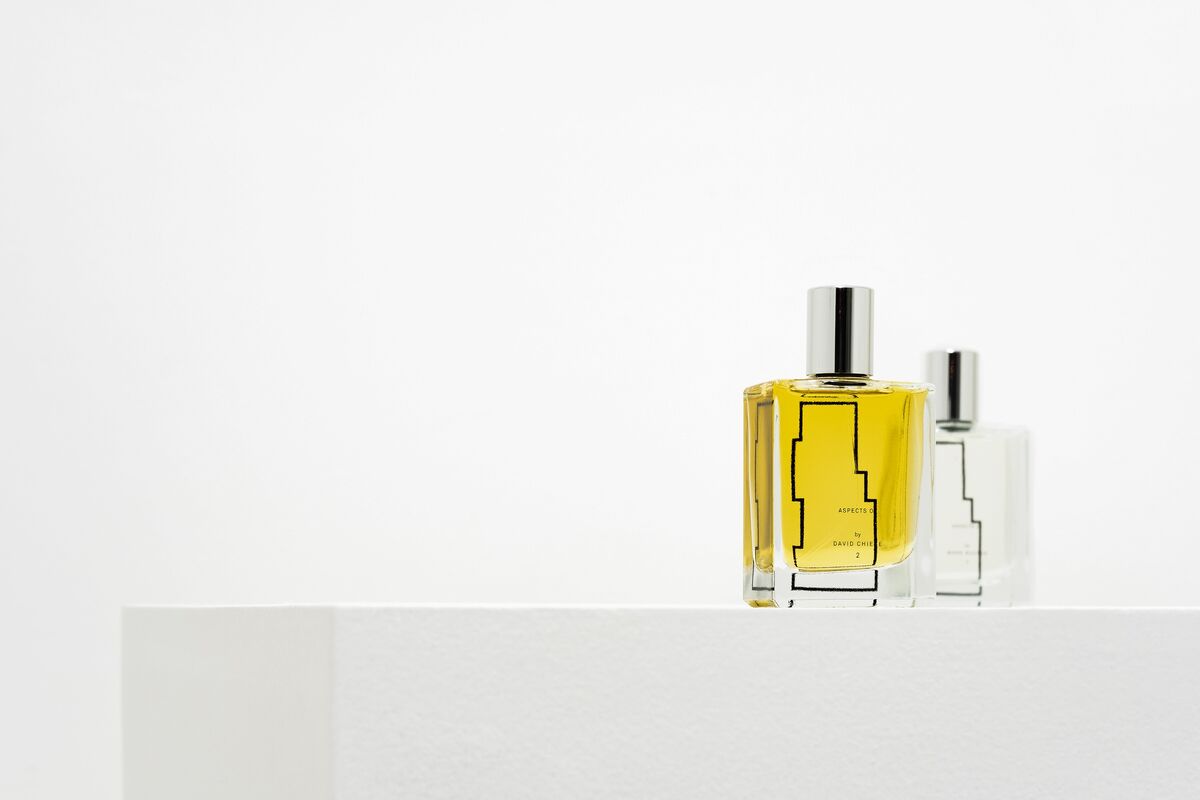 Folie À Plusieurs, Aspects of New Museum Fragrance. Image courtesy of the New Museum.
One of Folie À Plusieurs's most frequent endeavors is translating scenes from movies into scent—for example, the one-minute scene in The Virgin Suicidesin which Peter explores Cecilia's inordinately feminine room, spritzing her perfume and smelling her make up. Folie À Plusieurs screens these movies in small theaters, and the scents are subtly dispersed at the screening, though only throughout the individual chosen scene.
In addition to attempts at conjuring the smells of outer space (astronauts have reported to Folie À Plusieurs that their experiences of space smell like their space suits, which, in turn, smell like metal and bacon), the company has a program called "Olfactophilia," in which scents were created around 18 different forms of paraphilia. To construct these fragrances, the team found partakers on fetish websites and asked them to articulate their experiences, then attempted to translate these descriptions into scent. "It's nice when a scent can make you question your own identity," Sorhaindo said of "Olfactophilia."
To construct the New Museum scents, Sorhaindo sent the museum's 40-year anniversary catalogue to perfumers Mark Buxton and David Chieze in Paris. The pair then compiled lists of potential scent ingredients through studying the book and recounting their memories of the museum; this began a dialogue with Sorhaindo that led to a series of tests in Buxton and Chieze's Paris lab, eventually culminating in the two scents.
When asked why they chose the New Museum, Sorhaindo spoke of the institution's lack of a permanent collection. He finds kinship between this transience and the ephemerality of a scent. "There's a parallel between this and a scent, a thing that moves between people and doesn't necessarily stick in one place or respond to one person," he said. Like a shockingly intimate game of telephone, through so many stages of transliteration between senses, Folie À Plusieurs's finished products find depth in the gap between aspiration and outcome. Their beauty, perhaps, is in the attempt.
Wallace Ludel is an Editorial Intern at Artsy.