(NewsUSA) – March Madness returns this year, after a pandemic-imposed hiatus in 2020.
As a result, basketball fans, sneaker fans, pizza fans, and anyone else might be feeling a little extra crazy.
How crazy? Enough to consider a 2.2-million-dollar basketball shoe supported by Pizza Hut that not only looks stylish and feels great, but actually helps the wearer order pizza via cellphone.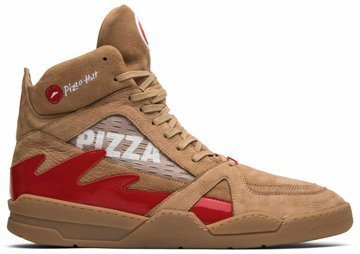 The Pizza Hut Pie Tops hit the market in 2018 as part of a March Madness promotion from Pizza Hut. The company enlisted renowned "Shoe Surgeon" Dominic Chambrone to design approximately 50 pairs of a very limited-edition custom sneaker.
During the 2018 March Madness basketball tournament, the few individuals wearing the Pizza Hut Pie Tops could press one button inside the tongue of one shoe that would pause the game they were watching, press a button on the other shoe to order their favorite Pizza Hut pizza, and then resume the game.
Impossible? Apparently not. The shoes were made available in two color schemes, all red or wheat brown with red (or as Pizza Hut puts it, "marinara") highlights.
According to a description on the uber-shoe website, Godly Soles, "Atop a completely rubberized sole, the upper of the wheat iteration consists of a tumbled nubuck, while in contrast, the red version consists of mostly full-grain leather with hints of suede on the toe cap and heel."
In addition, "A patent leather splash of 'marinara' accents the medial and lateral while white translucent webbing, or 'cheese grater mesh', cages the emblazoned PIZZA HUT lettering."
The iconic Pizza Hut logo appears on an embossed hangtag, as well as on the lace lock, tongue, heel, and ankle collar. Even the insoles and laces reflect the pizza theme.
Guess what? Drake, the Toronto-based global rap star and sneakerhead, does not have a pair of Pizza Hut Pie Tops II in his collection. But you can.
Godly Soles is offering a new, in-the-box, unworn pair of the wheat Pizza Hut Pie Top IIs in a men's size 11. They can be yours for $2.2 million dollars, and you can claim ownership of the most expensive sneakers in the world.
With that, your purchase would top Drake's custom OVO x Air Jordan 10's, which are considered the most expensive sneakers in existence with a worth of $2.1 million dollars.
Godly Soles is offering these sneakers for sale through StockX. Visit godlysoles.com for more about the world's most expensive sneakers, and how to get them.
Source: World's Most Expensive Sneakers Will Order Your Pizza | Warwick Beacon