Wisdome LA, "the world's first fully immersive entertainment art park," is a new concept in artainment: a multisensory fusion of technology and Eastern spirituality.
Wisdome is an art park in downtown LA which covers over 35,000 square feet. It comprises 5 huge domes containing a sensory subjective experience where the visitor participates in the immersive narrative.
With elements of virtual reality, art exhibition and planetarium, the venue, with the capacity to host a range of exhibitions, has most recently been the showcase for SAMSKARA, the work of digital artist Andrew 'Android' Jones. While the venue is currently closed due to the coronavirus pandemic, it has been hosting live-streamed events such as a virtual sound bath and vibration healing journeys.
Blooloop spoke to the concept's founder, George Aistov, Wisdome LA's art producer, also known as 'Swami'.
"We want to inspire people with ideas about the conscious entertainment of the future," says Aistov. "We are trying to bring art, music, science, and spiritual ideas to an incredible venue, and shape it in a way that people can experience it as something new.
"Nowadays, everything is about the experience: don't show me; make me feel it. Don't show me ice cream; let me taste it."
Wisdome's Eastern inspiration
Wisdome LA is partly inspired by an Eastern aesthetic, says Aistov.
"When I was in India, I went to the Garden of Five Senses [in Delhi.] It was an amazing idea. We have five senses. When they are all involved – through music, visuals, touch, taste, smell – that is what really immerses us into the environment."
"That's what we're trying to do with Wisdome. We want to bring all those elements together, and give them a modern form, something entirely new. The traditional Disneyland-type amusement park, after all, is a hundred-year-old model."
The Wisdome experience is rooted in the idea, he explains, of world-creation:
"Even if a concept is mainstream, it must be rooted in the concept of a world. Disneyland is about entering a magical alternative world. Wisdome's world is one of art and consciousness. It has to fascinate you, but it also has to contain a level of storytelling."
A different type of storytelling
Wisdome is not, however, providing storytelling in the traditional sense:
"It is storytelling on a more subjective level, without an objective story. While objective stories are something people love to hear as children, people also have an amazing capacity to discover things according to their own level of consciousness."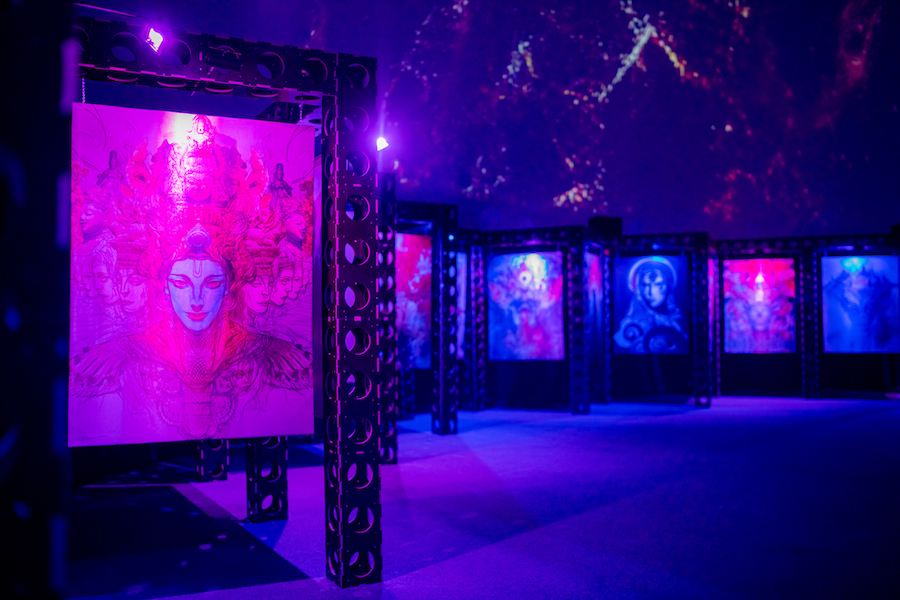 "So when they come to Wisdome, we help them with some ideas, but their personal reflection and discovery, that's what's most important."
Wisdome is a re-imagining of story as an immersive and subjective sensory experience. It brings the viewer into the art to become a part of the creative process.
SAMSKARA
SAMSKARA, a visual art exhibition created by digital artist Android Jones, includes more than 70 works in 9 different formats: digital canvases, 'Microdose VR', dynamic sculptures, shows, live performances and a spherical movie theatre. It was on show at Wisdome from November 2018 to February 2020.
Aistov says: "With the psychedelic immersive shows like SAMSKARA if you ask people 'What did you see?' They will give you different answers. Somebody will focus on the amazing cosmic sound; somebody else will perceive the drama, the politics, human nature, or freedom."
"We aim to tell the story without an objective storyline, immersing people in sound and visuals, giving them a deeper experience, and bringing them to catharsis and giving them a deeper experience. So what I'm really doing is I'm bringing a viewer to catharsis.
"With a work such as a film, you ask: what is this film really about? Every film has five minutes of amazing shots the director really wants to show, the catharsis, but it has to be padded by a great deal of exposition. Here, we have taken a story; rendered it as ideas in artistic form, and reduced them to their essence."
The origins of Wisdome LA
Explaining the concept's inception, Aistov says he started out in the market of planetariums, which he thought was "cool, but not ideal." Then, he had the kernel of an idea:
"One of my friends was a great Indian monk. Before he died, he said, 'Some people live by fishing, and making their living from the ocean. Then there are the scientists, who test and analyse the ocean: its water, the depth, and the life in the ocean."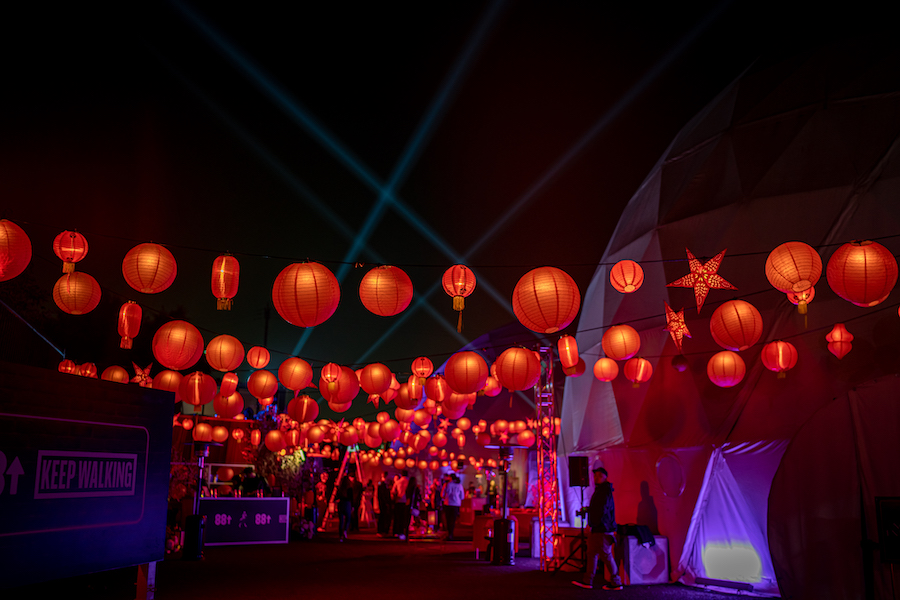 "And there are the poets and artists who glorify the ocean. So what is it that you want?'
"There could be immersive experiences around fishing and survival. We could choose to immerse people in science, which is amazing. But to broadcast the feelings and the glories? That is transformative art. And that's how we saw the future of the dome."
Having settled on the idea of art, the next priority was to find an artist.
"One of my producer friends recommended Android Jones, who had done Burning Man and all the big festivals. His images are incredible. I trained originally as an artist, a painter, and then became a producer, so I have a bit of background in art production. And I looked at his art. It was true."
Android Jones
"Android Jones is one of the first digital artists to have dedicated himself to this form, creating amazing digital images, says Aistov. "I could see immediately that he understood depth, and panoramic field, and development. This could be a great collaboration. So, we took his art and we made like one minute of SAMSKARA."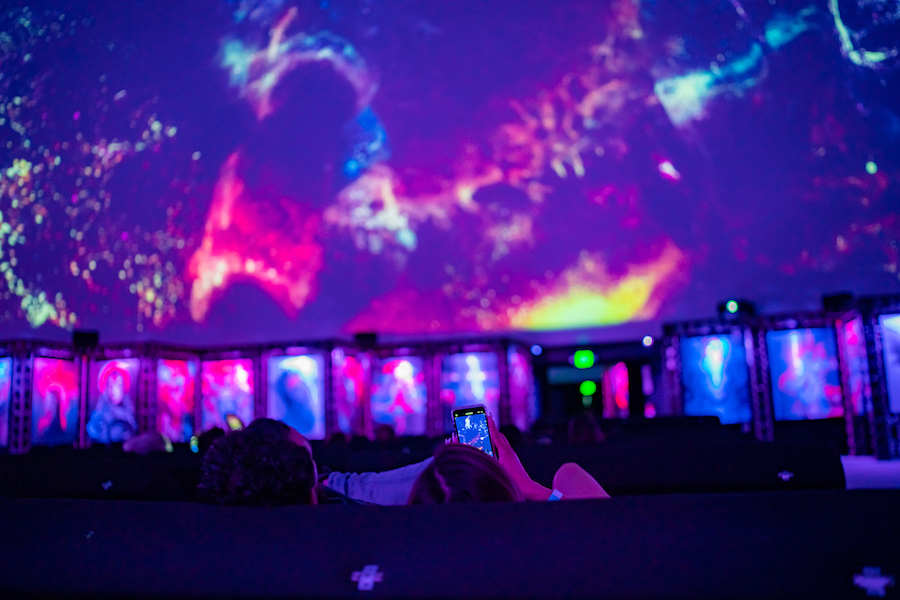 When he saw the one-minute show produced from his art, Jones was impressed:
"He posted it on his Facebook, and there were 500,000 likes; 500,000 people saying that they loved it; that there was nothing like it. So we sat down and I said to Android, 'How can we work together?'
"Thanks to the Wisdome team, Andrew 'Android' Jones, who had always dreamed about an endless canvas, now had no limitation. We started working on his art show, and we took it to the Lightning in a Bottle Festival. When we saw how many people were totally amazed by five minutes of SAMSKARA, we decided to make an art experience; an exhibition."
Finding a permanent home
At that point, while the team were installing domes for others, they didn't have their own location, says Aistov.
"We had some planetariums that were ready to experiment. So we installed our systems and put on the exhibition in a planetarium, having been given the freedom to do what we wanted. Their director was a scientist and a cool person. He supported us, and we had our first free exhibitions.
"Before long, we realised we need to have our own dome park, with a gallery space and a public space for concerts or film screenings. This was when the idea of immersive art, music and performance occurred to us."
The team began to experiment with SAMSKARA, funding it themselves.
"We had a bunch of domes in our US stock, which we rented to different festivals. They were just lying in storage and waiting for somebody to rent them. We decided to find somewhere we could set them up.
"Then, we started Googling, and we discovered a  place in Downtown LA  run by an artist from Burning Man. He had seen and loved SAMSKARA; the Burning Man community is like a tribe. He took care of the local politics and some of the official stuff for us."
Music and immersive art
But, says Aistov, the question remained, where would they get the money? In a development that seemed almost providential, the mayor of LA's office contacted them about renting domes for a conference and approved the LA location for Wisdome.
"There were going to be over 100 mayors from all over the world. They asked us if there was any possibility of entertainment."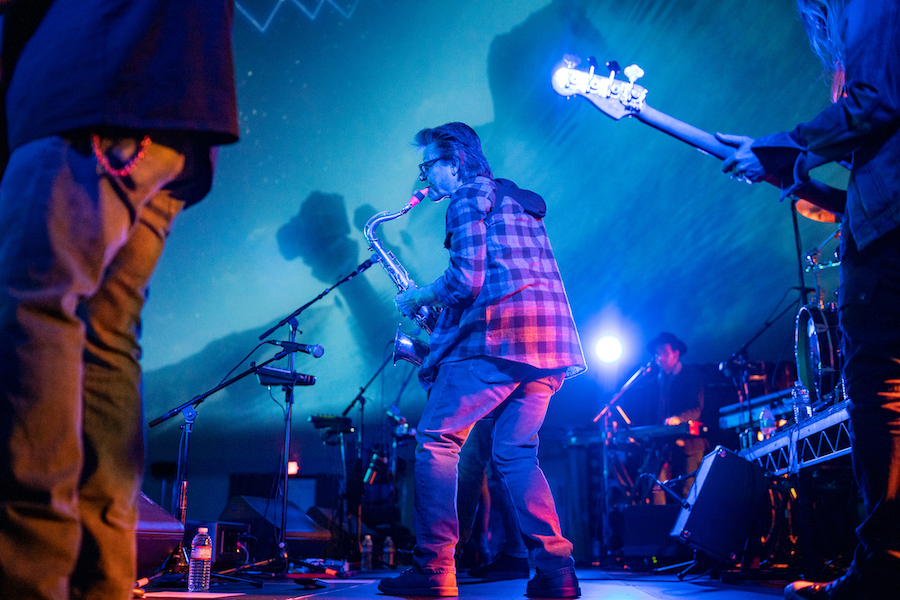 "Our partner, Sean Ahearn, was Harmony Festival's music producer. He suggested, 'What if we do Pink Floyd in a dome?' Something with dignity to which people will feel a connection. Sean discovered an amazing Pink Floyd cover band, who had actually toured with Pink Floyd.
"They said, 'Well, what about visuals?' And I said, 'Well, we've got Android Jones' SAMSKARA.' So they performed in front of the mayor and all the prime guests, and the show was a huge success. It blew their minds.
"We decided to repeat it, because people like music with immersive art, and while not everyone knows about immersive art, everybody loves pink Floyd music.
"We started doing collaborations with other DJs and artists and discovered that is a creative catalyst. If we open a Wisdome in London, it will be much the same, because you've got all these amazing artists and musicians living in London, too. So London is our next stop."
Expanding Wisdome
In short, Aistov says:
"Our story is not that of some fat cats who decided to make millions of dollars out of immersive art, and who decided to sign Android Jones. This has all happened organically, and it continues to grow organically. And now we have serious investors interested."
The team have a three-year lease on the LA location and are planning to expand their offering internationally.
The psychedelic, quasi-spiritual visuals of Android Jones' SAMSKARA are due to be followed by MYSTIC UNIVERSE, a journey through consciousness.
The new exhibition, which was, pre-coronavirus, due to open on 28 March, features six styles of immersive art (visionary, fractal, comic, mediative, installation and 360-degree projections) from internationally-acclaimed artists, and "take[s] guests on a journey through consciousness, beyond imagination and the boundaries of space and time.
The rise of artainment
Wisdome is of the 'artainment' genre exemplified by titans such as Meow Wolf and AREA15. Aistov explains the principles of presenting this type of art exhibition:
"You have a render farm in your brain, for the process of reading information. We are, in essence, using the viewer as the camera. That's why in the immersive park, the rules are not to show people things fast. It's quite different from the small screen, where everything has to move fast because it is eye-candy that loses its flavour quickly."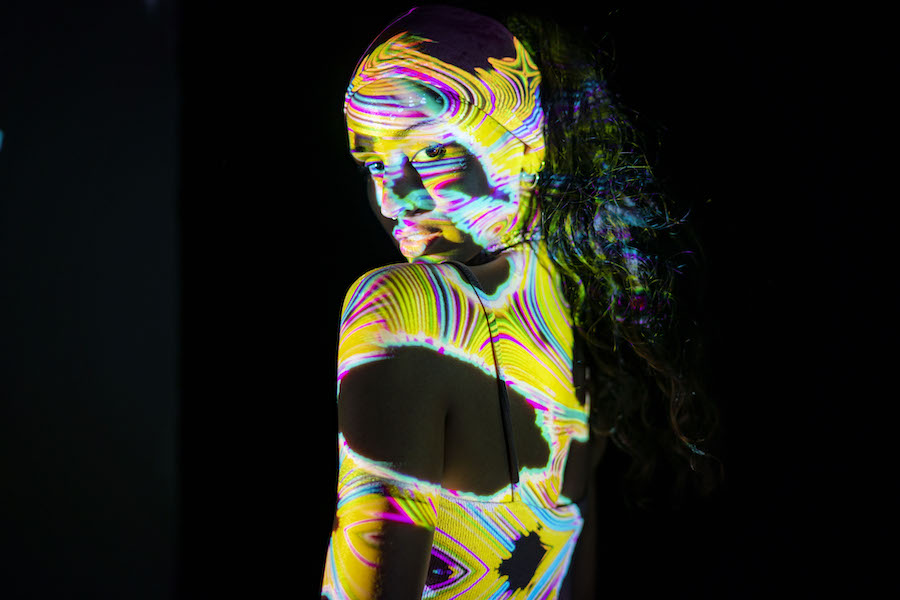 "There are different rules for creating immersive content. There is a balance to be struck between stillness and motion. As with every storytelling experience, the story has to be laid out so people can journey through it. And the story itself has to be a number of experiences which will evoke particular emotions."
Documenting experiences
"I've seen a lot of exhibitions, selfie rooms and immersive exhibitions. People go there and they take pictures. But there is no story. It is not a developed experience, but a cocktail of elements. It's all about the selfie.
"You have to be witnessed in the environment; you have to capture that moment. A couple of years back, there were more pictures in the world produced in one year than in the history of humanity."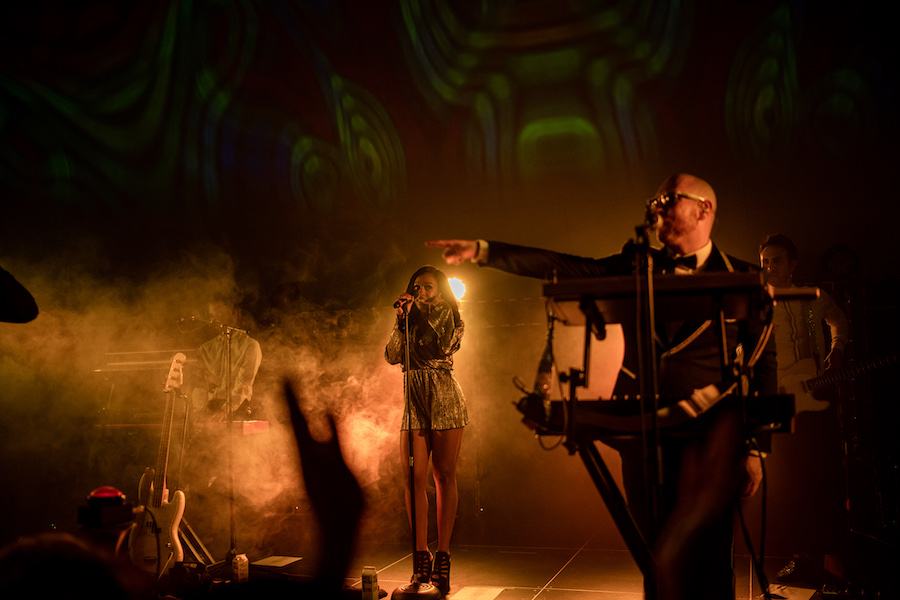 "Everybody has a phone with an amazing camera. You want to capture those moments because everything's connected with our memory. If we don't capture that moment so it can be remembered forever, then does it really even exist?
"This all speaks to a modern-day need to amplify the experience. There is any number of people creating amazing experiences that do exactly this: there's no one way to do it. We are just humbly trying new ideas, new projects, where we combine immersive art with other experiences."
The future of Wisdome
The aim is to make Wisdome a global brand comprising collaboration between artists and producers.
"We don't want to be purely commercial, because we would lose the vitality and the energy," says Aistov. "But it needs to be a profitable company, so we plan to have different niches and different verticals of what we do."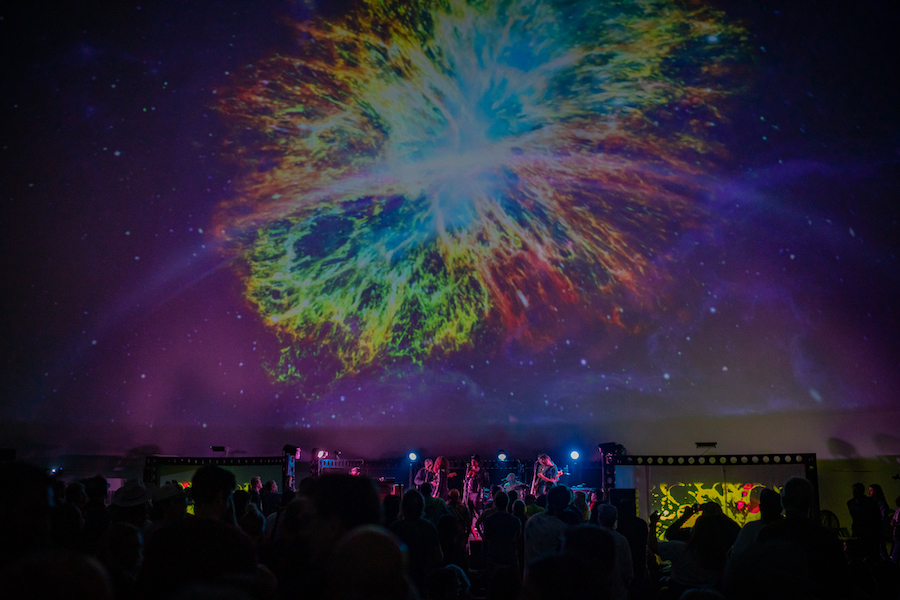 "We are a dome park, an incredible venue. It doesn't have to be Pink Floyd or SAMSKARA every day; we can have schoolkids coming to the venue to see scientific films and art. A TED talk would be amazing in a dome. A conference in a dome with immersive visuals would be incredible and unique.
"So at this point, we want to find the people who are better than ourselves, who know how to do things in a more efficient way and to take us to the next level. And that's where we are right now: seeking that next level; the funding; the investors; better management.
"We have done so many successful immersive exhibitions over the last 10 years, in China, India, and Russia, where we were very famous. In LA, it's a different market, which is very exciting.
"We're opening the door to something amazing and will, we hope, continue to amaze people with immersive arts in a new form." 
All images kind courtesy of Wisdome LA
Source: Wisdome | the first fully-immersive entertainment art park | blooloop