The latest Well-being of the Singapore Elderly study conducted by the Institute of Mental Health in 2015 indicated that an estimate of 1 in 10 people aged 60 and above in Singapore has dementia and that the number is expected to rise above 100,000 in the next few years.
having difficulties identifying objects in familiar environments.
Dementia is not a specific disease or condition. Its a collection of symptoms caused by brain disorders that affect thinking and behavioural abilities in which those affected by it are unable to perform daily tasks or lead a normal life.
As Mr Jason Foo, chief executive officer of the Alzheimer's Disease Association (ADA) puts it, people with dementia do not only suffer from memory loss and forgetfulness but other challenges as well including loss of sensory and visual perception.
Nevertheless, the advanced technology of virtual reality (VR) has been making waves as a life-changing opportunity for the millions of people with dementia worldwide. VR acts as a beacon of hope to those having difficulties with identifying objects and familiar environments by rekindling their memories, prompting them to have conversations, as well as altering their mood and stress levels.
Several companies such as Virtue, Wayback, Second Wind Dreams, DemVR and many more are already on their way to implement VR as an effective distraction technique by recreating past memories and events for dementia patients.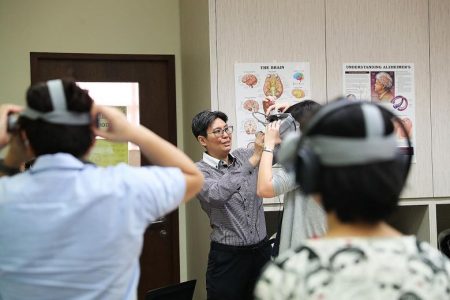 Yet, what if dementia could be experienced personally and thoroughly by the caregivers themselves?
Dr May Yeok Wan-Koo, 51, could "only imagine" what her parents had to go through ever since they had been afflicted with dementia last year.
But now she has the chance to walk in their shoes through a VR experience known as the Educational Dementia Immersive Experience (Edie). Edie was first developed by Dementia Australia in 2016. Alzheimer's Australia Victoria later launched the "Enabling Edie" workshops in 2017.
Dr Wan-Koo was one of 30 or so people including professional care staff members and caregivers of persons with dementia who tried out the VR experience at the Enabling Edie workshop on Tuesday (19 March).
The event was organized by ADA in order to introduce the VR headset to caregivers of dementia patients, with the hopes that it would improve dementia-care training and reduce stigma against people with dementia.
Once she puts on a headset, Dr Wan-Koo finds herself in a virtual bedroom with the simple mission of getting from the bed to the toilet. She discovered that she could not make out her way as easily as before as she stumbled around objects that appeared blurry and fuzzy. Even the patterns on the floor tiles turned into virtual cockroaches and a plant in the room seemed to take on the shape of a human shadow.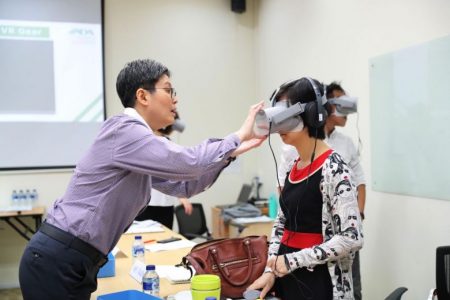 The head of ADA Academy, Ms Koh Hwan Jing, stated that the perceptual challenges faced by people with dementia tend to be underestimated, such as distinguishing colours and patterns.
"Through this app, you can see how the visual challenges affect what a person (with dementia) sees and because of that, (how) it affects their daily activities," Ms Koh added.
She elaborated that a better understanding of the challenges of dementia will not only help to build empathy, but also raise awareness about making more "dementia-friendly" infrastructure like using contrasting colours to differentiate cupboards, doors and walls.
The ADA has acquired 16 headsets, each for less than US$300 (S$405), to conduct the workshops here. The three-hour workshops cost about S$120 each and will be conducted at the ADA Academy from May. The association aspires to reach 1,000 people through the Enabling Edie workshops and roadshows over the next few years.
Source: Virtual reality headsets transcend from gaming to helping users experience dementia firsthand – The Online Citizen