Hand sanitizer isn't something many people thought about daily, until now. Many of our habits have suddenly and drastically changed, and being acutely aware of hand sanitizer is definitely one of them. But it doesn't have to be boring, and in fact, these two Florida-based companies are offering options that may even remind you of your favorite theme park.
"Any traveler knows that smells can play a huge role in our nostalgic love of our favorite vacation destinations," said Magic Candle Company Founder Keith Mahne. "(including) The smell of a tropical beach, dark water ride, and one of my personal favorites, the smell of a beautifully themed resort lobby."
That particular smell was the one that started it all. During a Florida vacation, Mahne and his wife fell in love with the scent of their hotel's lobby. The quest to bring that aroma into their home led to the creation of their company (and their very first scent called Contemporary).
"Many of our customers are vacation and theme park lovers," Mahne noted. "With the current situation taking place, we had an opportunity to partner with another local company that makes bath products and make scented hand sanitizer using some of our popular fragrances."
The company's Magic Hand Sanitizer comes in two ounce spray bottles and 10 fragrances: Banshee Flight, Beach Resort, Contemporary, Floridian, Flying Over Fiji, Flying Over Orange Groves, Pineapple Whip, Pirate Life, Polynesian, and Yacht Resort.
Contemporary, Floridian, Yacht, and Beach hand sanitizers all share the same fragrance, which is green clover and aloe coupled with fresh jasmine, lily of the valley, ylang, and cedar; Polynesian features aromas of fresh green tea with notes of citrus and bamboo. But the resorts aren't the only magical theme park experiences the company is bringing to life via hand sanitizer.
The Pirate Life scent captures the same spirit of the high seas as a certain popular pirate attraction with notes of ocean air, fresh rain, and salty-sea breezes, and Flying Over Orange Groves pays tribute to the sky-high experience of soaring over the Golden State. In addition, Banshee Flight and Flying Over Fiji share the same fragrance of fresh ocean breeze with top notes of apple, melon, orange, and bergamot, a heart of lavender and bois de rose, and a base of violet and musk. Last, but certainly not least, Pineapple Whip captures the smell of a favorite frosty treat.
Magic Hand Sanitizers not only feature scents inspired by favorite vacations, but they also do their job of stopping the transition of germs. They use the World Health Organization formulation and contain 75% alcohol (exceeding the Center for Disease Control guidelines of 60%). Plus, they are all gluten-free.
You can find them at magiccandlecompany.com.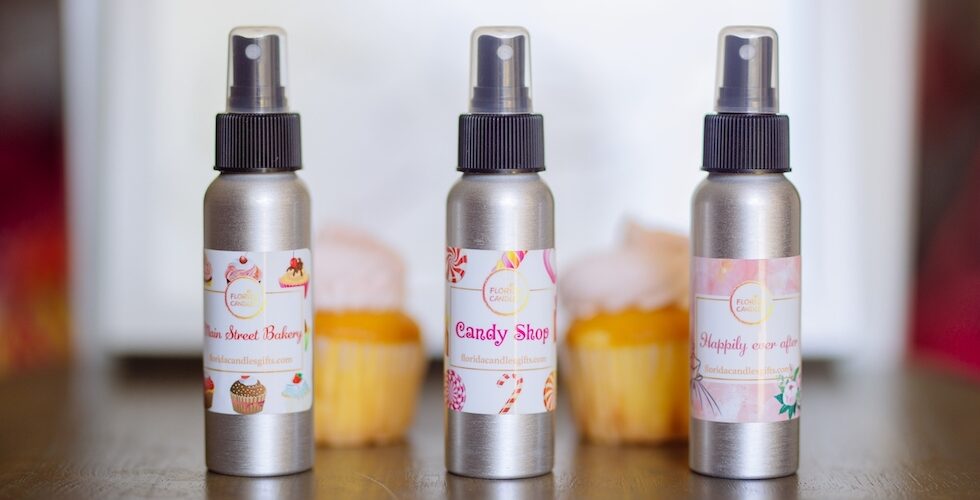 Florida Candles
Florida Candles owner Lilly Yunusova and her husband are big theme park fans, so they started their company to help other theme park guests experience the smells of their favorite attractions and resorts without leaving home.
"Candles, wax melts, and room sprays were our main collection until March 24, when we received the news about all Disney resorts and parks closing," Yunusova says. "For me, it was really hard to accept because Walt Disney World is more than just theme parks and resorts, it's a second home and a place where I get all my inspiration and energy."
Yunusova noticed many people were not prepared for quarantine. She also saw a lot of posts on social media that it was difficult to find sanitizers, so she decided to make high-quality alcohol-based spray hand sanitizers with her favorite magic scents.
"We love our customers and want them to stay safe and healthy," she added. "We are doing everything we can to help our customers and our community through this time."
Florida Candles Hand Sanitizer comes in three ounce recyclable/reusable aluminum spray bottles and nine fragrances: Main Street Bakery, Soaring Over Orange Groves, Caribbean Beach Resort, Happily Ever After, Jambo, Century, Candy Shop, Popcorn Stand, and Floridian Resort.
One scent that often reminds travelers of Florida and California is the citrusy smell of oranges, so the Soaring Over Orange Groves hand sanitizer will certainly bring back magical memories of vacations in Anaheim and Orlando (not to mention a certain favorite attraction).
Who doesn't love the smells of Main Street U.S.A? Main Street Bakery, Candy Shop, and Popcorn Stand hand sanitizers offer all the satisfaction of buttery popcorn and sweet treats with none of the calories. And the "icing on the cake" is Happily Ever After, which smells like, what else? Vanilla cake.
Similarly, stays at themed resorts are represented with Jambo, which smells of sandalwood with a hint of fresh vanilla; Century, which has the scent of lemongrass and green tea; and Floridian, which is green clover and aloe with hints of jasmine and lilies.
Florida Candles' conditioning hand sanitizer spray kills 99.99% of germs and bacteria due to the 65% alcohol content. The non-drying formula also uses organic essential oils.
You can visit Florida Candles on Etsy.
As you can tell from their names and descriptions, both company's products are not official Disney, or any other theme park company merchandise. But why not bring a happy reminder to your cleanup? Smell good and stay clean.
Source: Theme park-inspired hand sanitizers bring memories while fighting germs