Tomi Ahmed, a co-founder of the fragrance brand Iiuvo, in his home studio in Hoxton, London. At left is a canvas by the artist Stefan Brüggemann, one of the brand's collaborators; at right is Eve Arnold's 1962 portrait of Malcolm X.CreditCreditCarlotta Cardana
"I could play you a track to tell you how it smells," says Tomi Ahmed, the co-founder of Iiuvo, an experimental fragrance brand that tests the limits of what a perfume can be. The 29-year-old is describing Woodgrain, one of a trio of scented candles that kick-started the company he set up with his friend Leo Gibbon in 2015. Wearing a subtly frayed Celine suit with black Birkenstocks and a Chicago White Sox cap, Ahmed lists the references behind the sultry blend of cardamom, myrrh and tonka bean: the Texas rapper Bun B, Iceberg Slim's 1967 memoir "Pimp: The Story of My Life" and the woody interior of a Cadillac. "It's amazing the layers of influences that go into just creating a candle," Amed says of the scent, which was designed to evoke Southern rap.
The brand's mission is equally nuanced. The idea behind the company, which takes its name from the Latin word iuvō, meaning "to help, gratify, please and delight," stems from a series of missteps: Ahmed, looking to apologize to a former girlfriend, bought her a candle; Gibbon, the scent-obsessed son of a florist, called him out on his choice. This sparked a long debate about scent that evolved, with the help of Ahmed's energy and creative vision, into a plan to propel Gibbon's dream of making a fragrance into a reality. Now the brand — which released its first installment of gender-neutral perfumes (Soigné, Gilot and Fonteyn) in 2017 and is sold at Harrods and Selfridges in London and Totokaelo in Seattle and New York — is spreading its reach to include exhibitions and albums.
The sparsely furnished loft in Hoxton, in North East London, which serves as Ahmed's home and company headquarters, is filled with clues about the collective's creative lives. Stacks of speakers, keyboards and turntables flank the double-height windows that overlook a basin of the Regent's Canal, while a neon typographical canvas sits on the floor, propped against a wall. Its creator, the Mexican artist Stefan Brüggemann, collaborated with the brand on the creation of one of its best-selling candles, which has dark, glitter-flecked wax and notes of Sichuan pepper. With an expletive name that's a satirical nod to the banal pleasantries that permeate daily conversation — and a sendup of the overly mannered world of fragrance — it is currently being reconfigured into a woody, spicy and slightly fruity perfume for release this fall. "It's about levity," Ahmed says, laughing. "You can't be overly serious in this game."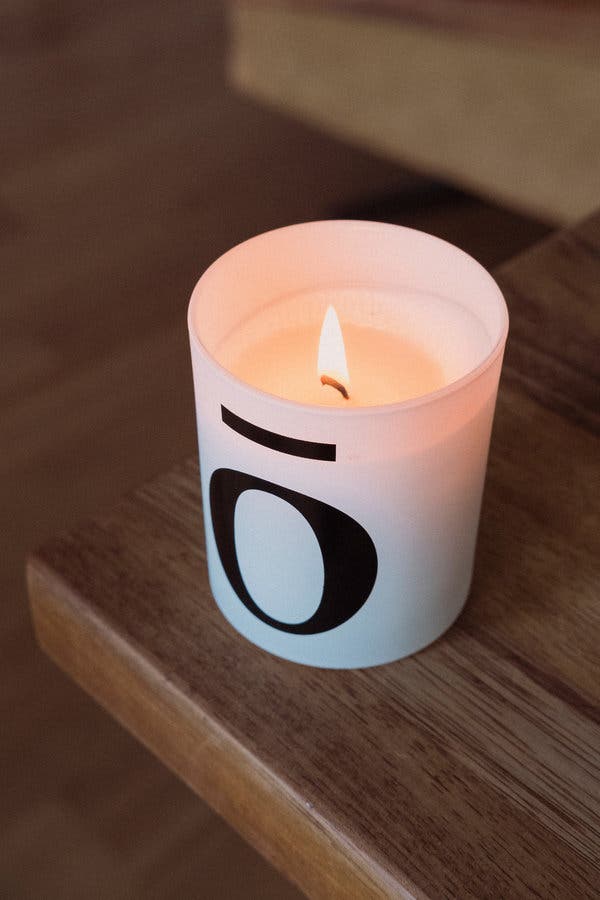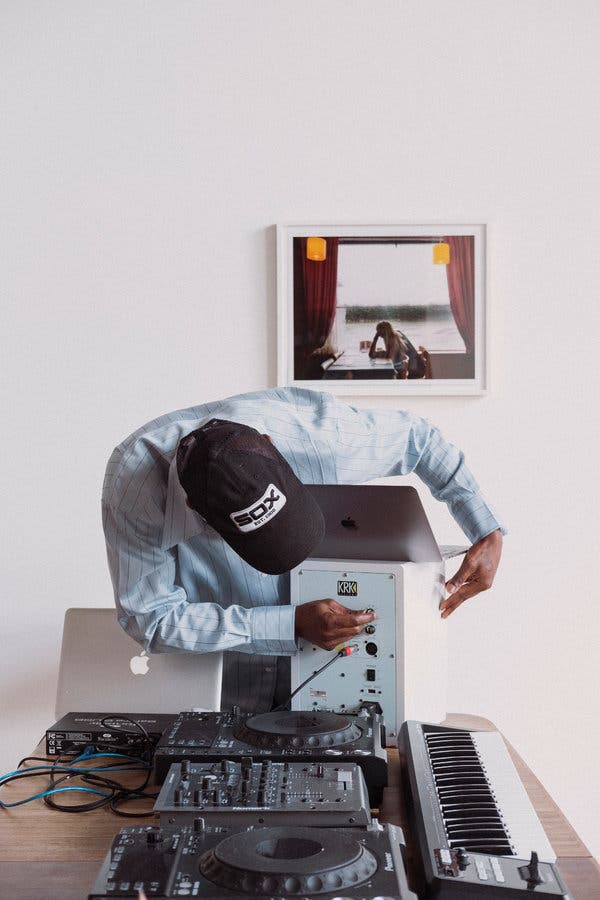 Though the team blurs responsibilities as they frequently skip between mediums, Ahmed generally handles artistic direction, working on branding and campaign imagery, while Gibbon guides the narrative, developing scents and creating mixtapes that communicate their "sound." That fluid way of working will likely only be enhanced when the brand shifts its operations to Portugal this coming October. "We're looking for a studio space in Porto," Ahmed explains. "There's a good vibration there. We just need somewhere that can accommodate all of us and our mad ideas."
This urge to keep moving is nothing new for Ahmed, who shuttled between South London and his mother's native Nigeria throughout his childhood. "The way I grew up was so raw," he says. "I was sent to a Nigerian boarding school to straighten out, but I think I saw it as a bit of a holiday." After briefly signing to a professional soccer club in England, he ended up working at the Comme des Garçons-owned fashion emporium Dover Street Market in London, a retail environment that feels as much like a conceptual art installation as a clothing store. "It was like exposing a kid that's never had sugar to a candy store," he says. "I didn't know anything. My concept of fragrance was Versace Jeans — that's what everyone in my area wore. Seeing people consume in certain spaces and buying into certain ideologies makes you realize it's all art."
For now, Iiuvo is focused on the creation of a new perfume, Rave, which references the club culture that evolved from British nightspots like the Haçienda, and combines hints of white lotus flower and ambergris with an "Ecstasy accord," a blend developed to reference the sensation of MDMA-induced euphoria. In keeping with Iiuvo's multisensory approach, a scorched image by the Korean-born artist Sang Wha Yim features on one of the visuals boards the team uses to communicate with the handful of fragrance manufacturers, including the French perfumer Robertet, that blend their scents.
The perfume's launch will coincide with the debut of the brand's forthcoming record label, Mandark, which will release a compilation of artists' interpretations of rave. More imminently, this October, Iiuvo will stage a fragrance-infused art exhibition at a modernist residence in Oxford. "It's really going to push things forward," Ahmed says of the brand's endeavors beyond scent. "Fragrance is an extremely conservative world. We're not deliberately disruptive. We just come with our own rules."
Source: The Perfume Entrepreneur Mining Musical Subcultures – The New York Times