The Bubble Tea Factory is a multi-sensory exhibition filled with Instagrammable boba-inspired installations
Sugar and everything nice
Everybody loves bubble tea — or rather the new buzzword — boba. The queues for new bubble tea outlets are in a perpetual state of limbo, as streams of people wait patiently in line just so they can get a sip of that sweet nectar that is bubble tea. Despite the saturated market, the franchising craze is still going strong, with the biggest Taiwanese brands setting foot onto our sunny island in the past year. So, it begs the question: The nation obviously adores the drink, but how much do we love it actually?
Turns out, very much. That's why The Bubble Tea Factory is made for — acting as an interesting barometer for the extent of the boba spell. It is touted as a multi-sensory exhibition focusing on bubble tea, but to put it better— we're getting a bubble tea theme park. Of sorts.
Running from 19 October to 18 December at a 7000sq ft premise at SCAPE, the factory promises ten exhibitions that will not only be visually stunning but lined with interactive experiences that visitors can engage with their five senses. We're especially excited for the taste factor.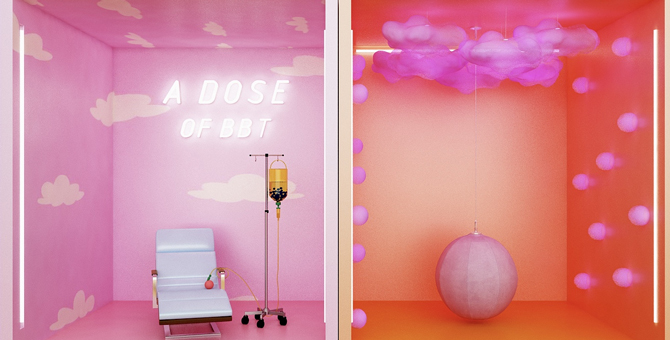 Pose with the quirky bubble tea IV drip or huge wrecking pearl
Some of the highlights include the "Taro-bly Cute" Pearl Pit, giant boba trees, a huge pearl wrecking ball and an adorable bubble tea IV drip to pose with. It's plastered with soft pastel colours, jazzed with neon lights, and quirky undertones — that can only mean that it's perfect for the 'Gram.
To make the whole experience even sweeter, all visitors will be given a Boba Booster Pack of limited-edition collectible cards, and one complimentary cup of bubble tea as well as bubble tea inspired treats. In our opinion, there are two ways this can go down: 1. It's an overkill — so you end up scarred from the experience. 2. It's an enabler for your next bubble tea expedition. The latter probably sounds more like it.
The Bubble Tea Factory will be running from 19 October to 18 December 2019, get your tickets here.
Source: The Bubble Tea Factory is a multi-sensory exhibition focused on instagrammable bubble tea fixtures | Buro 24/7 Singapore