Jiggling bowls and musical plates feature in a collection of tableware, designed by Design Academy Eindhoven graduate Teresa Berger to help diners reconsider how their food is produced and consumed.

The eight pieces in the range combine a classic stoneware base with unexpected elements like uneven, textured surfaces to facilitate touch, silicone accessories that enhance smell, and speakers to deliver "sonic seasoning".

With her Beyond Taste collection, Berger wants to pay heed to the origins and preparation methods of a dish through the plate on which it is served.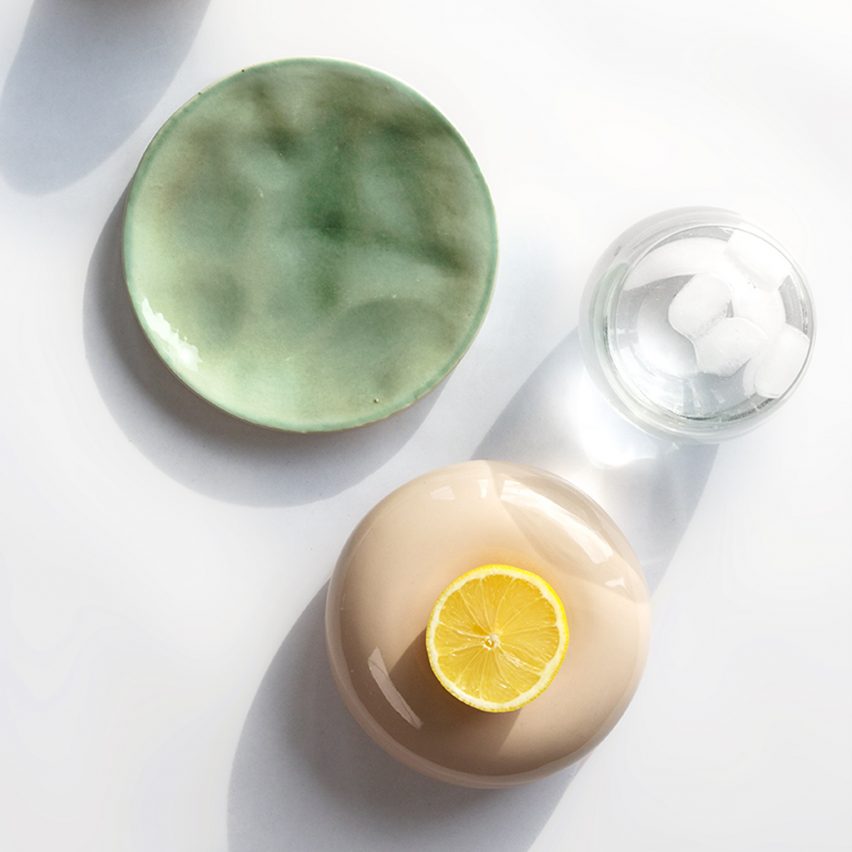 "More and more people are living in an urban environment and are not aware of how food actually makes its way onto our plate," she told Dezeen.
"In our everyday life, we have lost our connection to food. We have breakfast on-the-go, eat lunch while swiping through Instagram and have dinner while watching Netflix," she continued.
"We do not take the time to look at our food and fully appreciate it so the balance between the senses isn't right – kind of like watching a movie with the sound off."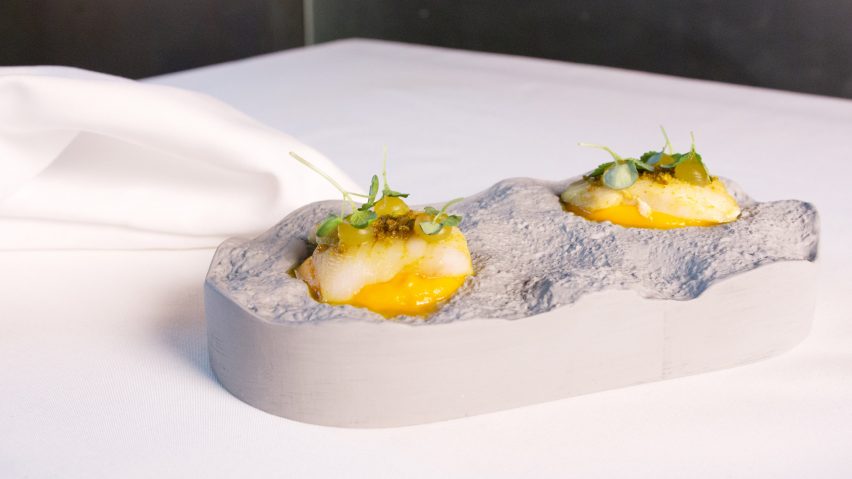 One way Berger hopes to turn up the volume on the culinary experience, is by integrating a mini Bluetooth speaker into the base of a soft-pink ceramic dessert plate, called a Sound Donut.
Encased in a 3D-printed rubber capsule, this plays ambient sounds with particular frequencies and pitches which, according to a 2010 study from the University of Oxford, can affect the levels of sweetness and bitterness perceived by the eater.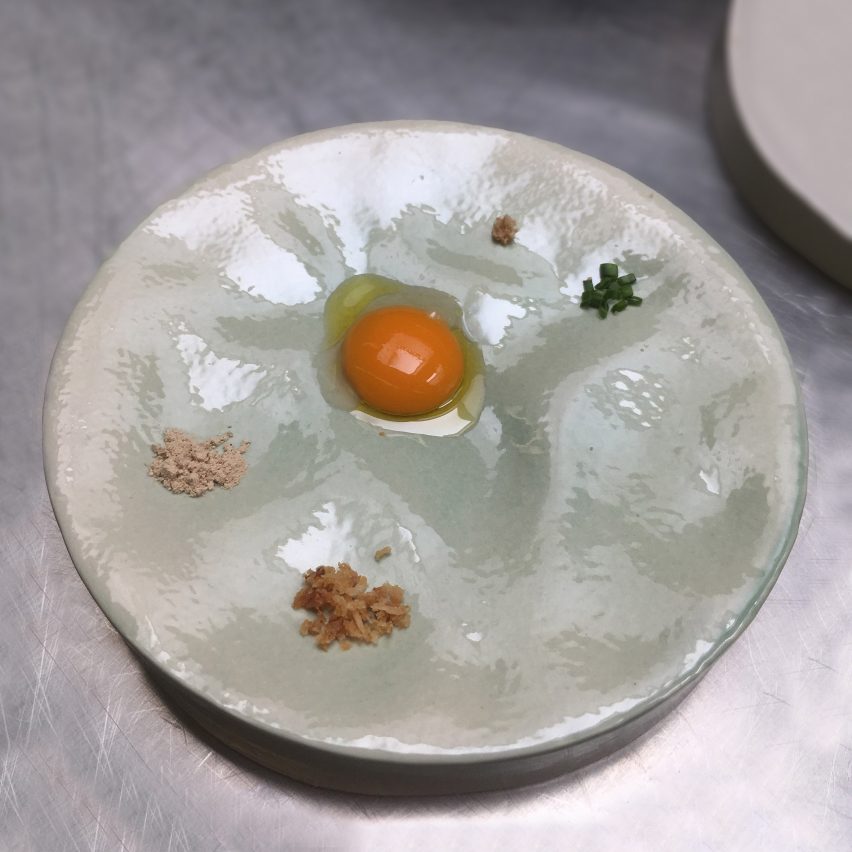 The project pays homage to the ideas of gastrophysics. A growing area of scientific research, it investigates the ways in which our perception of food is influenced by an interplay of all our senses – not just taste.
The approach has become increasingly popular among designers in recent years, with Jinhyun Jeon, Michel/Fabian and others designing cutlery that enhance our perception of food.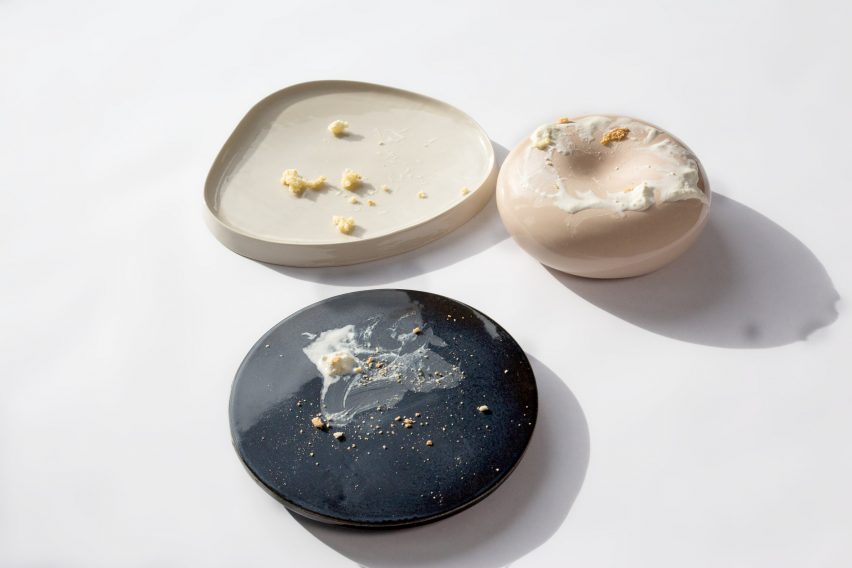 "It's still not clear exactly how it all works but they think it might be linked to synesthesia, a rare neurological phenomenon that lets people hear colours or taste certain shapes for example," said Berger.
"The theory is there may be certain aspects of synesthesia that we all possess, such as a connection of sweetness to higher pitches and bitterness to lower pitches."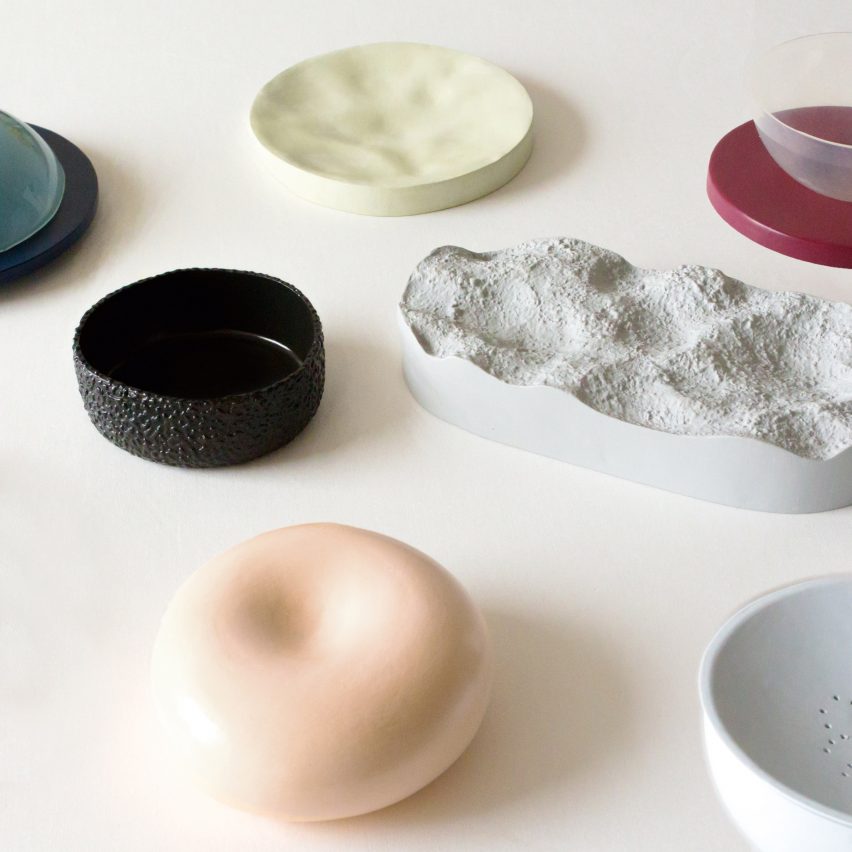 To create a playful interaction with soft, gelatinous foods, the Dancing Bowl features a translucent silicone hemisphere. They are gently placed within a dent in the accompanying, dark red-glazed plate and start to jiggle when touched with a spoon.
Elsewhere in the collection, this concept is turned on its head, as the silicone is used to form a dome on top of a shiny, midnight-blue plate.
This captures the plumes created in the making of smoked dishes, and makes them visible at the table. Once a spoonful is lifted off the dome, the smoke escape through the holes at the top and engulfs the eater.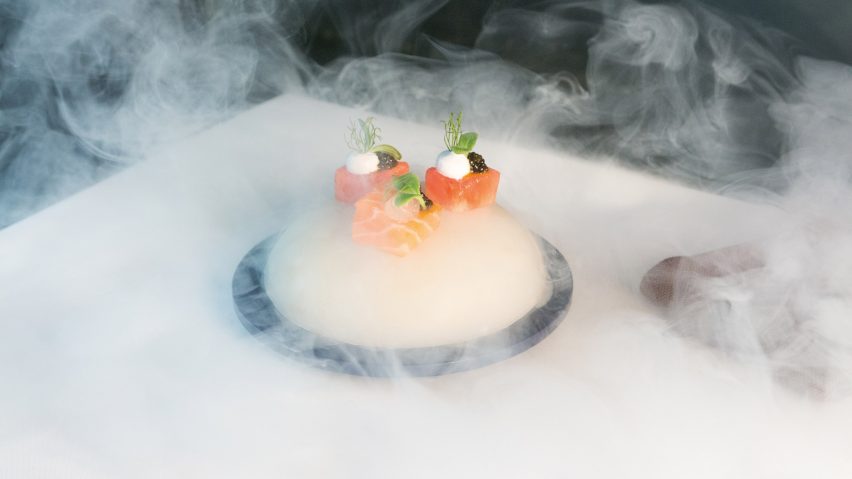 "To get this really thin and even surface of silicone I pour it layer by layer over vacuum-formed acrylic moulds," the designer explained of the production process, which takes place in her Copenhagen studio.
"It's a very time-consuming method but so far I have not found another way of creating the same results."
In contrast, the Landscape and Seabed Plates are thick ceramics slabs made to resemble the natural environment of particular ingredients.
The eater has to carefully navigate through the forms, designed to resemble gently sloping hills and wave-swept ocean floors.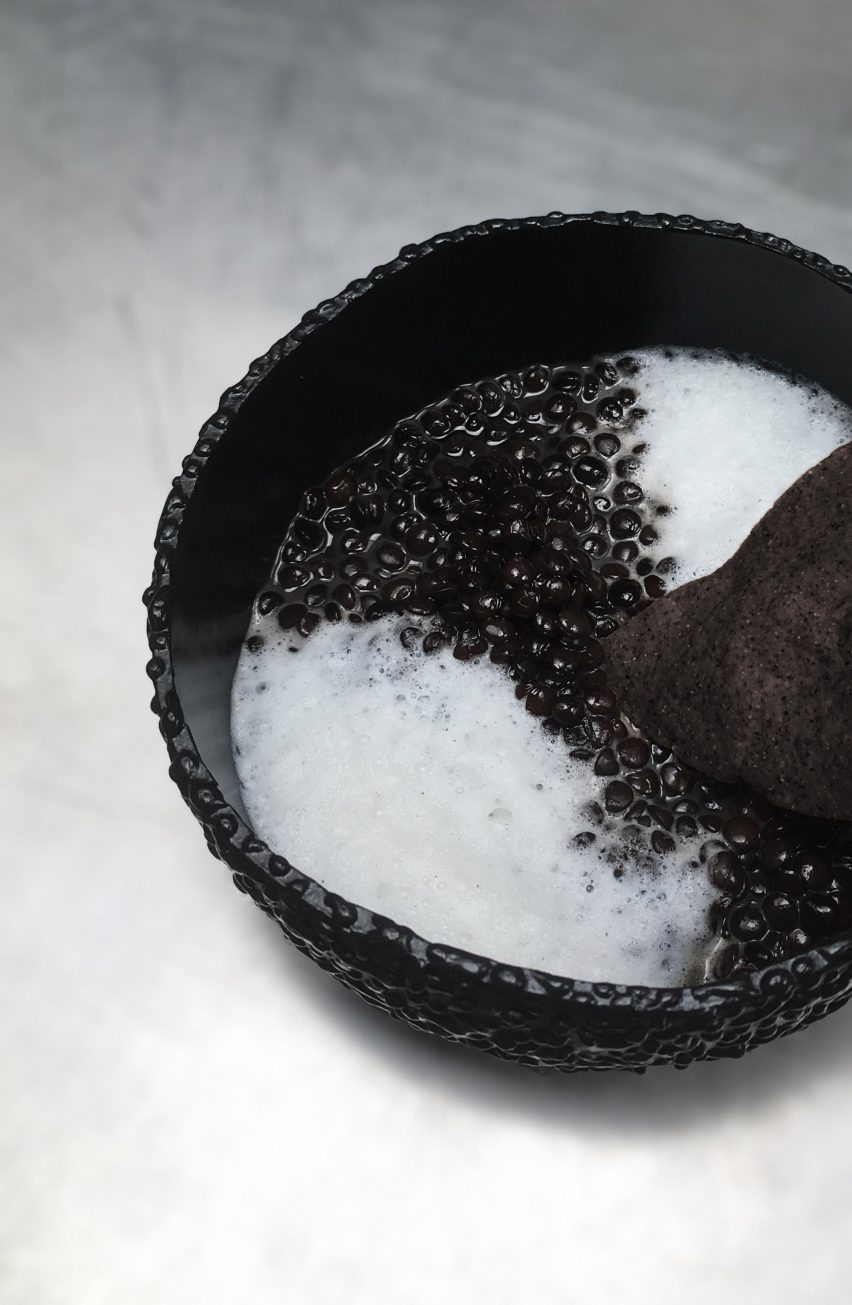 A black bowl, made to hold foods like caviar, lentils or boba, is distinguished by a glossy, pebbled exterior to give a tactile impression of what awaits the diner.
The Dripping Dish, meanwhile, consists of a strainer that gradually releases liquid into the bowl underneath, and the Organic Motion plate has curved edges designed to hold saucy dishes.
They facilitate the Italian ritual of "fare la scarpetta" in which a piece of bread is used to mop up the remnants food that are too delicious to waste.
Source: Teresa Berger's multi-sensory crockery rebuilds our connection to food