In front of us is an array of small bottles and jars: lotions and potions and powders. There's an intensity cooped up inside them, ready to evoke a world of associations upon release. Justine Cooper opens a jar for a sniff, and I jump back at the intensity of it. Sea and savoury and strong. It is seaweed she picked and dried and crushed (in a coffee grinder), one of several ingredients in a series of complex and unusual aromas she is creating.
The scents will be one of myriad senses stirred in Go to Blazes, a performance inspired by episode four of Ulysses, known as Calypso. Part of the year-long Ulysses 2.2 project from Anu, Landmark Productions and MoLI, this one is CoisCéim Dance Theatre's take on an episode of Joyce's novel. The intimate, personal, multisensorial journey exploring Calypso, choreographed by David Bolger, will use live contemporary dance, 180-degree virtual reality and an engagement of the senses – including smell.
In the large studio they are working through a dance segment as Denis Clohessy's original composition plays. As well as a creator of essences and scents, Cooper is a dancer – she has worked with CoisCéim for a decade. She is performing live and also in a VR film (which audiences will experience through headsets) with two other dancers, the CoisCéim regular Jonathan Mitchell and Rosie Stebbing, on her debut with the company, fresh from her Dublin Fringe best-performer shortlisting for her show with Ornella Dufay-Miralles, Test 1.
We're on Fairview Strand, in the new Dublin home CoisCéim moved to during lockdown, a striking, detached four-bay gable-fronted brick-and-stone sorting and postal office built in 1901, which was more recently a bridal shop. These days it is the dance company's HQ and generous, airy rehearsal (and occasionally, as for this show, performance) space. Aroma is embedded on site. For her colleagues in their new home Cooper created a liquid soap, for hands and dishes. She describes the process of creating scents for Go to Blazes as like a choreography, experimenting to find the right fragrance notes "to bring the smell off the page and into three-dimensional form so it can be breathed into the body" by the audience.
CoisCéim is not dramatising Calypso here but offering the sensation of it, a reading of it, with each audience member taken on an intimate, multisensorial journey. Bolger talks about how layered the text is, how they've tried to embody it, offering "something of the experience of being with this piece, where you get all the sensation", in person and in VR, in sight, touch, smell, sound (even down to hearing traffic outside). "Justine is our thread or portal, our conduit to what's happening, leading the experience."
Episode 4 is where readers first meet Leopold and Molly Bloom, beginning at 8am with him considering breakfast: "grilled mutton kidneys which gave to his palate a fine tang of faintly scented urine."
"It's interesting to me as a choreographer," says Bolger, "to start with a part of the body"; early in the process "what really stuck out is the description of smell. Joyce wants you not just to read this text but to inhale it." The episode ends with him visiting his outhouse, surely also offering olfactory possibilities.
Cooper was the ideal person for the CoisCéim riff on Calypso, marrying both her creative passions in one production. Scent and aroma have been with her since the cradle: her mother is an aromatherapist and her interest in essential oils and the healing powers of plants, flowers, barks and resins began as a child. During lockdown she studied botanical skincare and started making careboxes. She talks about putting kindness into everyday things, like washing hands, via the sole essence of a plant. When CoisCéim launched the Emma O'Kane bursary, honouring the gifted dancer who died in 2021 aged 44, Cooper created a scent (in candle and spray) inspired by her, called Rose Quartz: rose, frankincense, myrrh and ylang-ylang, "powerful and rooted and heart-scented, for Emma".
From first researching the Calypso episode, the company had the idea of using scent from the pages as part of the experiential process, "for the audience to breathe it in, a scent map". Cooper is developing nine scents which will figure in the performance, but she's a bit secretive about what they are and how they'll circulate. "I can't give too much away, they warned me," she laughs. The chapter is about mythology and also about home, she says, and some of the scents are mythic, others domestic or to do with food and cooking, and others bodily.
We examine and breathe in some of the ingredients she's lined up, from tobacco to essential oils such as jasmine to smoked paprika to frankincense resin, which she'll burn to build a scent.
Cooper shares the aroma that wafts through the open doors of Larry O'Rourke's pub as Bloom passes, smelling 'whiffs of ginger, teadust, biscuitmush'
She shares two aromas with me, ingredients and the finished scent. Her process is instinctive, "a kind of poetic dreaming. The nymph, who is she? Alluring, magnetic, and the sense of the sea. But also, there's a powerful violence to her." Cooper's nymph scent blends jasmine (an aphrodisiac, "to create a beguiling force field"), vanilla, sweet vermouth, vetiver ("it's earthy, a powerful scent often used in men's fragrance"), with notes of sea salt. It is intoxicating, powerful and sweet.
She also shares the aroma that wafts through the open doors of Larry O'Rourke's pub as Bloom passes, smelling "whiffs of ginger, teadust, biscuitmush". There are layers to this, involving tea with its aroma intensified by bergamot oil (hinting at an earl grey), plus bergamot, and the sweetness of vanilla for the biscuitmush.
Fresh bread and foul flower water are likely, and Cooper is still working on creating the "lukewarm breath of cooked spicy pig's blood" which Bloom "breathed in tranquilly". We sniff substances which could figure in that, including some meaty aromas from spices and essential oils. She's tight-lipped about what will make the cut, and also about the "tang of faintly scented urine", which must surely figure in there somewhere. (She's saying nothing.)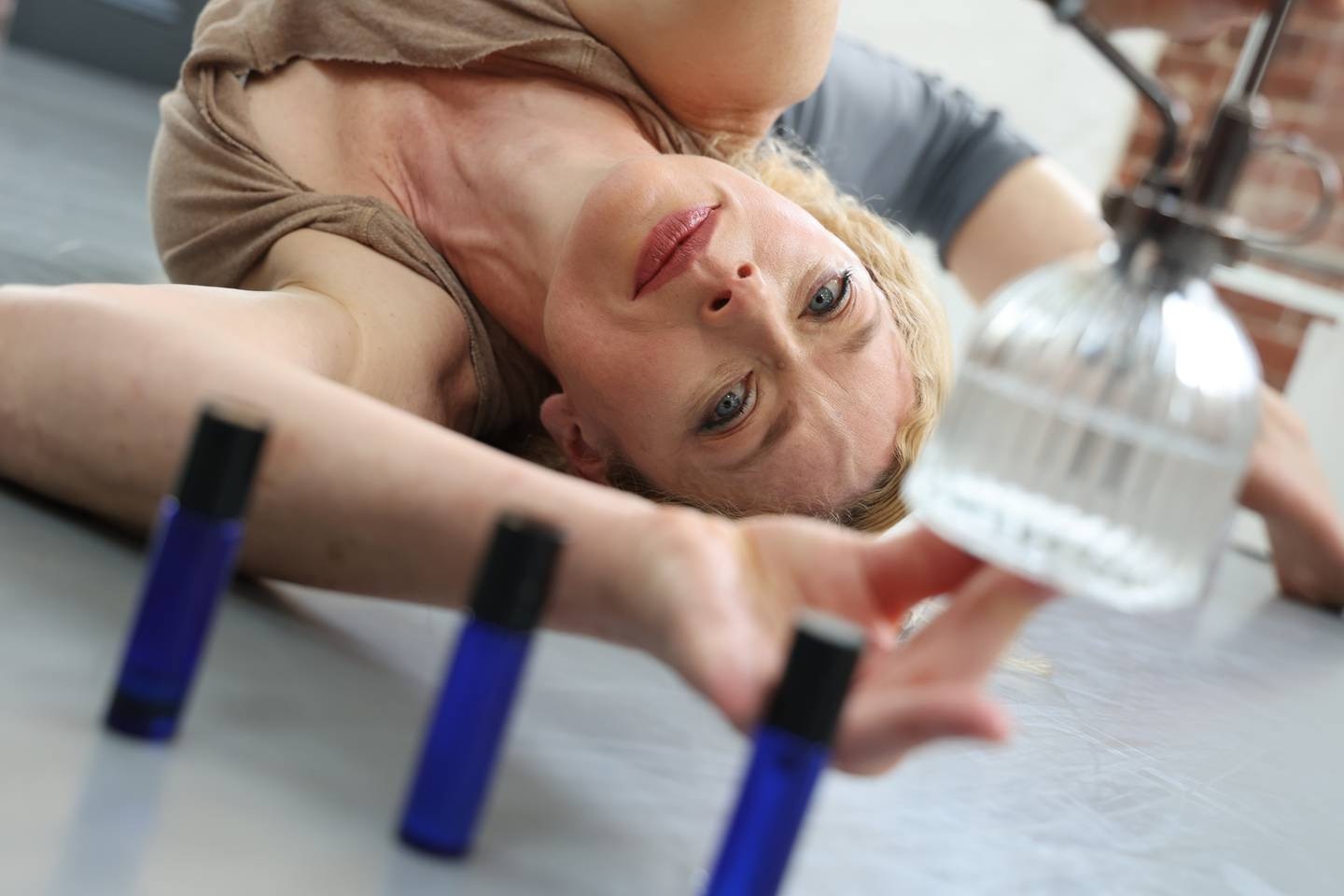 The show sounds intimate in all sorts of ways, with audiences of just 21 in CoisCeim's homeplace, led through Cooper's live dance and the trio's VR performance, captured by Enya Belak and Igor Crnković. Costume designer Arran Murphy has worked with Rediscover Fashion, a social enterprise supporting low-carbon living, at the circular economy Rediscovery Centre.
Embedding scent and aroma into a production is unusual in Ireland, particularly in such an intrinsic, complex fashion as this. When it figures, it can be memorable, remaining after other details fade: for a Druid Theatre production of Playboy of the Western World many years ago in the company's tiny 100-ish seater theatre in Galway (since named the Mick Lally Theatre), turf burned gently in the set's fireplace for some time before the audience entered the intimate space. It was like stepping into the pub in Co Mayo, breathing the same air as Pegeen Mike and Christy Mahon.
Ambient smell has long been a feature of live performance, whether intentionally or not, says Charles Spence, writing about scent in live performance for the journal i-Perception. "While, once upon a time, the incidental presence of malodour was an inevitable feature of proceedings, the deliberate use of scent can actually be traced all the way back to the earliest rituals … in processions, pageants and, most important, performance." From Shakespeare onward, scent has been used as an atmospheric/ambient cue, to create a mood, trigger memories or nostalgia, and occasionally serve a narrative role. Using scent in highly immersive and experiential multisensory events, is more recent, he points out.
Scent is intrinsic for Cooper. It's not just her mother; Cooper comes from a long line of healer women, working with herbs and energy, "an ancestral DNA bloodline". She's from New Zealand, where she trained as a dancer; moving to Ireland 16 years ago, she started dancing and stayed. She was drawn here because of her great-great-great grandmother, Diana Hunt, from Glin in Co Limerick, who left Ireland alone, aged 16, on a boat during the Famine.
And this week her descendant Justine Cooper is crafting the poetry and breath of the aromas found in Ulysses Episode 4, distilling the printed page into visceral essences drawn into the body on a direct path to the brain. For the audience it will be, Cooper says, like experiencing an impressionist painting through the senses.
Source: Tang of urine and spicy pig's blood: A virtual-reality Ulysses lets you inhale the smells of Joyce's Dublin – The Irish Times