Tan Weiyun / SHINE
Diptyque has launched its first fragrance exhibition and pop-up boutique in China to celebrate more than 50 years of fragrance creation.
The century-old building Cha House at HKRI Taikoo Hui in Shanghai is awash with delicate fragrances these days.
Paris-based perfume brand Diptyque's first fragrance exhibition and pop-up boutique in China opened today until next Sunday to celebrate more than 50 years of fragrance creation.
Visitors will gain an understanding of how eyes, hands and nose are united in the world of perfumery.
An expedition across Diptyque's olfactory landscapes features the brand's five iconic fragrances — L'Eau, Do Son, Philosykos, Tam Dao and Eau Rose. Each immersion captures the distinct narrative that inspired the creation of the scent.
Do Son, released in 2005, is a floral blend of tuberose, orange blossom, roses, marine accord and white musk, inspired by a childhood memory of Yves Coueslant, one of the brand's founders, when he spent a vacation with his parents on the sandy beach at Vinh Ha Long in Vietnam, a quiet, soothing place with a cool, fresh sea breeze and the sweet scent of tuberose.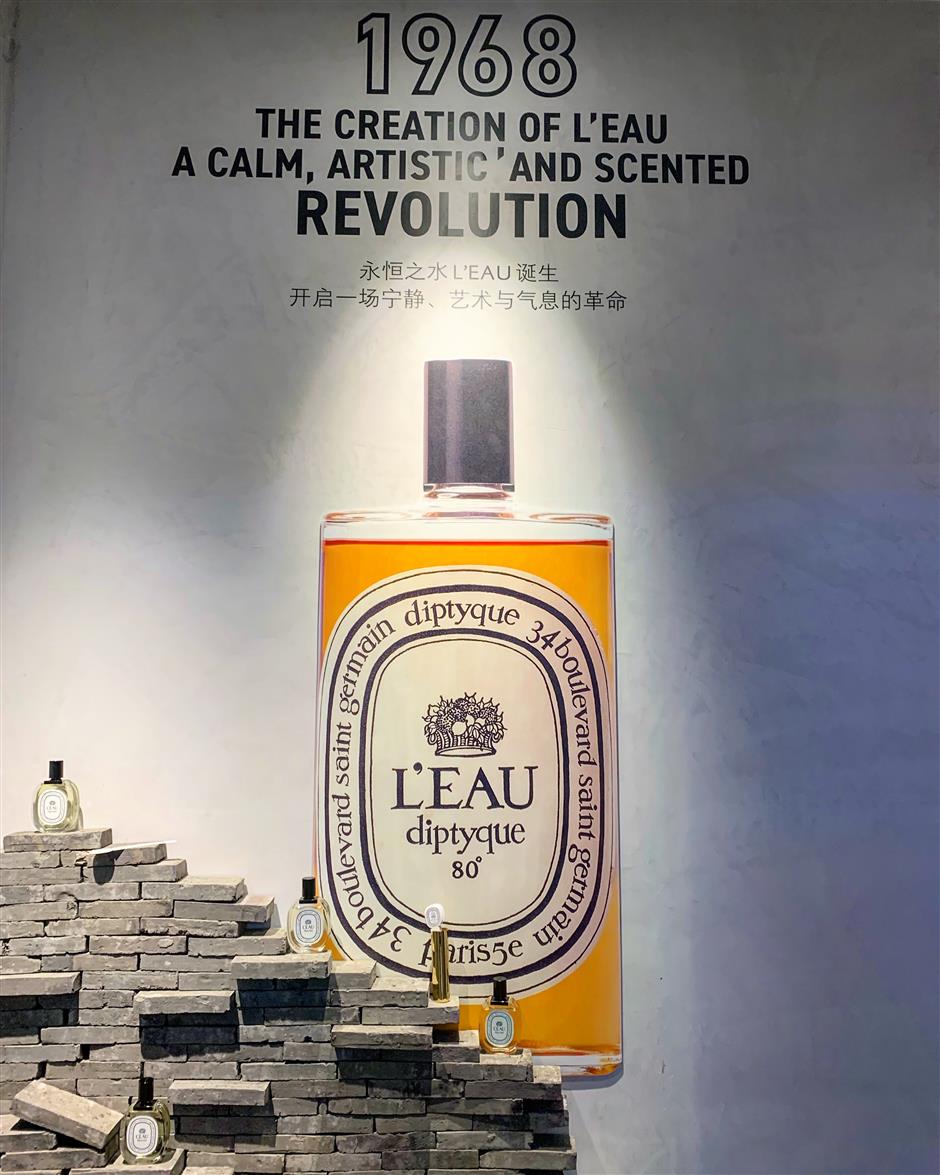 Tan Weiyun / SHINE
Released in 1996, Philosykos, a woody aromatic blend of fig tree leaves and white cedar, recalls a summer coastal experience at Mount Pelion in Greece, where a forest of fig trees under the scorching sun sent out a ripe fruit aroma and the fresh smell of leaves and wood.
L'Eau is the first perfume Diptyque released in 1968. Based on a 16th-century potpourri recipe of clove pomander with notes of cinnamon, geranium, sandalwood, rose and cloves, the brand's oldest fragrance is for both men and women.
Visitors can enjoy the interaction in the immersive new media art space and smell more than 30 raw fragrance materials from Diptyque's iconic eaux de toilette and eaux de parfum.
At the pop-up boutique, visitors will get a special fragrance gift, with an engraving and illustration service. People may select their favorite postcard as a souvenir, spray themselves with some fragrances, and mail them to friends and family to wrap up this sensory journey of olfactory and art.
Exhibition details
Date: Through April 28, 10:30am-8:30pm
Venue: 1/F, Cha House
Address: 420 Weihai Rd
Admission: Free