Subwoofers add body, depth, and excitement to movies and music but they have other uses, too.SVS has shared its expertise in low-frequency reproduction to help bring to life a unique art project created by Wendy Wischer in collaboration with geophysicist Jeffrey Moore that's on display at the Nox Contemporary art gallery in Salt Lake City, Utah.
The project, called "Displacing Vibrations," is a multi-sensory experience that uses an SVS subwoofer to produce naturally occurring sounds and vibrations that are present in rare rock archways and formations found in Utah and throughout the American West.
Natural arches are constantly vibrating; like a guitar string plucked by the wind or the background drone of the Earth's energy, they each vibrate with a unique set of tones set by their geometry and material properties, creators of the exhibit explained. These tones represent a voice, a hum previously unknown to humans because it occurs at inaudible low frequencies and is too subtle to feel.
By speeding up ambient vibration recordings generated with ultra-sensitive seismometers and replaying the recordings through an SVS PB-4000 subwoofer and other audio equipment, the "voice" of these archways becomes audible.
To bring the rock formations to life and create a sound sculpture that is both heard and felt, the exhibit needed a subwoofer that could produce infrasonic low frequencies to "provide a true representation of the vibrations generated by the natural rock archways." The vibrational tones are combined with many layers of added sound to create a unique soundscape.
As depicted in the opening photo, the subwoofer is hidden within sculptural sandstone landscape of the exhibit and works in conjunction with a 5.1 surround sound system to excite the senses. Visitors are allowed to touch the rock sculptures to feel the vibrations and even sit on the sculptural arch shown below.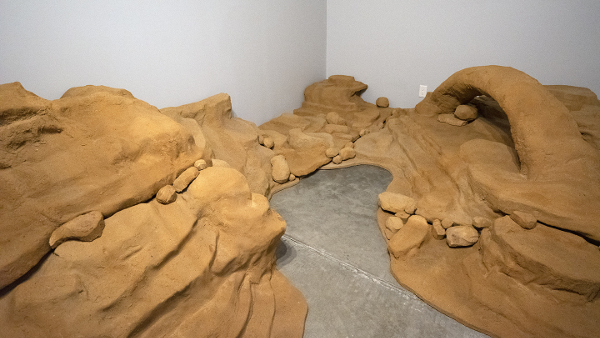 These arches evolved in isolation over thousands of years in one of the most remote and challenging landscapes of the American West. Recent human encroachment and planned development now threatens to place increasing stress on these arches. Formed over millennia through erosion, the natural rock formations are in urgent need of conservation management to support their long-term preservation. Through this inspiring collaboration of art and science, the exhibit aims to raise awareness for maintaining these unique structures.
"It's amazing to be a part of this unique multi-sensory experience and I can say with certainty this is the first time an SVS subwoofer, and probably any subwoofer, has been featured in major art exhibit," said SVS's Nick Brown. "The concept of rock formations communicating through vibrations and sound is fascinating and we're proud to play a small role in conserving these rare natural structures."
Beyond a new sensory experience, vibration recordings offer an experimental means of assessing structural change. Concepts established in engineering are being applied for the first time to monitor the structural health of rock formations. Arches are literally humming their health with the help of an SVS subwoofer and we've only begun to hear what they have to say.
"Displacing Vibrations" is open to the public by appointment through April 5 at Nox Contemporary. The address is 440 S. 400 West, Suite H, Salt Lake City, UT 84101. The exhibit will also be open to the public during a reception tomorrow 6 to 9 p.m. MT.
Read more at https://www.soundandvision.com/content/svs-subwoofers-are-more-movies-and-music#DdXys2zEpMWVwB2P.99