"Bear Ascending," made from longleaf pine needles, a black bear skull, corn husks, and Amazon parrot feathers, is one of the many pieces in Michelle McCutcheon's "Remember, Reconnect, Restore" exhibit in the West Gallery at River Arts. (Christine LaPado-Breglia photo)
One can smell Michelle McCutcheon's art exhibit yards before entering the West Gallery at Damariscotta's River Arts, where McCutcheon's multimedia installation currently resides.
Smell. Not a word normally used in connection with visual art, but in the case of McCutcheon's "Remember, Reconnect, Restore" show, it is apt.
An inviting fragrance akin to flowers mixed with woods permeates the hallway that leads up to the West Gallery door. Once inside, one is immersed in the pleasant aroma and surrounded by seemingly countless works of eye-catching art made from a wide array of Mother Nature's castoffs – leaves, snakeskin, horsehair, porcupine quills and claws, little dried seahorses, birch bark, cornhusks, antlers, gourds, and so on.
As a recent press release for the show put it, "This exhibit incorporates the beauty and sensuality of nature with the creation of leaf-printed silk scarves, framed ecoprints, coiled and woven sculptural baskets, ceramics, organic jewelry, fluid acrylic assemblages, photography, and thought-provoking sculptural wall art."
The walls of the West Gallery, as well as several horizontal surfaces and a rack, are literally covered with pieces made by McCutcheon.
"Bear Ascending" is a beautiful large wall hanging made of longleaf pine needles, cornhusks, colorful Amazon parrot feathers, and the skull of a black bear. Reminiscent of Native American artwork, the circular piece showcases the skull at its center, which is adorned with a painted design in colors of the American Southwest. The feathers and cornhusks surround the skull, giving the effect of emanating sun rays.
Hanging nearby and similarly striking is "Icarus Deconstructed," made with parrot feathers, Kennebec River cordgrass, and a slice of agate. The large, detailed piece has the overall effect of a giant peacock plume, with the blue agate serving as the "eye" of the feather.
"Booger Man" is another sizable and compelling piece. Made of birch bark, moss, a gourd, horsehair, cornhusks, turkey feathers, the nest of a paper wasp, and Japanese knotweed, magnolia, and sumac leaves, it resembles a quirky, somewhat menacing-looking mask. An accompanying statement explains that "the Booger Dance is a winter celebration that ensured evil spirits could not disrupt the coming growing season. It was also used to symbolize the predation of Cherokee by nonnative peoples … The dance and accompanying music are traditionally believed to drive away inimical spirits, striking fear into their hearts, while providing comedic relief for the tribal members." One can imagine a person warding off evil spirits wearing such a mask.
Smaller pieces in McCutcheon's show are just as compelling. Her gourd piece "Turmoil Within," adorned with sweetgrass and longleaf pine needles, strongly resembles gourd art one finds in Arizona, only with the additional flair of the gourd being carved interestingly into McCutcheon's vision of what the title represents. Likewise, "Undulation," made of a gourd, bone hairpipe beads, and mescal beans, evokes the Southwest in its understated beauty.
McCutcheon's delicately "ecoprinted" silk scarves inhabit the rack in the center of the room. To create the largely sepia-tone scarves featuring images of leaves, she uses carefully placed dried leaves and dyes made from local plants to, in effect, tie-dye each scarf. The result is nothing short of lovely. (An accompanying poster describing her ecoprinting process is helpful and interesting.)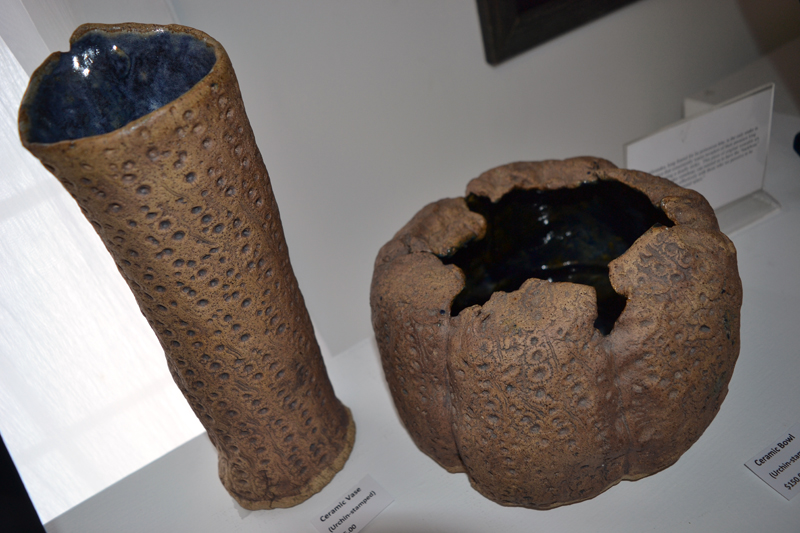 On the small end of things, McCutcheon's "Memories of Maine," an earring-and-necklace set incorporating little Maine seahorses, is imaginative and charming. Part Native American dreamcatcher, part marine memento, the set begs to be worn for a special occasion.
Overall, McCutcheon's exhibit invites one to linger, to peruse it at one's leisure as it is just so interesting and soothing.
She has named the show well. Immersed in it, one remembers time spent outdoors and one reconnects to nature within the context of the exhibit.
And one comes away feeling restored, thanks to the multisensory satisfaction derived from immersing oneself in McCutcheon's exhibit.
So, one might ask, where does the pleasing fragrance come from exactly? It is hard to say. But that is part of the beauty and mystery of this show.
For some time, the West Gallery has offered art viewers something a little off the beaten path, shows that are outside of the mainstream. Refreshingly, "Remember, Reconnect, Restore" is no different, perhaps even a little more unusual than usual.
"Remember, Reconnect, Restore" runs through Thursday, Dec. 13. River Arts is located at 241 Route 1, Damariscotta. Call 563-1507 for more information.
Source: Review: McCutcheon Show has Powerful Effect, Even from a Distance – The Lincoln County News