Yes, we're asking you not to hear, but to smell music. Because now you can – you can literally smell the notes! The seemingly impossible has been made possible by Sarah Fenwick, professional jazz singer, writer and entrepreneur who – after long years of study – has blended the essence of music into four exquisite scents, Music, Harmony, Rhapsody, and Jazz, and created Sarah's Jazz Perfumes.
Each is designed to evoke the memories of Sarah's Jazz Club, launched onto the island music scene in 2017, and now a temple for jazz-lovers both local and global. "My husband, Savvas Hadjigeorgiou, and I launched Sarah's Jazz Club in 2017 to share our love of talent, music and inspiration with the world," says Sarah. "The Club" – which is set in the Old Town – "represents many of the arts: quality live music, visual art exhibitions, perfumery and the art of wine appreciation. And it's like walking into another era, a time shift back to the Jazz Age."
It's exactly what we all need, given the challenges of the present-day pandemic – and now, with Sarah's four scents, you can relive the gentle peace of an evening at the Club. "The classic mementos of a live music experience are T-shirts, CDs and other similar merchandise," Sarah explains. "But I wanted a different way for people to remember their experience at Sarah's Jazz Club, so we sell the perfumes as a reminder of life's beauties and as an original memento of a special night.
"Music and beautiful scents are inextricably linked," she continues. "Perfumes are built by blending different 'notes' to make a new scent; music chords are built with notes which harmonise well together. And both perfumes and music are ethereal, intangible; they play briefly with our senses and then disappear, leaving an indelible memory which may unexpectedly return years in the future."
Both the art of music and the art of scent have an ephemerality about them, Sarah reveals, "a mystery which entrances my imagination. I've always loved perfume," she adds, "but commercial scents seemed to trigger my asthma. This made me curious, so I started to research what goes into your average perfume, and discovered that many of the chemicals in commercial fragrances are allergens. Modern perfumes are more like industrial products, made with synthetic fragrances which have chemical stabilisers and fixatives that are none too good for you!
"Well, I love perfume too much to give it up, and have always enjoyed an interest in aromatherapy, so I began to look into making my own perfume from natural sources. Interestingly, the original way of making perfume was to combine essential oils with a carrier, either oil or ethanol alcohol from grain or sugar crops like sugar cane. And that opened my eyes to a new opportunity, an inspiration…"
And what better, of course, than Sarah's passion and talent for music to inspire the four scents; the "artisan perfumes that are all natural and reflective of musical feelings"?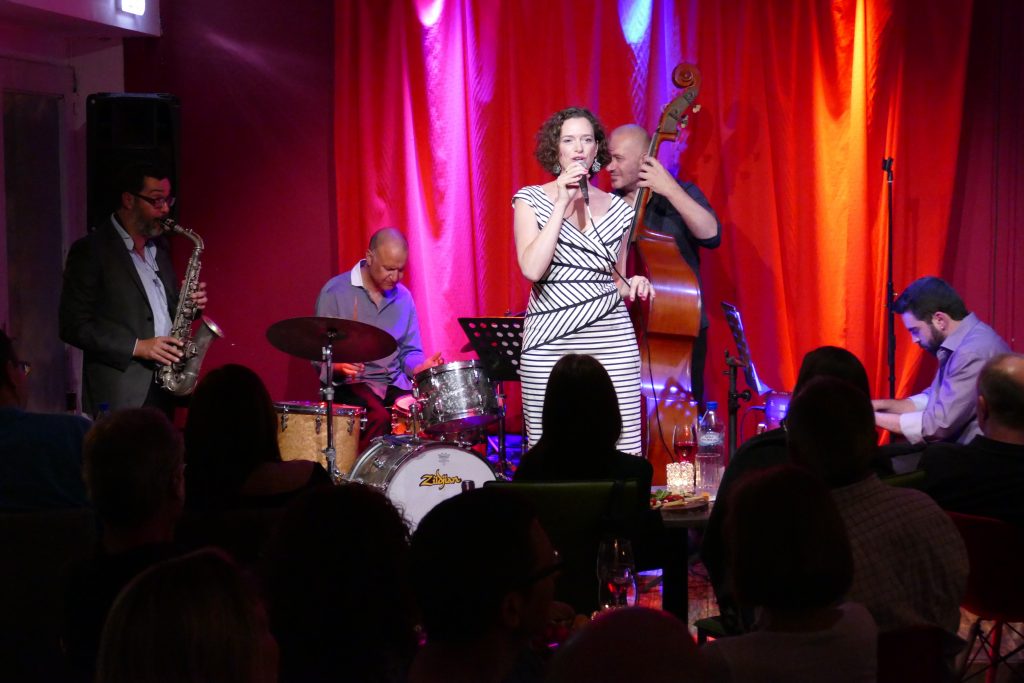 "I began in 2015," Sarah reveals, "always working with plant-based ingredients such as essential oils of geranium, patchouli, lemon and bergamot. It's important that the scents are natural because perfume is intimate, it goes directly onto the skin. And it's also about being authentic to the original inspiration of perfume – nature's wonderful aromas."
Blending the oils herself, and employing her understanding of aromatherapy and scent profiles, Sarah worked towards encapsulating "the euphoria of music in a fragrance."
Each of the fragrances took a long time to perfect, she acknowledges, a year per scent, and each must mature for the mystery to happen. "The essential oils fuse with each other over time to create an entirely new fragrance," she reveals. "Of course you don't know whether the maturation process is successful or not until it's complete. But if it goes well, the oils transform from three or four distinctive scents to one gorgeous aroma."
Of the four enchanting scents, it's Harmony, she adds, which was the most challenging to perfect. "This is a scent which includes my favourite essential oil, geranium. But it's also an oil with a very complex scent profile – sweet and warm with a tart note at the same time – so balancing it was a challenge. Nevertheless," she smiles, "it has become my favourite of the four. After all, harmony is a challenge to create not just in terms of perfume, but also in music and life!"
Since Sarah's Jazz Perfumes are made from essential oils, they also act as aromatherapy, conjuring happy moments and sweet memories. 'Music' evokes the joyous sparkle of a late summer morning; 'Rhapsody' the beguiling bustle of a shadowed souk; 'Harmony' a lazy lakeside afternoon; and 'Jazz' the soft sensuality of a late-night street café.
"I like to think they act like the note of music on the emotions: 'Harmony' is a calming fragrance because of its heart note geranium; 'Music' refreshes through its top citrus note of bergamot; 'Rhapsody' is an invigorating, spicy scent which accentuates the sharpness of lavender; and 'Jazz' is sensuous and powdery, with a heart note of ylang ylang and base note of patchouli.
"They're designed to change the wearer's mood for the better, uplifting and soothing according to the profile," says Sarah, adding that "unlike commercial fragrances which maintain the same scent no matter who wears them, natural perfumes adapt to the individual body chemistry and smell quite different from person to person, often with astonishing effect! Everyone is a unique individual with their own tastes, likes and dislikes," she adds. "And all I hope is that the wearers of my scents will simply feel happy, in the same way our favourite tunes will always prompt instant joy."
Sarah's Jazz Perfumes can be purchased from Sarah's Jazz Club or by calling 95 147711. For more information, visit https://www.sarahsjazzclub.com/ or https://www.facebook.com/sarahsjazzperfumes. Available in three sizes, Sarah's Jazz Perfumes come in three sizes: a 50ml spray bottle, a 30ml spray bottle, and a 10ml roll-on, with prices starting at €10
Source: New perfumes encapsulate the scent of music | Cyprus Mail