Just like sound and light, your environment's scent is essential in making you feel relaxed, happy, or excited. That's why there are entire industries built around making your home smell nice. Sprays, candles, gels, battery-powered air fresheners, aromatherapy scent diffusers, you name it, there are thousands of choices for it. But smart, or to be more pedantic, connected fragrance diffusers are a new market altogether. Until recently, the options were limited — Aera, Marie by Elica — but other brands are coming into the picture now. Moodo is one of them. It promises to let you "DJ" the aroma, mixing various fragrances in any way and proportion you want. I've been using it for a couple of months in my home and I really like it.
But why, Rita, I hear you ask, why a smart air freshener? Well, because tech  — isn't that always the best answer? And because the only air fresheners I have found here (Lebanon) are ones that can be set to a timer or manual, resulting in either tons of waste when I don't need them or in me forgetting to use them. The benefit of a connected freshener is that it can be set on a schedule, turned on before you arrive home, turned off when you go to sleep or leave. Plus it's cool to just ask Google to make your home smell nice, isn't it?
| | |
| --- | --- |
| Smells good | Moodo fooled me more than once into thinking someone was baking cake nearby — the tragedy! |
| Choice | There are different scents and combinations, letting you personalize your home's smell. |
| Schedule and interval | Set it to turn on or off whenever you want and with the fragrance you want, plus toggle an interval so it doesn't run all the time. |
| Integrations | Google Home, Amazon Alexa, IFTTT, and more are supported. |
| | |
| --- | --- |
| Price | Even at the reduced price of $97.30, Moodo is a luxury item. Refills cost $30 for four capsules. |
| Coverage area | Moodo claims 600sqft (55sqm) of coverage but even in a smaller area, you'll need to keep it running for a while before the smell diffuses everywhere. |
| Capsule duration | 60hrs at full intensity. That amounts to a month if you use them at 100% for a couple of hours each day. |
Hardware and what's in the box
Moodo looks like a nondescript cube of about 12cm on each side. It's available in both black and white matte plastic, with four empty pods with fans on the top. This is where the scent capsules go. Each one is distinctive and the device can recognize any capsule you put in.
On the back, you'll find the power input plus manual controls to toggle on/off each pod's fan, change intensity, and turn off the entire unit. If you'd rather not use the app or smart home integrations, these buttons still give you enough control over the aroma diffused.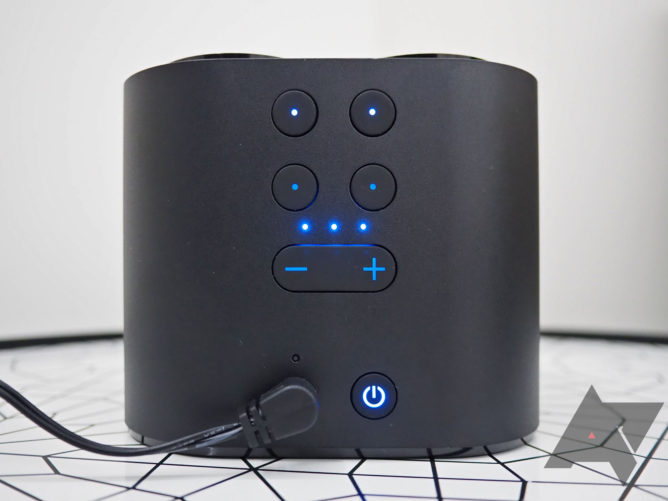 In the Moodo box, you'll find the unit, power adapter, manual, and one free scent pack of four capsules. You can also purchase additional scent families (four capsules) or packs of four capsules of the same scent for $30. In my home, I started off with the Cozzzy family, but based on their descriptions, Beach Party and Winter seem quite awesome too.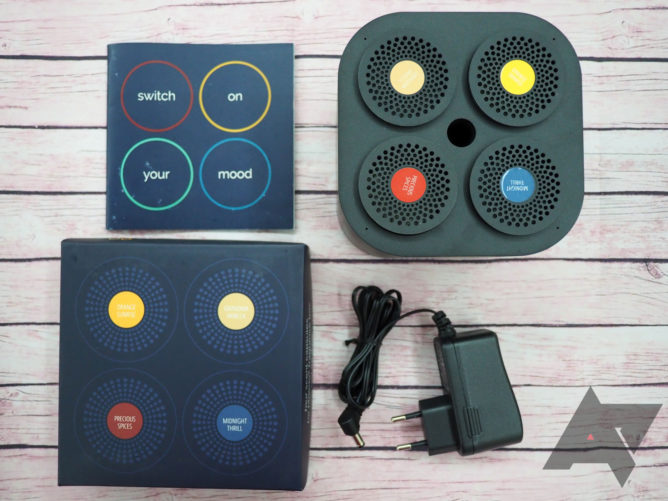 Setup and usage
Having received a new Moodo version (older ones had issues), setup was relatively easy. I logged in with my Google account (you can also use Facebook or create an account), plugged the device in, turned it on, connected it to my WiFi network, and gave it a name. Moodo uses 2.4GHz WiFi, so keep that in mind. It's also not compatible with all mesh networks (though there's a workaround to get it connected), but I had no issues getting it to work on my Netgear Orbi.
Once set up, the app is relatively simple and mirrors the device. Your four scents are shown, with colored dots indicating the intensity at which every fan is working. There's a power button in the middle, a general intensity selector (like a volume indicator) on the bottom left, and various aroma combinations on the bottom. You can shuffle to pick a random one, create your own by choosing each scent's intensity, and save your favorites to come back to later.
Source: My home never smelled nicer, but Moodo is still a luxury smart fragrance diffuser