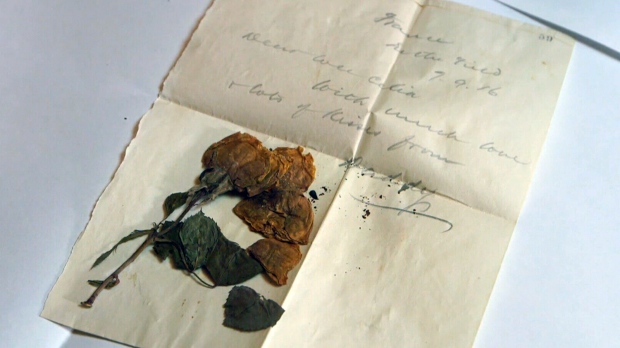 Every day without fail, from gardens and fields near the front lines of the First World War in Europe, Lt.-Col. George Stephen Cantlie picked flowers for his one-year-old daughter Celia in Montreal. He flattened and dried them and enclosed them in his letters home; no doubt a source of beauty and hope amid ugliness and despair.
His daughter and his granddaughter Elsbeth Angus held on to the precious artifacts. A century later, they are part of a multi-sensory exhibit called War Flowers now on display at the Canadian War Museum in Ottawa. "(Angus) keeps them all this time in a red box. And so their condition is perfect. Their colour is incredible," said filmmaker Viveka Melki, who came across Cantlie's story while researching a documentary.
Melki, who curates the exhibit, worked with a botanist, a crystal sculptor and a perfume artist to tell the wartime stories of 10 Canadians through the symbolism of flowers, including roses, poppies, heather, lavender and forget-me-nots. The flowers represented qualities, such as grace, love, kindness and devotion during the Victorian era.
The exhibit, which took four years to create, is a deeply touching and personal glimpse into war. Cantlie, who served with the Royal Highlanders of Canada, signed his short notes to his "wee Celia" with "much love and lots of kisses from Daddy."
"The goal of the exhibit was to make history intimate and to make history intimate you have to surround people by the experience and that means, I believe, touching all their senses," said Melki. The exhibit uses daisies to represent the lost innocence of Victoria Cross winner Jean Brilliant who died in battle. Stitchwort is used to remind viewers of the mental and physical wounds of soldiers.
Source: Exhibit uses flowers to tell powerful stories of First World War | CTV News