Entrepreneurs are tripping over themselves to make "smart" versions of every product we already own. As such, it was only going to be so long before someone made a smart scent dispenser. That product is called Moodo. It's a smart home fragrance box that lets you control how your home smells from your iPhone. Or your smart speaker.
Moodo review: Time to play scent DJ
Moodo is the smart home upgrade to aroma sticks and scented candles. It's a high-tech diffuser that lets you load in your choice of scent capsules (with aromas like "lavender" and "precious spices") and then trigger them using your iPhone, Amazon Alexa or Google Home. There's no HomePod support as of yet.
Other than being able to turn the machine on and off with your mobile device, the app also lets you mix scents. This takes the form of a kind of smelly DJing, whereby you can choose your own ratios.
If you're in the mood for, say, 90 percent "wood royale" and 10 percent "citrus fresh," the app will let you fulfill your wish (provided you've got one capsule of each loaded up). You can mix scents manually, or choose from a range of presets. Heck, you can even create family profiles so everyone gets their own selection.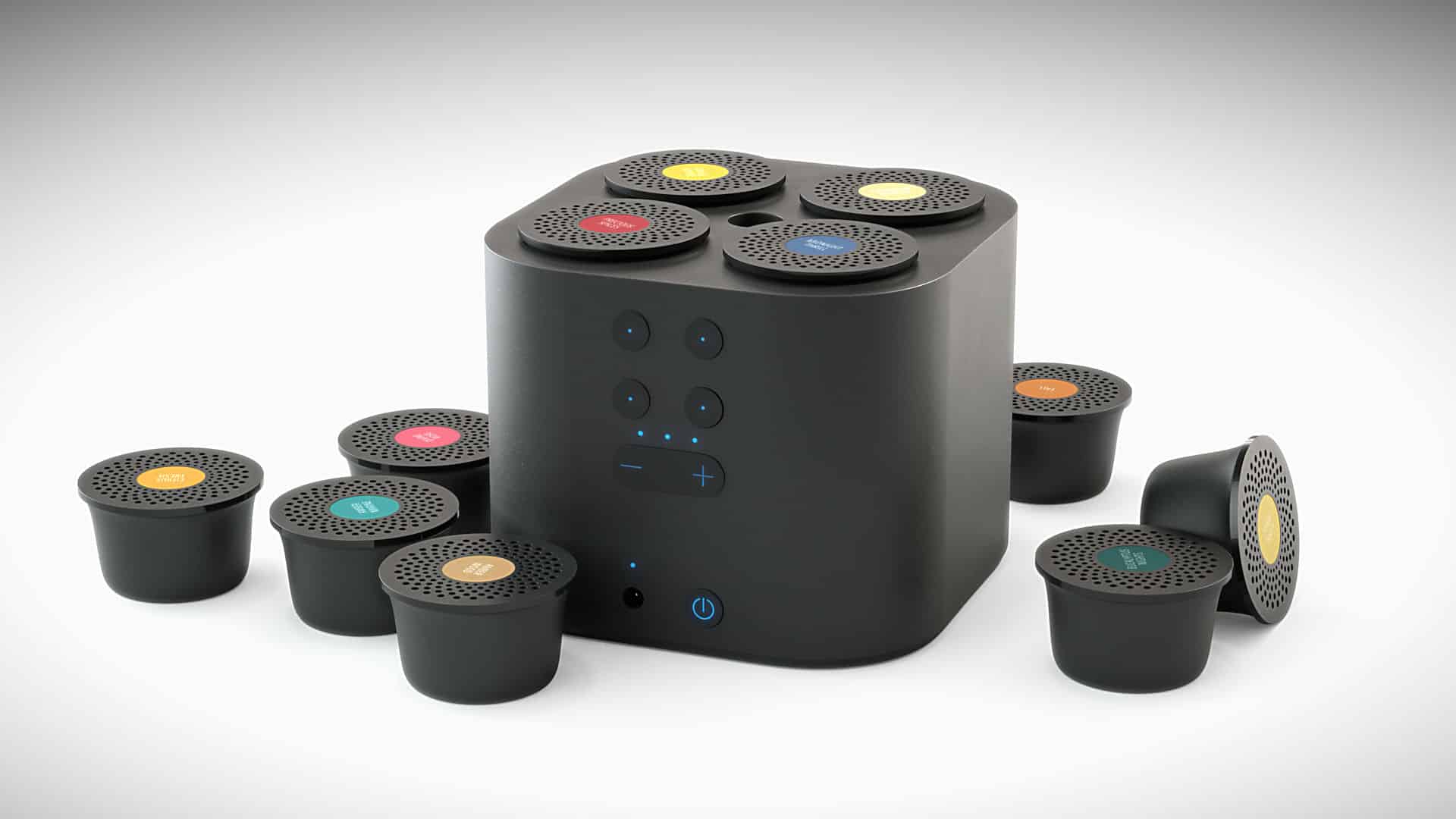 All of this comes at a price, of course. The traditional smelly products like candles and aroma sticks will typically set you back, in my experience, in the range of $30 to $40. The Moodo starts at $149.08, and comes with four scented capsules. Other options are available with either 12 or 24 capsules. After your initial investment, you'll have to pay to top it up.
As such, the Moodo scent machine adopts the printer cartridge or Nespresso model. You've got the initial expenditure, plus $29 per pack of four subsequent capsules. Each set of capsules lasts 60 days "under normal use." That means you will shell out $174 per year to keep your house smelling of lavender. Or wood. Or floral magic. It's not cheap.
The smell of success
In some ways, I may be the wrong person for a product like this, given that I've never been one for stocking my house with aromatherapy candles and the like.But is the Moodo any good? The most obvious thing to say is that a lot will depend on whether you need a scent diffuser in your life.
I also find artificial scents to be, well, overly artificial. A scent like "sea breeze" is as close an approximation of actual sea breeze as raspberry-flavored candy is of actual raspberries.
That's not necessarily a criticism, since all the Moodo scents I've tried are pleasant. However, it's worth pointing out if you're expecting a major change from existing air freshener-style diffusers.
The game-changer here is the method of dispensing the scents, not necessarily the scents themselves.
Do you need a Moodo in your life?
Moodo is attractively designed, suitably minimalist, and easy to use. Loading scent capsules is easy, the associated app works well, and the product runs quietly but effectively. If you've never felt the need for a scent diffuser, this isn't groundbreaking enough to change your mind — especially not at such a premium price.
However, if the words "smart home fragrance box" immediately made your ears prick up, this is about as well-executed as you could possibly hope for.
Price: Starts at $139
Source: Moodo lets you control the way your home smells from your iPhone