It was an intimate affair for 10. When we walked through the door to where dinner would be served, it felt as if we had just crossed over to Narnia!
Well, OK, that's a bit of an exaggeration. Still, it was an awesome sight to be greeted by gold arches on the walls that had each of our names at the top and, at the dining table itself, personalised virtual placemats.
That marked the beginning of Martell's exclusive epicurean experience, served in a cinematic wonderland made possible with immersive, state-of-the-art 360° projection, blurring the l
ines between taste, scent and sight.
Indeed, the spirit of curiosity and French Art de Vivre was alive and well at The House of Martell.
During Martell's recent collaboration with chef Nathalie Arbefeuille of Nathalie's Gourmet Studio, specially invited guests had a chance to savour a first-of-its-kind, multi-sensory fine dining affair that presented an amazing fusion of art and gastronomy, using cutting-edge technology.
The award-winning chef, known for her creative and modern innovations in French and fusion cuisine, crafted a splendid five-course culinary journey to pair and magnify the flavours of Martell cognacs.
"Martell is the oldest of the great cognac houses, founded in 1715, at the height of French art de vivre, when craftsmanship, gastronomy and taste were celebrated in style.
"Three centuries on, the philosophy remains: we want people to enjoy the pleasure of exploration itself, and later, enjoy the pleasure of sharing these new experiences with others," said Martell brand ambassador for Malaysia, Pierre Boyer.
"Truly, chef Natalie has transformed the pleasures of dining into an art."
Gastronomy enthusiasts were invited to "Be Curious", and embark upon a journey of awe and wonder as they dined. Prepping the palate for the multi-sensorial journey were Three Finger Foods of red detox juice, pomegranate jelly, smoked salmon and ginger; Hokkaido scallops and caviar ring; and broccoli gorgonzola spiral, paired with Lillet Vive with cucumber.
As our virtual host for the evening, Daniela, welcomed us and introduced the scene as it unfolded before our eyes … the arches melted into the vast galaxies.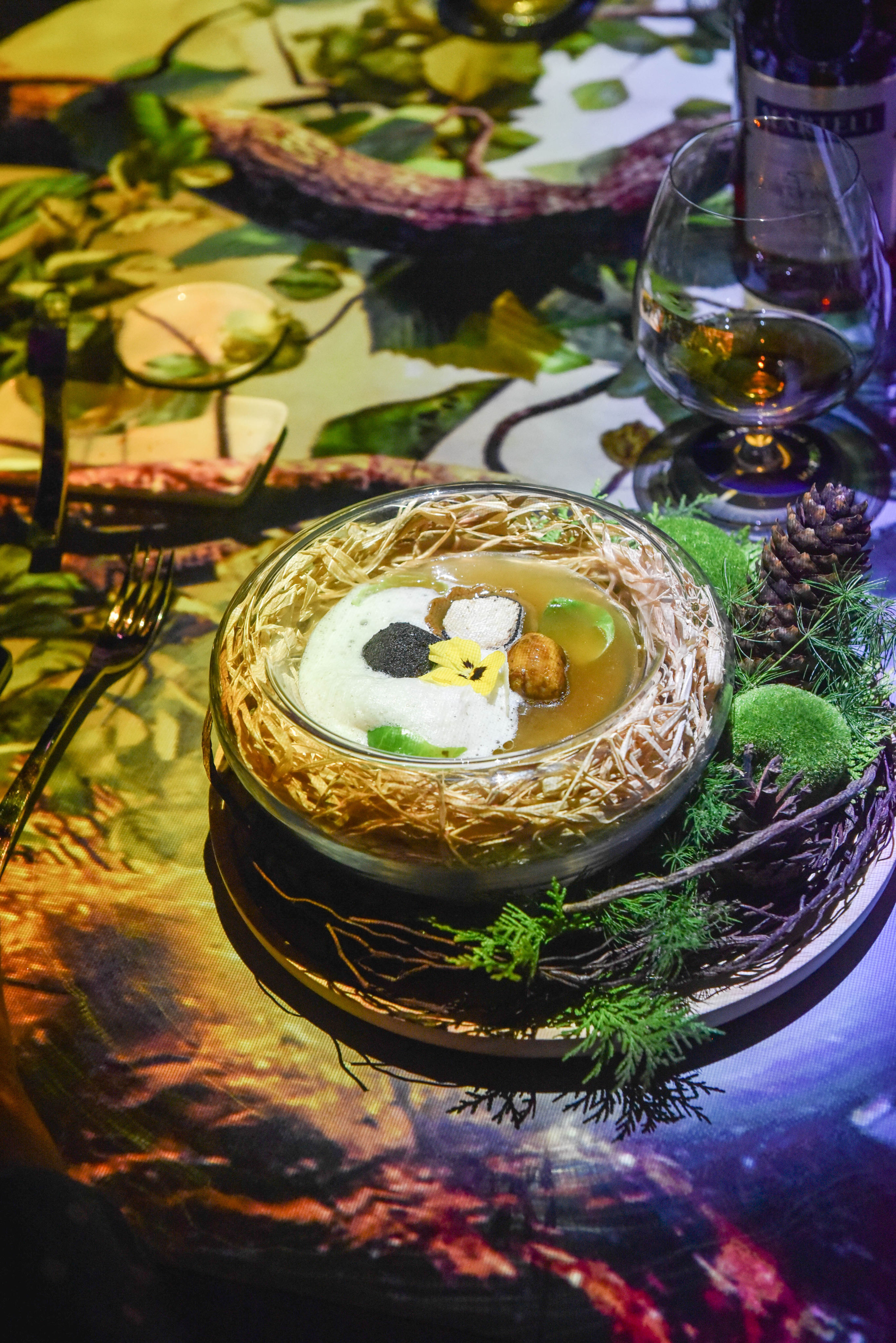 The adventure began with "The Red Planet" – a dish of Japanese momotaro tomatoes in three textures, rich basil pesto and mozzarella cream – which held fast to its namesake, served with a refreshing Martell VSOP Summit cocktail.
As the planets gave way to the lush forest, the most ambitious of soups awaited In The Woods, a second starter of crispy foie gras, artichokes, porcinis in two ways, shaved truffles, and a duck and truffle consomme, disguised as a nest, matched nicely with Martell Cordon Bleu.
It was truly a diverse universe as we traversed "Under Water" for the third starter, caramelised Hokkaido scallops, poached oyster and pearl cream, dieppoise sauce and mushroom mousseline, complemented by Martell Cordon Bleu Extra.
The main course was a "Circus" of delicate morsels made up of veal paired with risotto, capsicum jelly and ground sea influence, which went perfectly with the spicy and peppery flavours of Martell XO.
All good things must come to an end and we made our final wish upon a Perfect Green Apple, a dessert which proffered "What you see is not what you eat". The fragrant aroma of the Martell Chanteloup Perspective brought out the flavours of the sugar-crusted lemon mousse with a heart of green apple.
Aligned with Martell's "Be Curious" dinner series, was an exclusive "Be Curious Mentoring Session', a guided appreciation of Martell's cognacs with brand ambassador Pierre Boyer, for which only 20 guests were invited.
The tasting session featured a wide range of Martell's signature cognacs, from the classic Martell VSOP to the smooth and well-balanced Martell Cordon Bleu and Cordon Bleu Extra, and the distinctive Martell XO.
Martell also gave away dinner tickets for the five-course meal worth RM4,600 to four lucky attendees of the session.
Source: Martell Hosts A Visual Feast To Feed The Palate | Star2.com