We've tightened up our straps and taken twenty lashes to find out if KinkVR is worth it.
Virtual reality porn is an easy sell for most porn fans. Who wouldn't want to get to be in their favorite porn scenes, after all? But for fans of BDSM, VR porn should hold an even more intense draw. Normal porn is about self-gratification, but BDSM is sometimes just as much about the sensory experience as the physical one.
KinkVR is the virtual reality wing of the world-famous BDSM porn studio Kink.com. It's putting its years of experience to work bringing the darkest fantasies into the world behind your visor. But does KinkVR deserve your tribute or is it all talk? We've tightened up our straps and taken twenty lashes to find out if KinkVR offers the right mix of cost, content, and quality to earn your hard-earned dollars.
At $24.99, KinkVR costs the same as most VR porn sites. If you're willing to buy in bulk, the best deal is buying a year upfront for $90. After the fourth month, you'll be saving money, and given KinkVR's slightly slower production schedule, you'll feel like you're getting your money's worth.
What's included with your KinkVR membership?
1) Almost 100 videos with multiple new scenes each month
KinkVR's library includes almost 100 preexisting scenes, each averaging between 30-45 minutes. New scenes are usually updated two to three times a month, with some months getting four scenes. While it doesn't have the largest library of content, the amount of action in each KinkVR scene makes rewatching a pleasure. There's so much going on that you're bound to miss a favorite spanking or edging moment on the first viewing.  Each video is available in 5K for streaming or download.
2) A diverse range of body types, ethnicities, and kinks
We were blown away by the diversity and range of performers that work for KinkVR. Women of all sizes and ethnic backgrounds, tattooed, hairy, shaved, pierced, natural, and more greeted us as we browsed their videos. While intense, KinkVR has shockingly body-positive and inclusive porn that makes even the harshest scenes welcoming. We do wish it featured a few larger guys, but it's doing remarkably well for a porn studio.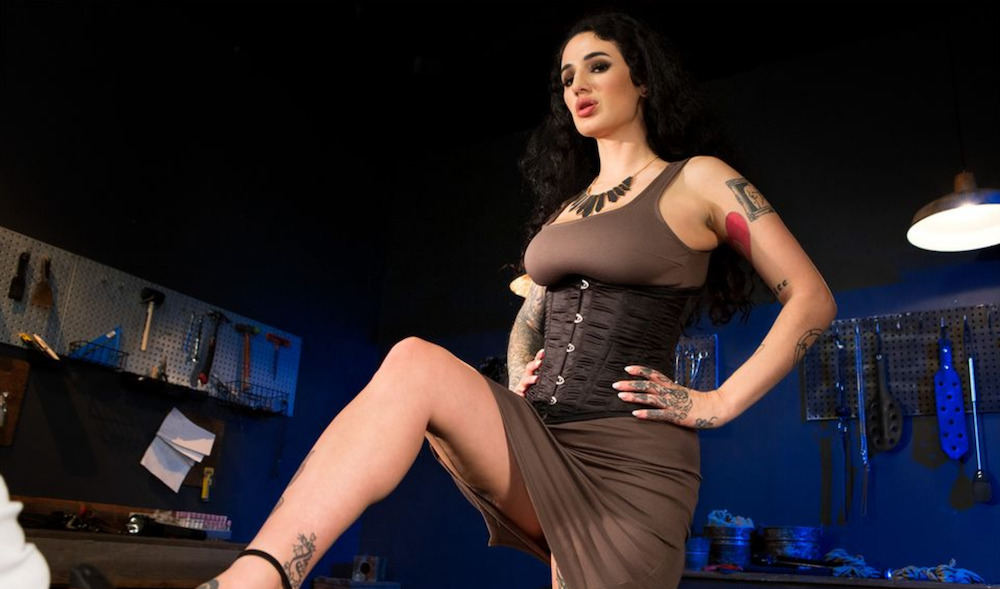 3) Diverse power dynamics between performers
As impressed as we are by the diversity of performers' bodies, we also adore the way KinkVR features diversity in the porn dynamics of its scenes. This isn't a site where every scene is a man playing god over a woman. More often than not the most intense scenes are ones that feature women in total (and occasionally terrifying) control. It also makes some of its more extreme scenes, like a police interrogation orgy, feel less like gross power fantasies than another kink being safely explored. These scenes never leave you feeling icky, even if they shake you.
4) Healthy space to explore taboo kinks
BDSM is a wildly popular fantasy, with some studies suggesting up to 30% of the population likes some element of BDSM such as spanking. That being said, the other 70% of the population also exists and you might not find a partner who wants to explore with you. KinkVR offers a safe way to explore your BDSM fantasies in detail by yourself.
KinkVR also make some exceptions when it comes to darker kinks. For example, it doesn't explore the CNC kink. No matter how much impact, spit, or mean language is used, every scene on KinkVR features enthusiastic and vocal consent. This is a place to explore your darker kinks without ever worrying about stumbling onto something truly troubling.
5) VR porn was made for BDSM kink scenes
The sensory aspects of KinkVR are a big part of what makes it so incredibly addictive. The dialogue, settings, and direction of the performers build scenes that are easy to imagine witnessing in a dungeon. From whispered dirty talk to being told to getting direction from the performers, VR BDSM feels more interactive than normal porn even when you're just being told to shut up. If you couple it with a toy, you can have a very intense experience without ever buying a piece of leather.
6) High-end production values from the 5K video to the lingerie and sex toys
Every KinkVR production features beautiful locations, beautiful lingerie, and professional-looking BDSM equipment. Sometimes BDSM videos have a habit of looking like the set of a late-night horror movie host. Those things matter when you're shooting in 5K and picking up every spare detail. More importantly, it looks like everyone is shooting in a safe location––even if that location is a dungeon with a cage.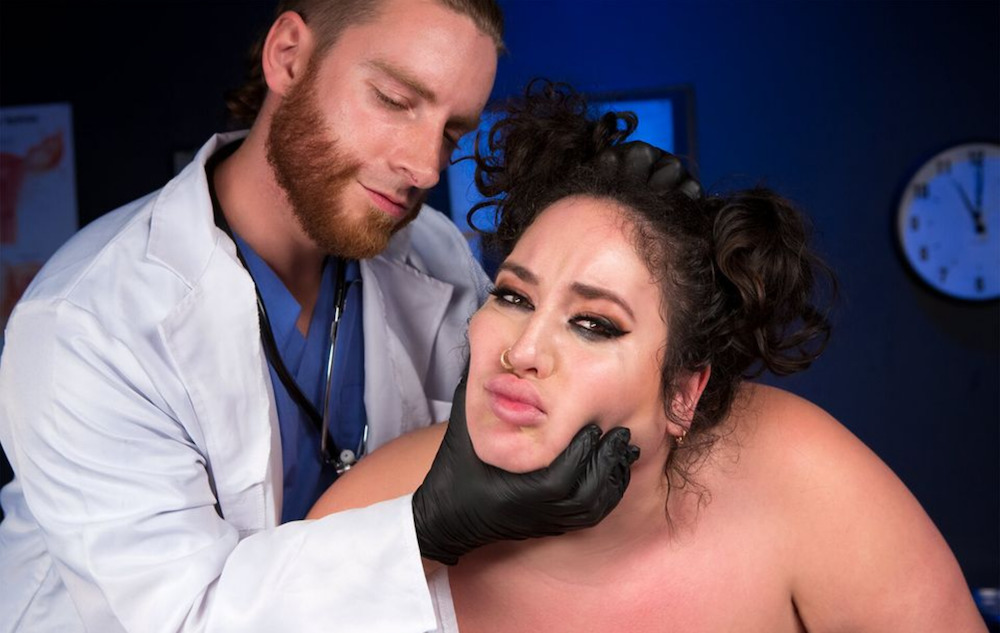 What are the drawbacks of a Kink VR account?
1) Occasionally inconsistent upload schedule  
KinkVR always delivers at least two scenes a month, but sometimes that means waiting until the middle of the month to get your first scene. It makes up for this occasionally odd release schedule by uploading extra scenes some months, but if you're a stickler about a schedule that may be a problem. Then again, there aren't many other companies shooting this kind of content at this level. It's worth exploring the back catalog while you wait.
2) No intro-level content for people exploring BDSM
This may seem strange given KinkVR is a site that specializes in extreme hardcore VR pornography, but we wish there was some softer stuff. While incredibly hot, every scene on KinkVR is incredibly extreme. If you're new to BDSM, this is diving into the deep end. Given the incredible quality of their productions, we'd love to see more edging, exploratory rope play, and introductory impact scenes for new converts. You have your entire life to get to a clothespin bodysuit––a little vanilla to work your way there never hurt anybody.
3) Currently plays it safe with bisexuality
Although KinkVR features up and coming bisexual male talent like H3LL4SL00TZ, it plays it safe when it comes to its bisexual content. Want to see two women go at it while having sex with a robot? Hell yeah. But if you want to see two guys kiss while they have sex with a woman, you won't find that here. Hopefully, that's coming in the future, particularly since its parent site of Kink.com has been shooting bisexual scenes with men for almost a decade.
Is KinkVR worth it?
KinkVR isn't for everyone, but it's probably for more people reading this than they'd like to admit. BDSM is a very vulnerable kink to explore, let alone admit to. VR offers one of the best ways to explore BDSM content in private. You don't have to worry about someone seeing your screen or search history. The privacy KinkVR offers is a big selling point.
On a content front, KinkVR delivers a wide range of extreme hardcore VR porn that still manages to feel sensual. Pain is never the point, even when pain is the focus. Pleasure is still very much centered here, giving even the most out-there moments a lusty sweetness. It's also nice to see constantly switching power dynamics. It keeps viewers from only seeing scenes where women are objects, while also opening doors to new fantasies.
Even with its sometimes slow update schedule, it's easy to recommend KinkVR for fans of BDSM content. After watching hours of it we've come to appreciate the creativity, playfulness, and boundary-pushing extremes of KinkVR. More importantly, its low cost makes it easy to try for curious viewers who want to explore without breaking the bank. KinkVR is an incredible VR porn experience whether you have a Google Cardboard or dream through Oculus porn. Get tied up in it today.