"I keep seeing the word 'immersive' everywhere," says Carmela Prudencio, co-founder of local arts activism group SDIY Coalition.
This keyword has been overwhelmingly present in art show descriptions and museum discussions in the past few years. The L.A. Times even dubbed 'immersive' the "arts buzzword of 2016," and the term's usage hasn't slowed since. Local exhibition spaces such as the Museum of Contemporary Art San Diego have employed the multi-sensory, multidimensional trend in past exhibits, such as Ernesto Neto's 2007 exhibition of spice-stuffed Lycra pouches that incorporated visual, physical and olfactory stimulation. There was also San Diego Art Institute's Sweet Gongs Vibrating, a 2016 exhibition that encouraged "direct, embodied visitor contact… to activate sensorial qualities of objects." The list goes on.
Within the past year, however, experiential art has become a whole other beast, and increasingly one that's liberal in its designation as art. The Museum of Ice Cream, for example, which appeared in Los Angeles in summer 2017, invited Angelenos to jump into a pool of sprinkles, to pose next to oversized gummy bears and to partake in other gimmicky photo ops for a whopping $30. Almost simultaneously, Wonderspaces made its debut in San Diego. For $24, it offered interactive art installations such as heat-sensitive light displays, virtual reality and other photogenic works. Wonderspaces is now back in San Diego for a second summer with talks of permanently rooting here. Also about to debut this summer is The Cado, which is essentially The Museum of Ice Cream but for avocados. With this influx of Instagram-baiting exhibits, the established arts community is speculative of the effects on younger generations and the larger art scene.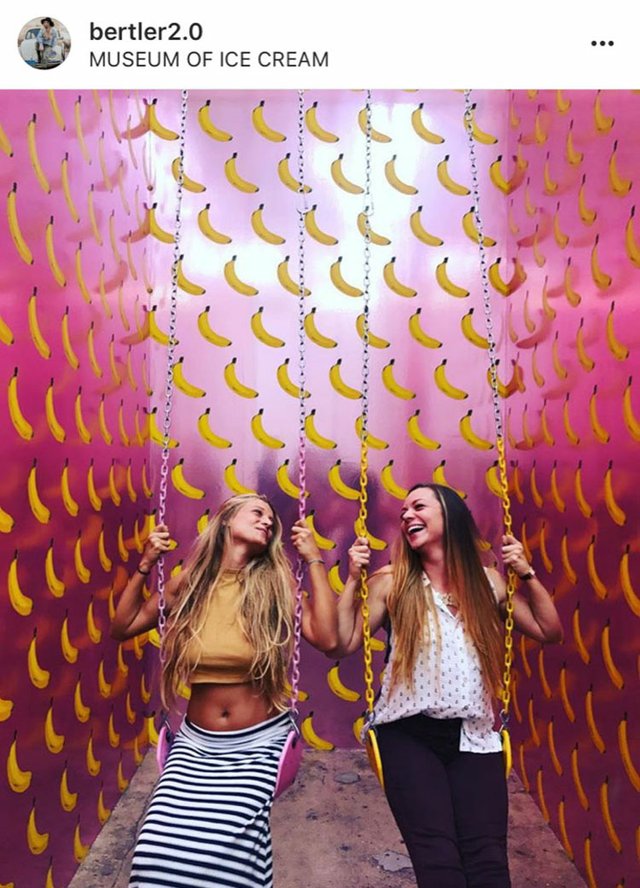 The Museum of Ice Cream
"People around our age group will pay the $24 to go and take cool photos and experience the art and showcase to all of their social media that they are participating in arts events in San Diego," says 28-year-old Prudencio.
But she worries the experience ends at the social media posts, and that exhibits such as Wonderspaces fail to intrigue further thought.
"Art is subjective so anyone can interpret it into anything, but is there any call to action to do so in these places? We go and think about it, but will everyone do that same kind of analysis when they get out of there like, 'What did this mean to me? What is this giant, gold, plastic, balloon thing?'" she laughs, referring to Stefano Ogliari Badessi's "Into the Breath" piece at Wonderspaces.
Online, Wonderspaces provides vague descriptions of the processes behind the featured pieces. In person, there are placards at each exhibit with the name of the artist and the artwork, but no written description of process or meaning. Hired guides offer about as much information as the website.
"It's powerful to attract as many people as they have," Prudencio says. "It's an opportunity to send a message out there, and I can't find the message. Does that do a disservice to the artist then if there's no communication of what they're trying to communicate?"
In a spike of optimism, she hopes that Wonderspaces could act as a gateway for people who are unengaged in the art scene.
"Mother body emotional densities, for alive temple time baby son" by Ernesto Neto
"The more people that get involved with it, the more exposure they'll get to other things happening," she says. "[Wonderspaces] is kind of, hopefully, a gateway into going back to Balboa Park or going to MCASD on a Thursday when they have those free nights. There's ways for families in San Diego to interact with art that are affordable and accessible still."
Realistically, she worries these flashy art experiences could be too much of a novelty and may distract people from grassroots art.
"It's really easy to focus on something that's hyped," Prudencio says. "You can be blinded to all these amazing things that I see. I see the AjA project working with refugees in City Heights or just A Reason to Survive in National City where developers are trying to create live-work spaces for artists everywhere right now. Those kinds of organizations could disappear from the radar if it's just 'Oh this cool Instagram stuff like the Museum of Ice Cream' kind of thing."
Kristen Mihalko, who's on the board of San Diego Emerging Museum Professionals, isn't convinced that Wonderspaces is doing its part to connect visitors with the greater San Diego arts scene.
"Without the collaboration of the other organizations in San Diego, I think a lot of people will enter the exhibit, be like, 'that was cool,' and leave without [Wonderspaces] saying 'Do you like touching plants and science about that? Then check out the Fleet Science Center,'" Mihalko says in reference to "Akousmaflore" by Scenocosme, a Wonderspaces piece in which plants sing when touched. "Or 'Do you like weird art? Check out all these other art galleries'"
Mihalko says the creators of Wonderspaces have a long way to go to prove their reported desire to enhance San Diego's art scene. She notes a quote Wonderspaces Creative Director Kendall Warson said in a KPBS video that hasn't sat well with her.
"San Diego doesn't have the same access to MOMAs or LACMAs as cities that are larger like Los Angeles, and we want to make sure that we're filling that need within smaller cities and making sure that we're bringing the presence of art to new communities," Warson said in the video.
Mihalko argues that the "presence of art" is already here.
"We're sitting in Balboa Park, we have 17 museums with Comic Con coming in," she says. "This is art. Even being outside or even the Museum of Contemporary Art Downtown, that's right next to [Wonderspaces]. San Diego Art Institute, San Diego Museum of Art, A Ship in the Woods, SDSU Downtown Gallery, Barrio… This may be me projecting, but I think if art spaces, artists or anyone who's in arts and culture hear [Warson's comment], or read it, they would be very hurt by the comment."
So far, Wonderspaces has partnered with the Lafayette Hotel to offer a night's stay in an artist-decorated room for the first part of its Spotlight Series. Whether Wonderspaces will continue to link up with local venues to immerse itself in the local arts community has yet to be seen.
"I think that Wonderspaces can be a part of this whole community art scene we have in San Diego, but right now it's kind of to the side," Prudencio says. "It's kind of a weird black sheep in San Diego."