Frau Tonis's location-based scents are all about opening your "olfactory diary"

 | FRAU TONIS PARFUM
EMILY CARPENTER/THRILLIST
"SMELL IS A POTENT WIZARD THAT TRANSPORTS US ACROSS THOUSANDS OF MILES AND ALL THE YEARS WE HAVE LIVED."
Helen Keller wrote about scent's transportive nature in her 1934 essay, "A Neglected Treasure." The famed writer and world traveler, who was both deaf and blind, had an extraordinary sense of smell, which she used to learn about, marvel at, and savor her surroundings.
Today, her words could help us cope with a global standstill. A simple scent, like comfort food, can be a balm on homesickness. For those with wanderlust, catching a whiff of something familiar can send the brain from here to Tahiti. Smell works like the turnstiles on nostalgic roller-coasters manifesting places, faces, and memories.
While we're all effectively grounded, scent's transportive properties can provide an unexpected escape. And for those of us anxious for a taste of the world at large, artisans are creating scents that serve as surrogates to the world to help sate wanderlust and unearth vivid memories.
A reminder of people, places, and events
The relationship between scent and sentimentality has inspired a handful of boutique perfumeries around the world. In my adopted home of Berlin, Frau Tonis Parfum has thus far created 36 genderless, vegan fragrances inspired by memories and nostalgia. In the shop, customers sample the product on their wrist — "a paper strip does nothing," said Hanssen — which can open their "olfactory diary."
"Scent can awaken such feelings that suddenly a certain intimacy develops between ourselves and the customer that we hear stories from 20, 30 years ago," said founder and owner Stefanie Hanssen. "I've heard things like, 'This fragrance reminds me of my boyfriend, my first love. In the 1970s that summer where I was with him on vacation in Tuscany.' It happens quite often."
Hanssen — who named her decade-old store after her grandmother, whose perfume "didn't smell like any of the other women" — realized smells could be a lasting reminder of people, places, and events. That's why many of her scents pay homage to her favorite locations, like New York and Hamburg. Tee Arabique evokes an antique-hunting trip to Egypt through the scents of black tea, ripe quince, musk, and vanilla. Linde Berlin was envisioned as a walk in a beer garden with linden trees, or Berlin's iconic Unter den Linden boulevard.
"This is a fragrance that tourists often bring home because they can close their eyes and connect it with Berlin," said Hanssen.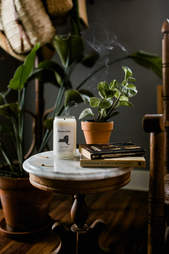 Homesick brings New York into your home, wherever you are.
Travel by candlelight
While other companies have seized onto city-specific perfumes — New York's Le Labo offers 16 variations, from Amsterdam to Miami — others have moved beyond the body. Longstanding French perfume house Diptyque offers location-based scents in the form of high-end candles that evoke Tokyo's cypress trees and Hong Kong's iconic orchids, available exclusively as keepsakes in those cities.
What companies like Diptyque sell as a high-priced novelty is the bread and butter of Homesick. The US candle company has developed 180 scents, including Grandma's Kitchen, Library, Four Twenty, and Pumpkin Patch, but also sells a candle for every US state. They have also captured the essence of specific cities and foreign countries.
Founded three years ago, Homesick's initial success boiled down to state pride, said merchandising director Lauren Lamagna. Southern states like Texas — with hints of dark leather — and a peach-and-magnolia-heavy Georgia are their bestsellers.
As the name suggests, Homesick finds its groove in people longing for home. However, buying trends are starting to change as shoppers gravitate toward different candles during the pandemic.
"We're seeing a lot in our reviews that people are buying our candles because their vacations are getting canceled," said Lamagna. "We saw a spike in our Hawaii and Beach Cottage candles — they don't usually ramp up until later in the summer."
As a grounded travel writer in Berlin, I'm still unsure of when I'll next get to see my nearest and dearest in my native Canada. I've been feeling stressed out and, well, homesick. So I ordered a Homesick candle to see if it could provide a little relief.
According to Lamagna, Homesick has a few Canadian employees (the company always develops its fragrances by speaking to lots of locals), and they collaboratively decided to go with a West Coast, outdoorsy feel for the country.
Lighting up, the room filled with an aroma of pinewood and fir. Top notes of butter and grass brought me back to my childhood, playing outside at my aunt's farm and eating shortbread cookies.
Growing up on the wide-open prairies, the smell of trees doesn't necessarily link up with my own experience in the biodiverse country, but it still provided a sense of comfort. And that's the thing. Perhaps it's not only scents that take us on this journey but just actively dreaming about a destination. The tangibility of an item, like Homesick's Canada candle in its maple-leaf packaging, can also help too.
In our tech-crazed world, many are satisfying wanderlust with virtual reality and 360-degree beach-hopping. But let's not forget about the power of smell while we're housebound and yearning for the comfort, excitement, relaxation, and wonder that travel usually brings us. After all, it was spices and perfumes that once inspired overseas voyages to begin with. Who knows? Maybe right now, we can sniff out some new creativity.
Source: How a Simple Scent Can Transport You Around the World