Famous for our innovative, inclusive, and joyful use of space, the Greenpeace field is not just a destination for environmental education, but a top-ten Glastonbury experience and sanctuary that each year attracts thousands of festival-goers.
Greenpeace goes above and beyond to create a truly remarkable and inspiring space full of bespoke installations and special effects from holograms to Virtual Reality. The field uses its design to celebrate nature and the forests through colour, sound, materials and information, demonstrating what nature gives us: that the sustainable wood we use has come from nature, the food we eat has come from nature, the water we shower with comes from nature.
Destroying our planet's huge rainforests to feed vast numbers of pigs and chickens in Europe and elsewhere is not the way to treat this precious land.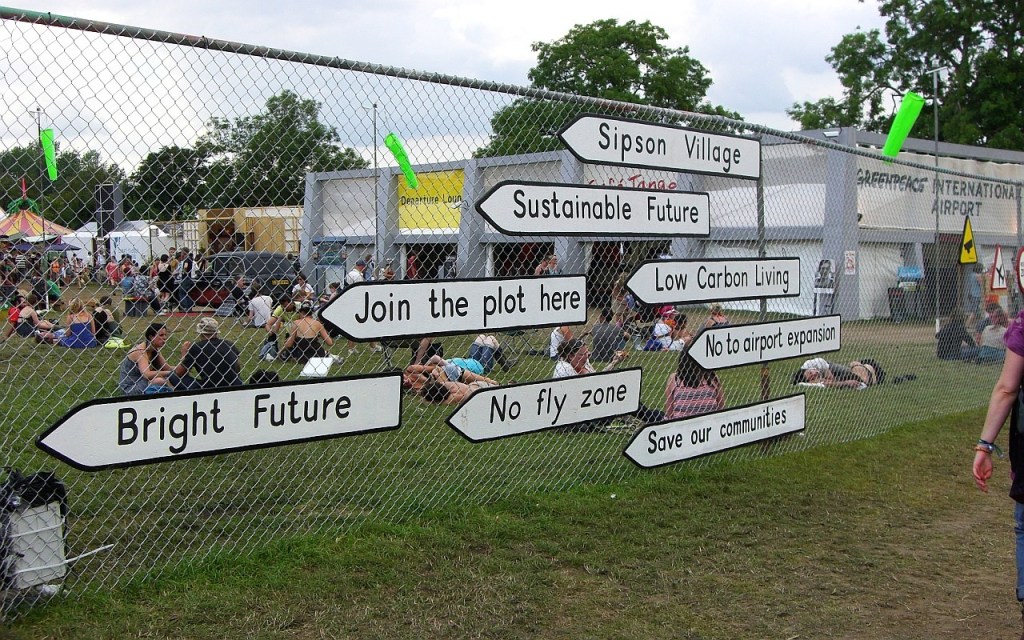 This year Greenpeace are thrilled to announce BEAM – an incredible collaboration with Nottingham artist Wolfgang Buttress, famed for his Hive sculpture in Kew Gardens designed to highlight the plight of the bees. Inspired by the existential challenges facing the pollinators, BEAM is a multi-sensory, immersive, sculptural experience.
Accelerometers (vibration sensors) are used to measure the activity of the black bee colonies living on Michael Eavis' Worthy Farm at Glastonbury. These live signals will be sent to a sculptural installation called BEAM and expressed through light and sound. Algorithms will be used to convert these vibrational signals into lighting and sound effects that will allow the life of the bee colony to be visually and aurally experienced in real time.
This visual experience is complemented by a fluid and ever-changing soundscape based on pre-recorded bee sounds and harmonious stems crafted by the band BE, members of Spiritualized (including Doggen Foster, Kev Bales, James Stelfox and Jason Pierce), Amiina (string section for Sigur Ros), Daniel Avery, Ólafur Arnalds, Camille Christel and Matt Black (Coldcut/Ninja Tune).
It promises to be one of the must-see and most talked about experiences of Glastonbury 2019.
Also on the field this year will be the return of the Giant Rave tree, a 22m high interactive tree housing a DJ booth – (including Simian Mobile Disco amongst others); an amazing new bar in a beautifully designed space for you to chill out and escape the festival madness; a stage for some top-notch performances; the essential eco-friendly hot showers where last year over 7000 people scrubbed up nicely; our skate ramp hosting a bad-ass female skate team; and if that's not enough, there's also a massive drop-slide for all the adrenalin junkies on site!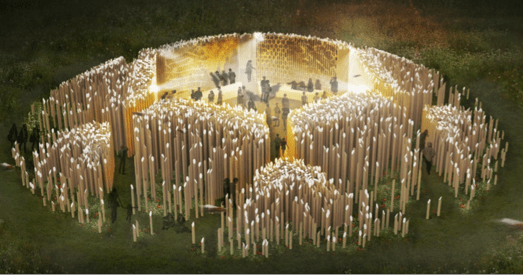 Another big highlight this year is The Greenpeace Café – a delicious plant-based restaurant that wears its eco-credentials with pride. Glastonbury has always been at the forefront with setting the example on environmental awareness. Food, not excluding food at festivals, often carries a series of environmental threats. The Greenpeace café will demonstrate that we still have an option to enjoy amazing food without harming the environment. Here's how we're going to do it:
60% of our product in raw weight will need to have minimal carbon footprint (either brought to site directly from source while we're on the way to London or bought from farms and producers within a 40-mile radius)
30% of our product in raw weight will come from ingredients that would be otherwise destined to the skips
10% of our product in raw weight will come from unsustainable sources, with the aim and promise to reduce this to 1% within the next three years
Total and complete ban on single-use plastics at every step of our operation
All of our ingredients will be free from animal meat or meat products
Unless we're using food waste – none of our suppliers will be (or associated with) companies that directly or indirectly contribute to social or environmental degradation.
See you on the Greenpeace field!
---
Image credits:
Greenpeace crowd – Dan Thwaites
Greenpeace International Airport – Bob Bob / ( CC BY 2.0 )
Source: Greenpeace returns to Glastonbury 2019 with their best field ever | TheFestivals