Inspire's Multi-Sensory Rooms, a service offered to people with sensory issues, are being sponsored for the 3rd year running by Fundacion MAPFRE, a non-profit institution within the MAPFRE Group.  Fundacion MAPFRE has offered the generous sum of €49,000 to support all running costs of the MSR rooms once again this year. At present, over 400 children benefit from this service.
Inspire's Multi-Sensory Rooms (MSR) were built purposely to help treat children and adults with Sensory Processing Disorder (SDP) – a condition in which an individual's sensory signals do not get organised into appropriate responses, making everyday activities a challenge to perform. If not addressed and treated properly, this leads to clumsiness, behavioural problems, anxiety, depression, underachievement, and even social isolation, among other issues.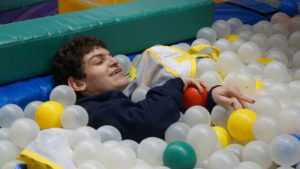 These multi-sensory theatres are used to create events which focus on particular senses such as touch, vision, sound, and movement. It gives people control – possibly for the first time in their lives. It enables people with any degree of disability to change and influence their environments in a positive way. Last year, Inspire delivered more than 2,400 sessions to 400 children and adults in these state-of-the-art Multi-Sensory Rooms provided by Inspire Foundation.
"It is truly wonderful that Fundacion MAPFRE is able to help out local initiatives, supporting organisations that are dependable on such help. The services offered by Inspire Foundation are indispensable for people with a disability and their families, who deserve nothing but the very best. This organisation works tirelessly to offer the most professional and advanced services possible. We are more than happy to collaborate," Chairman of MAPFRE Middlesea, Martin Galea said.
Inspire thanked Fundacion MAPFRE wholeheartedly for acknowledging their work and for supporting this service, which are truly beneficial for people with a disability. Inspire Foundation provides educational, therapeutic and leisure services to persons with a disability, allowing them to reach their full potential in life. Services are offered free of charge or at a highly subsidised price and the NGO depends on donations to sustain and improve its services. For more information visit Inspire's website.
Fundacion MAPFRE, a non-profit institution of MAPFRE Group is a leading global foundation committed to people's well-being and social progress. It contributes to improving people's quality of life and the progress of society through multinational programs and activities.  In Malta, MAPFRE is represented by MAPFRE Middlesea and MAPFRE MSV Life.
Source: Fundacion MAPFRE sponsors Inspire's multi-sensory rooms for third year running – Newsbook