With a doctorate in flute, Tiana Grisé's passion for has led her into roles with the Fargo Moorhead Area Youth Symphonies and as a professor at Minnesota State University Moorhead. Ethan Mickelson /The Arts Partnership
Where the eyes deceive, ears offer reprieve from a constant hunger for visual stimulation.
With sight using up about 30% of the human cortex, it's no wonder most art begs for a surge of eyeball action. Even forms like music are distracted by a storm of 150 million rods and cones lighting up the retina.
Flutist Tiana Grisé aims to redefine that connection with an ambient performance of "Awash in Sound" at 6 p.m. Thursday, Oct. 3, at Fargo's Plains Art Museum, 704 First Ave. N. Inspired by the unique acoustics inside the gallery space, her performance will coincide with a tactile exhibition called "The Other Four."
"I've been playing the flute for 30 years now, and at almost every recital people sit and take in," Grisé explains about the constraints on musical performances. "This feels different to me."
Sensory subjects
"The Other Four" exhibit offers a full sensory package. In combination with musical performances, it intentionally excludes sight to induce bursts of engagement that shock observers out of their traditional forms of visual processing.
Among the objects that invite people to engage with touch, taste, hearing and smell, observers wind down a strange path, grasping at walls and clutching to any sense of direction.
As a form of way-finding in the experimental space, Grisé's grant-funded project defies the sit-and-watch formula of traditional musical performances. Her no-frills flute performance will include a 45-minute, continuous compilation of various works ending with an original composition by Geoff Gersh.
"Geoff and I both enjoy experimenting with space in our music," she says about the New York City-based composer. "He's a very spacial composer."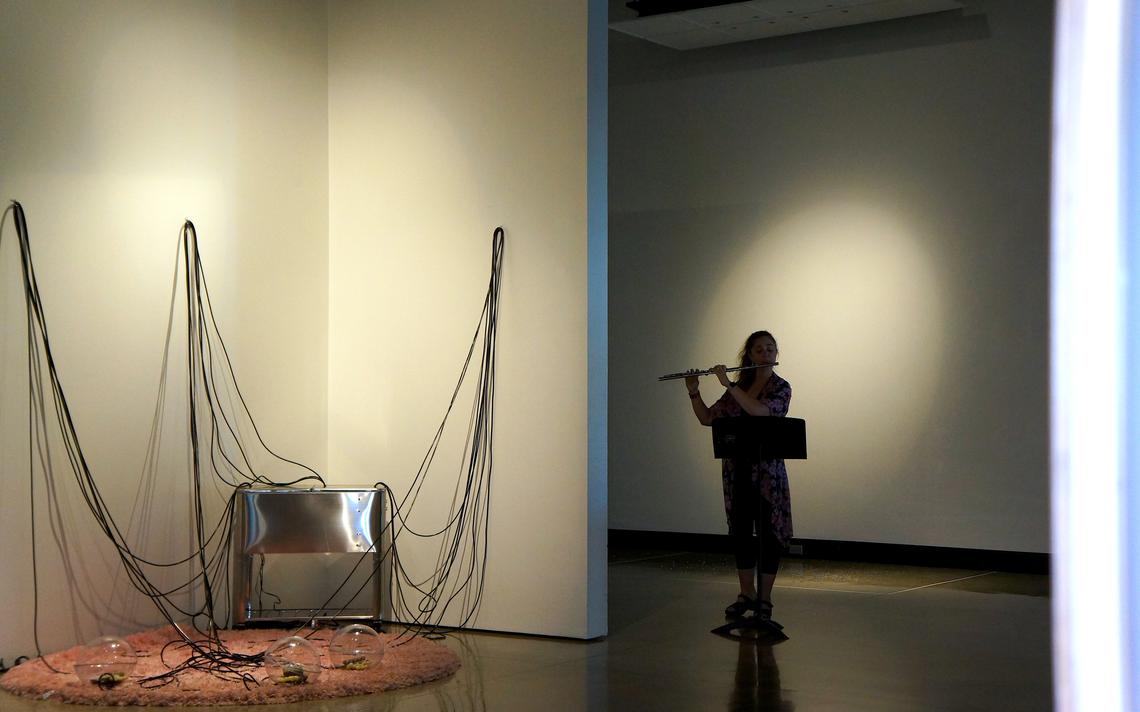 Grisé first met the now widely acclaimed Gersh via an online bulletin board in the '90s. They've stayed connected since, each pushing the envelope in their respective territories. In addition to his more experimental projects such as a piece written for six electric guitars performed in an old bank vault below Wall Street, Gersh has been playing the electric zither in the off-Broadway show "Blue Man Group" since 1998. He's collaborated with and composed for a broad spectrum of artists, including choreographers and a painter, and he's even created music for and performed during silent films in Brooklyn.
Grisé has experienced her fair share of collaboration in the Fargo-Moorhead community as well, teaching flute at Minnesota State University Moorhead and serving as the executive director of the Fargo Moorhead Area Youth Symphonies.
Her upcoming recital was made possible by a grant from The Arts Partnership and local promoter Jade Presents. The funds were used to commission Gersh's work as well as to acquire the necessary technology to create a seamless performance.
"The technology piece included buying an iPad and a foot pedal so I could load all my music into the program and turn pages one after the other," Grisé says about the key to unlocking a truly integrated performance into the exhibit. "People don't need to sit and watch like a formal recital. There's so much to look at in the gallery and the sound is completely different from one end to the other. Just by moving around, you can experience things in a different way."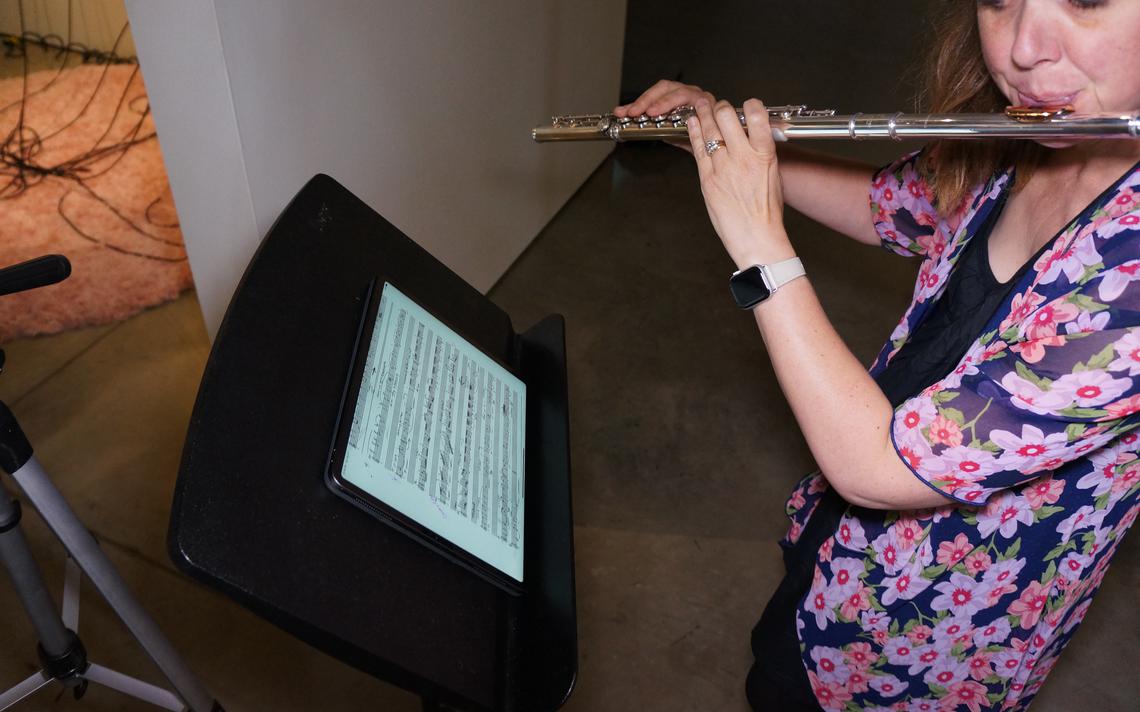 Growing up in Montana, Grisé has spent much of her life working, playing and teaching in the Northwest. After four years as a flute instructor at Idaho State University, she and her husband accepted full assistantships in the doctoral program at James Madison University in Harrisonburg, Va. She also holds a Master of Music degree from Oklahoma State University and a Bachelor of Music degree from the University of Montana.
"I played in a lot of galleries when I was in college," she says. "We did art openings every other weekend. Really, any place can be a performance venue, from concerts at Island Park or at bars. Any place can be good depending on what you want to do with it. Everything about the Plains is conducive to making beautiful music."
If you go
What: "Awash in Sound: The Flute and Space" with Tiana Grisé
When: 6-8 p.m. Thursday, Oct. 3
Where: Plains Art Museum, 704 First Ave. N., Fargo
Info: This musical performance is free of charge and coincides with the museum's exhibition, "The Other Four"
This article is part of a content partnership with The Arts Partnership, a nonprofit organization cultivating the arts in Fargo, Moorhead and West Fargo. For more information, visit http://theartspartnership.net.
Source: 'Experience things in a different way': Sensory art exhibit in Fargo to include unconventional flute recital | INFORUM