Nightlife culture is changing by the minute and elrow'art is the latest innovator shaking up the way that we experience music and dance. Come Saturday (December 14), Brooklyn's Avant Gardner will transform into an a one time only multi-sensory experience for New Yorkers called Kaos Garden featuring music curator Paco Osuna and we have the scoop on the spectacle straight from the man himself.
In collaboration with fashion brand Desigual, art collective Ink and Movement and renowned painter and sculptor Okuda San Miguel, elrow's latest tour stop to set to bring together the worlds of avant-garde art and electronic music. More specifically, the Kaos Garden set is set to unravel in Williamsburg with 100 costumed and interactive performers, hand painted installations and so much more for almost 10 hours of music. Paco specifically handpicked 16 acts from the tech-house realm, including Lee Foss, Eats Everything, De La Swing, Andrea Oliva, to soundtrack the evening, which has been described as "a night that will represent the dynamics of the historic triptych in which we see scenes of paradise and hell."
Ahead of the affair, iHeartRadio caught up with Paco, who discussed his longtime collaboration with elrow, upcoming set and just why this event differs from any nightclub or festival outing you've been to in the past. Scroll on below to read our exclusive Q&A with the veteran DJ and click here for more information on how you can attend elrow'art.
You've previously performed at elrow events. Talk to me about your first experience playing for this franchise.
My relationship with elrow goes back to the beginning when elrow in Barcelona just started. I remember that they called me to go and play and there were no more than 500 people in the club. I liked the atmosphere and the venue so much that at the end of my set, we decided that I would have a monthly residence. So one Sunday a month, I invited the guests I wanted.
Elrow, at that time, began at 8:00 a.m. and went on until 4:00 p.m. and I was fascinated by the idea of getting the people to come early in the morning, since normally the clubs in Barcelona closed at 5:00 a.m. or 6:00 a.m. and there was two-hour lull. One year, the party went from 500 to 5,000 attendees every Sunday, and people were getting up early in the morning just to go to elrow. For me, elrow is a part of myself. It is my home. I consider the Arnau family part of my family.
What can we expect from your set at elrow'art?
Elrow is an event created for people to have fun and have a great time, and that is what can be expected: to party big time. My goal is to make people enjoy themselves as much as possible, to make a session full of energy and joy. On top of that is the elrow'art decoration, which will be something really amazing and a beautiful experience.
You've performed all over the world. How does a metropolitan like New York City compare?
New York has a great musical culture and is an important part of the history of the clubbing world. That makes give my best every time I play here. Playing in such an important city and one with such repercussion takes my adrenaline to the maximum because I do not want to make any mistakes. I only wish that when the set is over, everyone will go home with the feeling of having enjoyed themselves, of having forgotten their problems or their daily routines for a moment. New York and Miami may be the cities where I have played the most since I first visited the USA, so I really don't want to disappoint all my fans in the city.
How does performing at an event like elrow differ from a nightclub or festival set?
The mise-en-scène carried out by elrow at each show is simply spectacular. Once you get in, it transports you to a colorful world of joy. The theme they have created, Kaos Garden, is a fantastic world full of wonders, where everything is joy and madness. It is an experience that you have to live at least once in your life. The madness created sometimes surpasses reality. At elrow parties, everything has a spectacular dimension. It is not just a DJ set. It is a different scenography, where everyone (the crowd, the DJs, the actors and performers) are part of a unique show. We all are equally important in creating the atmosphere and experience.
You were recently announced as part of Phase 1 of Ultra Miami next year. What else do you have lined up for 2020?
The truth is that the first six months of the year are already organized. Talking of dates in the United States, I will debut in Coachella. I will also perform at EDC Las Vegas, in addition to the clubs I usually play at such as Space Miami, etc. I can also say that we are working on a special event here in New York, but it is still too early to announce something.
Scroll on below to prepare for Kaos Garden with an exclusive listen of Paco Osuna's Halloween set at Prysm Nightclub in Chicago!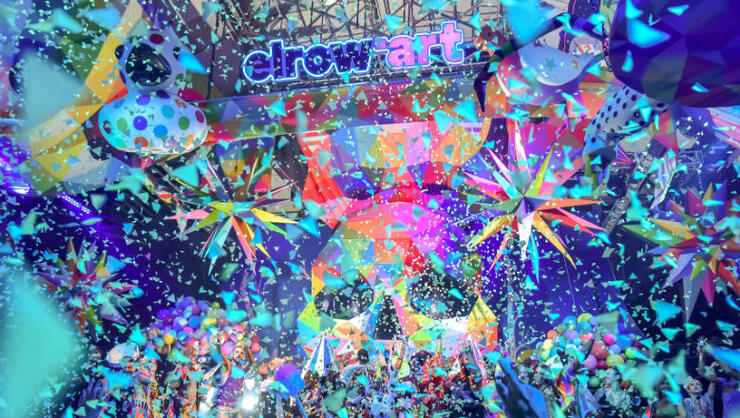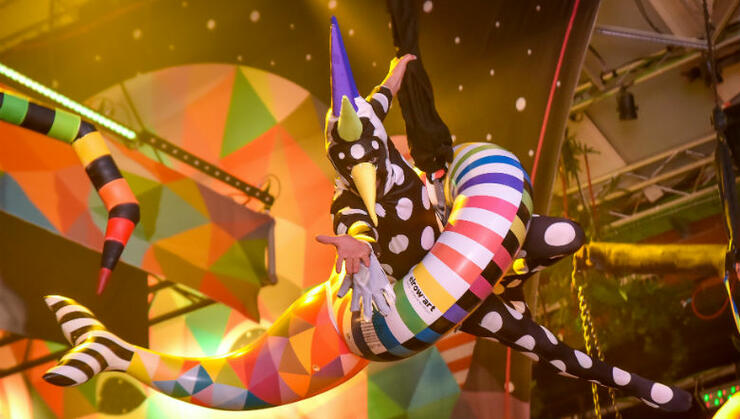 Source: Elrow'art To Bring World Of Wonders To New York, Says Headliner Paco Osuna | iHeartRadio