Twenty-five years later, Wu-Tang culture is ubiquitous—doesn't everyone know the chorus to "C.R.E.A.M."? Even if you don't, the new tribute pop-up dinner Enter the 36 Courses: A Wu-Tang Culinary Journey is an art, music, and food experience that anyone can appreciate. What started off as an idea for a birthday dinner between friends AC Boral and Vince Perez, has turned into a music-based pop-up dinner and brunch series dedicated to the Wu. Each pop-up features several dishes inspired by a song, album, or member of Wu-Tang; eventually it will culminate in a total of 36 courses.
Part One of the series—staged most recently in Venice in late April—includes four dishes. The first course is "Uzi," a cheddar-brie waffle and tomato jus.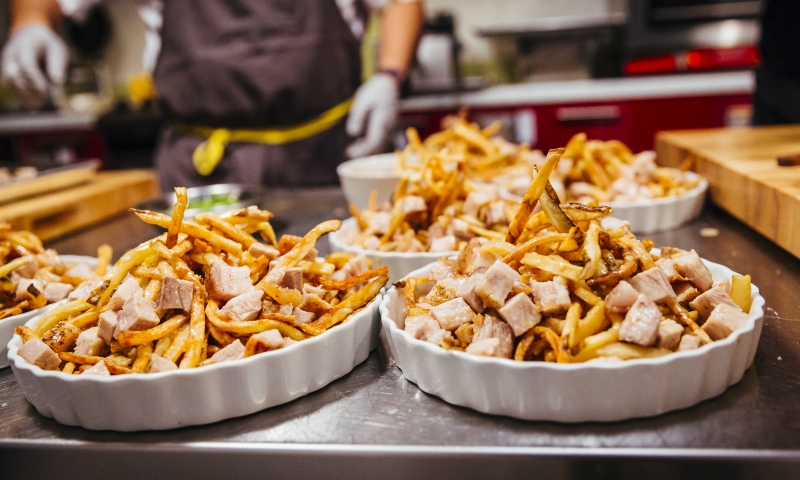 The second course, "Protect Ya Neck," features hand-cut fries, roasted pork belly, and a spicy vegan chipotle gravy (and because RZA is vegan and a few other members of the crew are vegetarian, this dish can be made without pork).
The third course is "Shimmy Ya," a sous vide beef tenderloin, a crispy tiger shrimp cake, and chimichurri-roasted cauliflower and Brussels sprouts.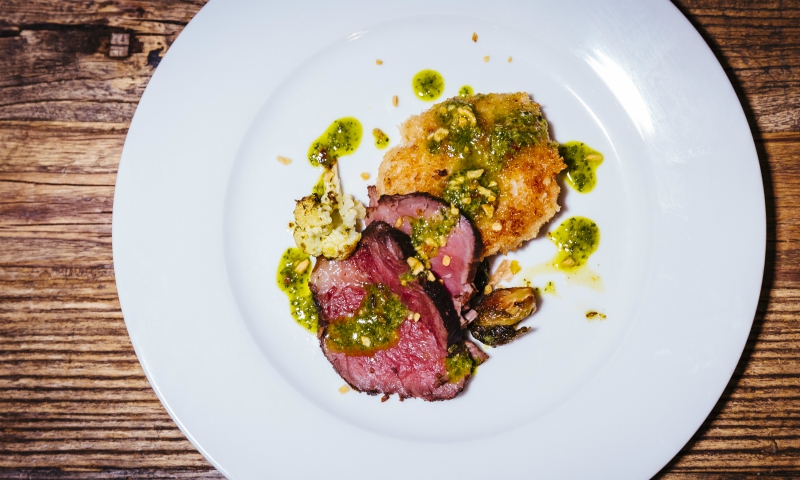 The fourth course, "Wu Tang Clan (Ain't Nuttin' ta Fuck Wit)," is a Filipino-style leche flan with flecks of 24k gold leaf, berry cream, and a citrus drizzle.
Upon arrival, diners are welcomed with a Killa Beez cocktail. They don't serve wine (it's BYOB, though), but they do offer "rhyme pairings" for each course instead. Before each dish is served, Perez performs his own original rap verse pairing the food with the music or specific rapper the dish was inspired by. To add to the multi-sensory experience, flash art by John McNichol is on display.
You are encouraged to take a picture of the art with and without flash, and when taken with flash, you can see another design reflected within the art piece. McNichol also gives a commemorative art piece to every diner. All the while, Wu-Tang blasts through the speakers.
Source: This Wu-Tang Clan Dinner Series Ain't Nothing to F**** With – Los Angeles Magazine