The art of perfumery is intensively seeking for new ways to appeal to consumers. Could a perfume that also doubled up as body art be part of the solution? Israel's Amkiri is hoping so, having apparently launched the world's first "visual fragrance" technology.
In the age of highly image-driven social media, perfumes hardly leave their mark in the mind of influencers who are spontaneously more attracted by the fast-visual effects offered by colour cosmetics.
To solve the equation of the visibility of perfumes, Israel-based cosmetics company Amkiri has announced that it has developed and successfully patented a scented 'ink' infused with fragrance. The creme-like product is designed to be applied to the skin using specific applicators, allowing wearers to craft colorful body art while anointing themselves with a perfume that the brand claims lasts for up to 12 hours. According to Amkiri, the patented technology can carry any fragrance or colour and can therefore adapt to any form of skin.
Makeup, tattoo and fragrance in one product
The concept is the brainchild of designer Shoval Shavit, entrepreneur David Chissick and chemistry expert Aliza Shavit.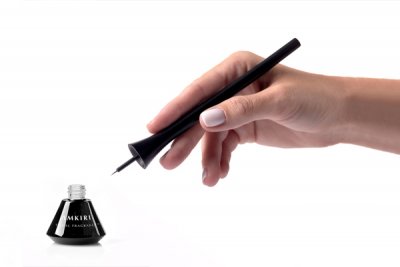 "As a designer, and a very visual and expressive person, I initially came up with the notion of Amkiri for my own personal needs," said Shoval Shavit in a statement. "I asked myself how I could create a fragrance that is visual? I wanted to blend makeup, tattoos and fragrances in one product."
Innovative launches
Perfumes brands have been shaking things up in terms of fragrance formats recently – back in February, cult label Glossier put solid perfumes back on the map with the launch of a consolidated version of its "You" scent. Last spring saw designer Derek Lam reimagine his "10 Crosby" perfume line as a series of twist-up wax fragrance sticks, while Maison Margiela's portfolio includes a dry body oil. (See our article here).
At the latest edition of Luxe Pack Monaco, several suppliers of packaging solutions have put forward applicators allowing to handwrite fragrances on the skin. Another challenge was to make the fragrances visible and compatible with a wide variety of colours, it is apparently what Amkiri achieved.
The company is set to launch a selection of products in May, with further releases planned for later in the year.
Source: Premium Beauty News – Could 'visual fragrance' be the next big perfume trend?