Getty Images; Melissa Herwitt/E! Illustration
Certain scents are so attractive that they "can lead the wear on an exotic adventure akin to visually reading a romance novel," an InterParfums spokesperson exclusively told E! News.
Forget chocolates and oysters, it turns out perfumes are powerful aphrodisiacs.
Similar to how red lipstick makes a statement without the wearer ever having to utter a word, certain scents can act as invisible magnets, making you irresistible to others. But before we break down which notes will help get you in the mood, you should know why it's enticing in the first place.
"In fragrance, certain ingredients, when viewed through the eyes of aromatherapy, can enhance our senses to the highest or trigger certain aspects of joy, sexiness and arousal," a spokesperson for InterParfums told E! News. "It can lead the wearer on an exotic adventure akin to visually reading a romance novel."
They added, "Scent by nature triggers feelings, emotions and sensations—good, bad or indifferent."
So it's no surprise that some of the most seductive quotes in history are in reference to perfume. When asked what she wore to bed, Marilyn Monroe famously told reporters, "I only wear Chanel No. 5."
Elizabeth Taylor, meanwhile, noted, "The beauty of fragrance is that it speaks to your heart and hopefully someone else's."
So, before you get ready to strip down in the sheets, think about dabbing on a few of these scents to really set the mood.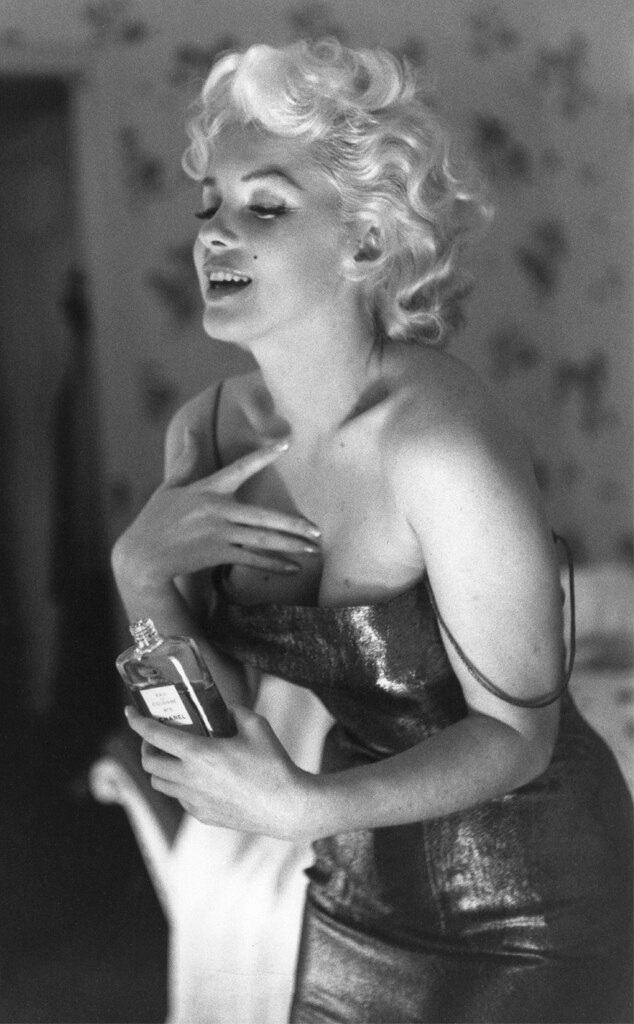 Ed Feingersh/Michael Ochs Archives/Getty Images
What scents are known to trigger arousal?
Ylang Ylang:
"Ylang Ylang is an aphrodisiac essential oil that is often added to floral perfumes," an InterParfums rep said. "The oil is traditionally revered for its ability to ease sexual anxiety and provide performance enhancement. It has a high concentration of β-caryophyllene (a sesquiterpene present in clove, rosemary and black pepper), which has an increase in testosterone, one of the most important sex hormones."
The proof, shared the rep: "An increase of this hormone was found in the saliva of women after inhalation of Ylang Ylang."
Lavender:
Lavender essential oil is also known to have a positive effect on sexual health, according to the InterParfums spokesperson. They pointed out a 2019 study by The National Library of Medicine, in which they found lavender improved almost every aspect of the experience for elderly women—mental and physical.
As the InterParfums suggested, "Mist some on your bedroom pillows for a restful night and perhaps some added satisfaction."
Clary Sage:
"Clary Sage is excellent when the libido is low due to hormonal shifts, such as menopause," the senior perfumer said. "It can act as a balancer to bring relief and enhance the moment."
Rose Oil:
According to the InterParfums rep, studies have also shown the positive effects Rose Oil has on sexual dysfunction. In 2015, Zyto (a company that facilitates better wellness decisions) found that male participants suffering from mental health issues experienced an improvement in their depression and sexual dysfunction after being administered Rose Oil.
Adds the InterParfums rep, "It's commonly considered one of the best essential oils for libido."
Jasmine:
"Jasmine essential oil has an alluring, uplifting aroma, and has long been considered an aphrodisiac," the perfumer said, noting that Zyto's 2010 study found that aromatherapy massages with jasmine increased arousal in participants, compared to the placebo group. "The study also suggested that Jasmine contributes to elevating mood, as it contains therapeutic properties beneficial for stress, anxiety and nervous conditions."
Patchouli:
Need a mood-booster? Patchouli essential oil offers many therapeutic benefits, including increasing libido. "Patchouli is considered a grounding oil," the InterParfums noted, "which means it can help you feel balanced if things are hectic, it can promote a calm environment and assist with mood imbalances in general."
Sandalwood:
According to the InterParfums spokesperson, Sandalwood essential oil has calming and relaxing properties that promote a relaxed environment, which helps with arousal.
What emotions can scents evoke?
Because fragrance is so personal to the wearer and has the power to stir up memories or capture a significant moment in time, there are endless emotions that can arise from just one spritz.
"People wear fragrances because it makes them happy, confident, sexy or connected," the InterParfums representative shared. "And when a person is happy, they are more inclined to get aroused."
Source: Can Fragrances Trigger Arousal? These Scents Will Get You in the Mood – E! Online – CA