Beefeater Gin together with Blue 449 has taken the scent of summer into Bondi Junction station and Adshels in Melbourne to promote the launch
Beefeater Pink offers a bold, new strawberry twist on the classic Beefeater London Dry Gin.
Beefeater Gin is widely known in Australia with a strong London heritage and is looking to build on their successful gin brand awareness by appealing to a younger demographic who are entering the gin category.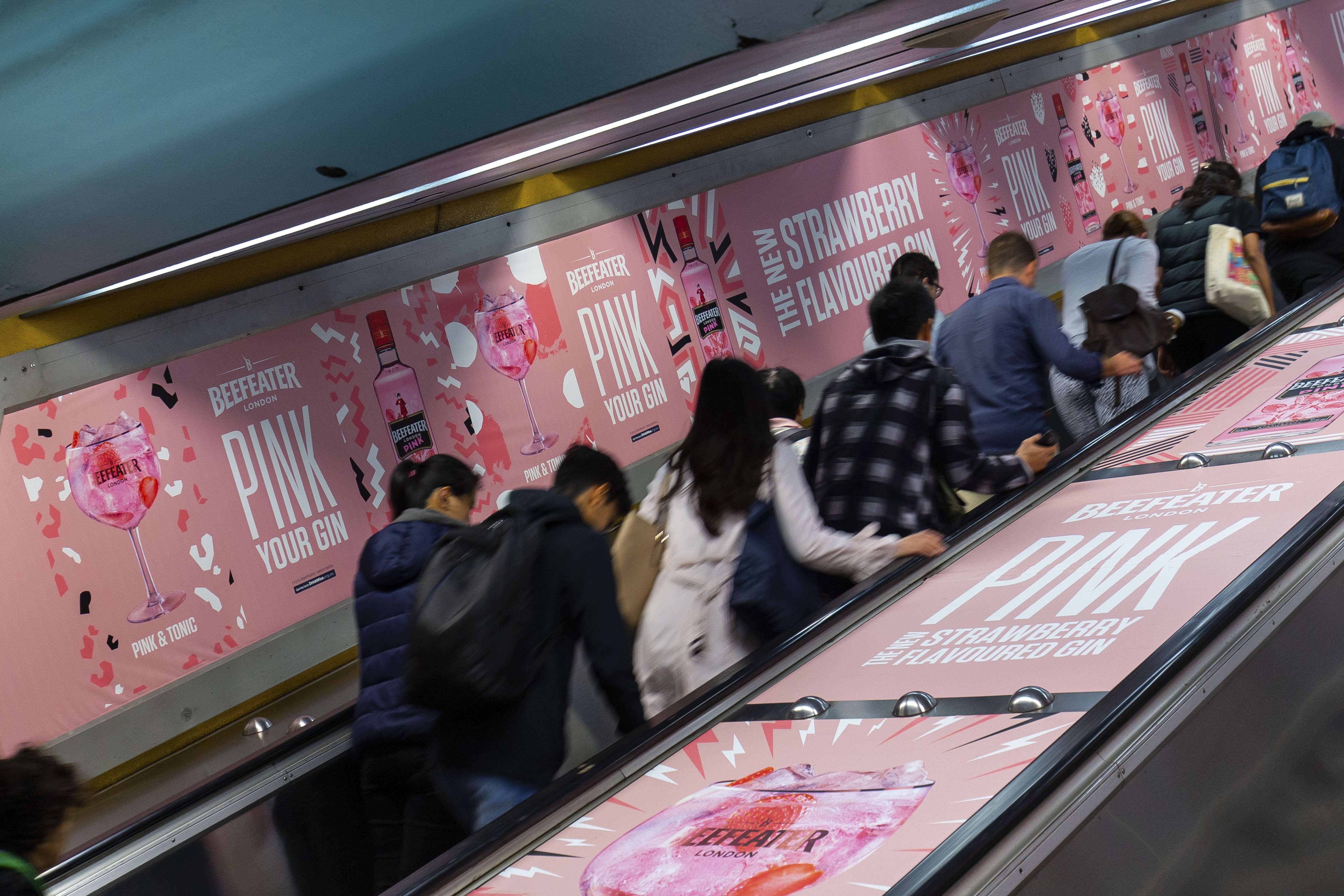 The Gin category in Australia is booming and is the largest contributor to glass spirits delivering an enormous $54M to the category.
Pink Gin is taking off in Australia with a tremendous surge in the light and fresh category, with over 35 per cent of all gin innovation in the last 12 months being pink.
To launch Beefeater Pink, Blue 449 carried out research which showed the majority of the target audience are based in metro Sydney and Melbourne with two key consumption platforms being OOH and digital, with a strong focus on social.
Beefeater and Blue 449 activated a station domination at Bondi Junction with the area surrounding the escalators and entrance and exits in a sea of delightfully scented strawberry pink.
Adshels in Melbourne were completely wrapped in Beefeater Pink panels and the same strawberry scent can be activated in these by the push of a button.
The original Beefeater London recipe has been enhanced with soft fruit and strawberry flavour, tuned perfectly with classic notes of juniper and citrus to produce a finely balanced contemporary gin.
Expertly distilled and crafted in the heart of London, Beefeater Pink is a delicate and refreshing gin and one that is a visually vibrant pink shade, which appeals to an increasingly younger audience for gin in Australia.
Pernod Ricard Australia marketing director Eric Thomson said: "For the launch of Beefeater Pink, we wanted to have a media approach that was creative and as disruptive as possible, taking a twist on traditional media to capture the attention of our millennial audience on their city commute.
"We looked into an innovative use of strawberry-scented posters from our UK counterparts, to create a truly multi-sensory campaign that is not only highly visual but brings to life the vibrancy of Beefeater Pink.
"We also hyper-localised our creative to the Bondi space to really personalise our creative to our millennial audience who expect brands to make that extra effort.
"At a time where gin popularity continues to soar in Australia and younger consumers embrace pink as the colour of their generation, this activation timed perfectly with summer to demonstrate our brand attitude."
Blue 449 client director Marrion Bell added: "It has been exciting for us to bring to life this new twist on a brand as iconic as Beefeater.
"The brief from the Pernod team was fantastic and allowed us to be really creative with our media planning.
"Seeing the innovative creative concepts that were shared by the team in the UK live in our market, has been extremely rewarding."
Source: Blue 449 Brings The Scent Of Summer To Australia For The Launch Of Beefeater Pink – B&T