Bagatelle Dubai: An interior view of the restaurant
French-Mediterranean themed Bistrot Bagatelle, hand-in-hand with Dubai's Opera gallery, has meticulously crafted a fine dining experience amidst a mountain of colourful art
Bistrot Bagatelle Dubai with its ambience filled with 'joie de vivre', located within the Fairmont Hotel in the bustling Sheikh Zayed Road, has been an essential part of the grandiose culinary scene of the region and a playground for art and food lovers alike.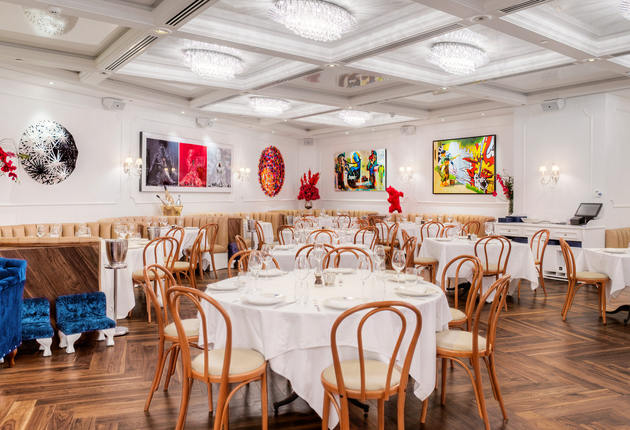 Interior view of Bistrot Bagatelle
Over the last couple of years, in collaboration with Opera Gallery; a key player in the modern and contemporary arts scene in Dubai, has precisely curated a selection of artworks that enhance the restaurant's vibrant and sophisticated ambience.
"Dining is a sensory experience, so adding art to a restaurant setting makes perfect sense," says the director of Opera Gallery, Sylvain P. Gaillard, "I believe that it complements the entire experience and helps set the stage for the guests."
The artworks on display are embraced as a 'mise en bouche', whereby the guests have their visual senses invigorated by the pops of colour present in the venue. Art pieces in a restaurant venue promise the guests the wholesome experience they expect.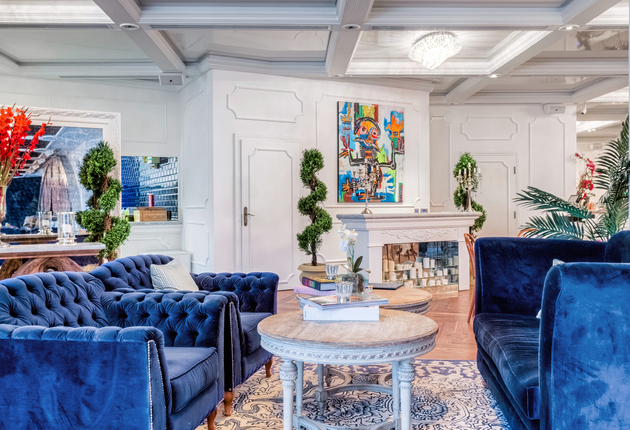 Interior view of Bistrot Bagatelle
"I would not be as categorical by saying that art is important in a restaurant setting, but it surely is something that guests are increasingly sensitive to, and a growing trend globally," expresses Gaillard.
The art display at Bagatelle has been meticulously curated to mirror the international aura of the brand as well as to parallel the dishes served in the restaurant, which are deeply rooted to certain parts of the world, have a different texture and plated very uniquely. "Most of the paintings on display are very bright in colours and exude good vibrations, we opted for what could be referred to as 'feel-good pieces' "adds Gaillard.
Some pieces of note include – Diptych on Red (2010) by Canadian artist Johanne Corno; whose full-fledged post-pop idiom signature style of art caused a whirlwind amongst artists and collectors alike since the 1980s. With spirited dichotomies, she beautifully coagulates symbolic details with gestural movements enhanced with intense colours such as reds and blues, resulting in an additional bounce to the textures and emitting a bold contemporary aesthetic throughout her works.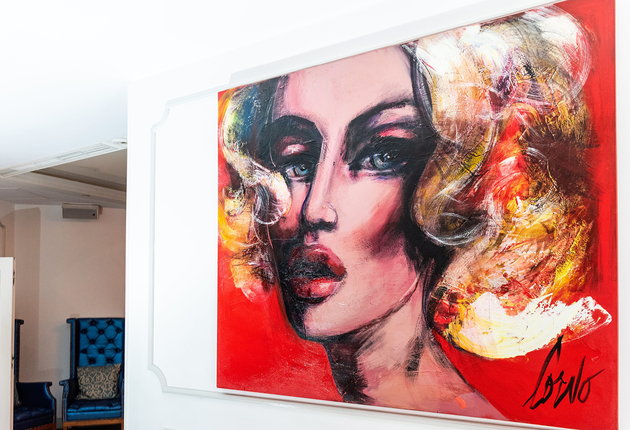 Diptych on Red (2010) by Johanne Corno
Marilynn Monroe II (2007) by Israeli painter Hagit Shahal; whose works are abstract and conceptual, constituting a kind of complex journey that deals with essence, identity, mood and state of mind, also hangs on the walls. Hagit extensively uses engraving techniques and monotyping.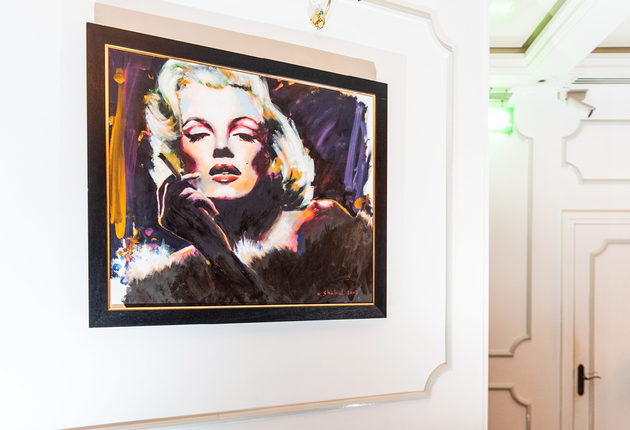 Marilynn Monroe II (2007) by Hagit Shahal
2 pandas in Shibuya (2009) by Japan-born artist Hiro Ando; whose artworks mostly depict the night-time urban landscape in Japan is another highlight. The streets of Japan provide an infinite source of material and inspiration for Ando's narratives, of which one of the main elements emerged in his paintings, the red fish. The red fish in his paintings acts as a subtle reminder of the ancient Japanese watercolour paintings, thus making his work perfused with both a contemporary and traditional feeling.
Another work at the restaurant is "Curieuse" by Canadian artist Andre Monet, whose artworks have a natural connection and sense for the current society and its contemporaries. Monet's signature conceptual medley of text, texture and colour exudes deviation from the norms, exemplifying the characters and personalities of its focus.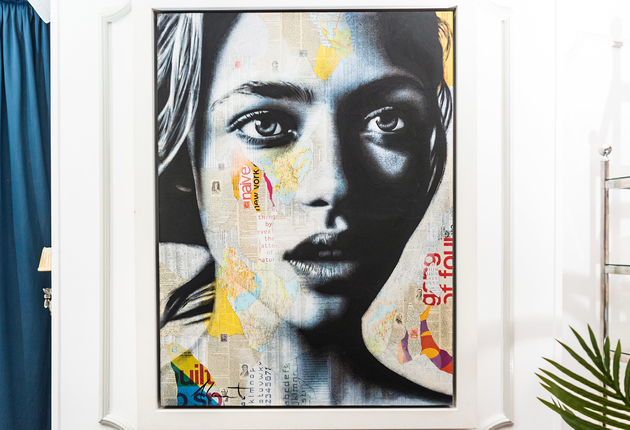 Curieuse by Andre Monet
On a couple of occasions, guests have acquired some of the artworks on display, as memorabilia associating the painting with a memorable time that they've shared with friends and family over exceptional food and artful conversations. "At the very core, I always say that art provides emotion, which is a very basic and pure feeling," remarks Gaillard, "What I hope diners take away from the curation is the added stimulation provided by the paintings, heightening their overall experience at Bagatelle."
Images courtesy of Bistrot Bagatelle
Source: Bagatelle Joins Hands With Dubai's Opera Gallery To Marry Art And Fine Dining | Harper's BAZAAR Art