Artist spotlight: an interactive picnic that reconnects people with local durian culture
Learn more about the country's infamous fruit with this fun, multi-sensory experience by artists Kray Chen and Melinda Lauw
Growing up, Melinda Lauw had fond memories of eating durians with her family. It left such a lasting taste, and impression, that the first thing she wanted to eat after coming back from living abroad for many years was durian. 
Similarly, artist Kray Chen grew up surrounded by durians. Many of his uncles were fruit dealers, and his love for the tropical fruit even inspired him to create a short film that explores durian-picking as a hobby. "Durian has been a very big part of my life," he adds. 
So much so that the pair of friends decided to turn their adoration for the fruit into an interactive piece of art. They created Waiting For Durian, a multi-sensory durian picnic experience that seeks to reconnect people with Singapore's lesser-known durian culture. 
In particular, they want to bring back the familiar memory of enjoying fresh durian while crouching over newspaper laid on the floor. "I realised I haven't done that for quite some time now," recalls Melinda. "Now, we order everything online, and they come delivered in vacuum-sealed boxes." 
"We don't even have to interact with the fruit itself," adds the experience designer.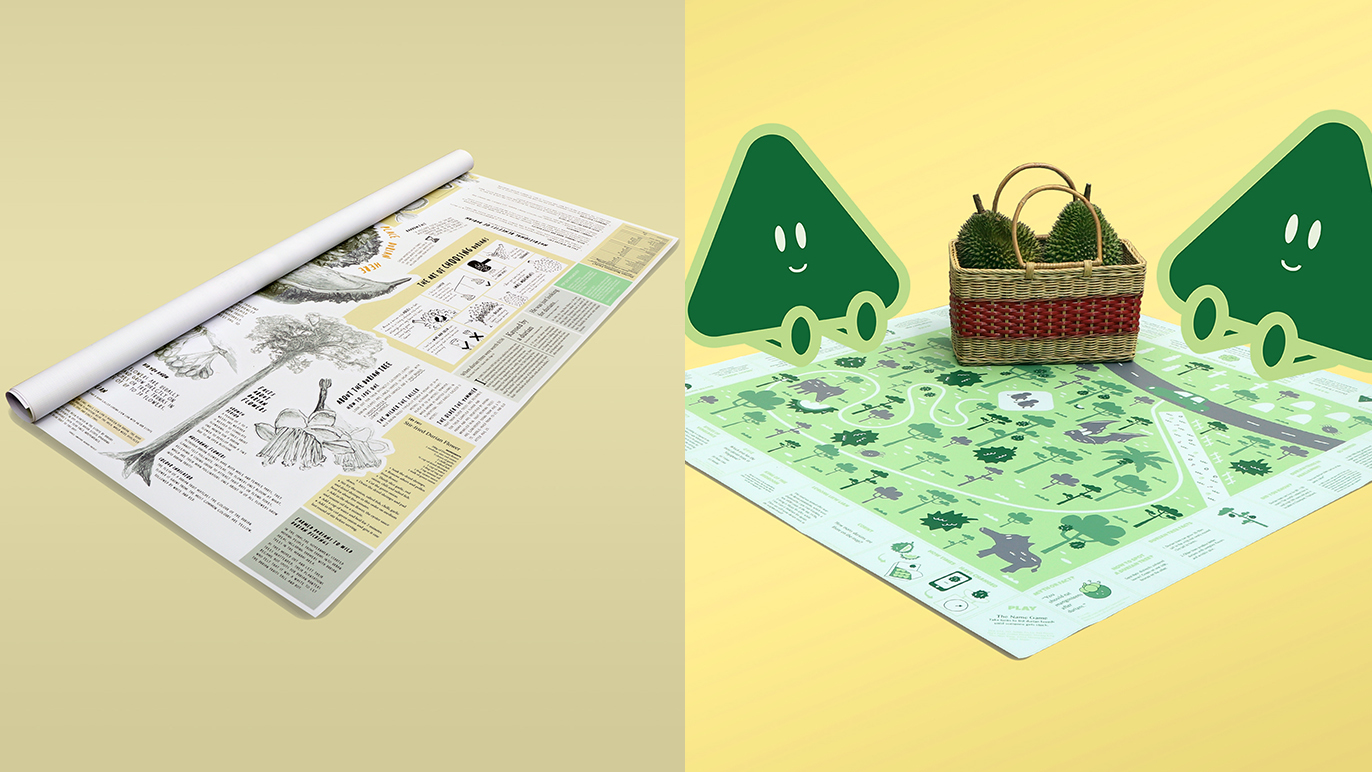 As part of Waiting For Durian, participants will receive a Durian Lovers Picnic Mat splayed out with adorable illustrations and interesting readings about local durians. The experience is made to be enjoyed with a few friends or family members, where everyone can connect over a shared love for the smelly fruit. Also included is a 15-minute audio journey that takes listeners down a durian-picking forest adventure. 
"It all becomes this opportunity for people to start coming together and start chatting over the mat, and over stories that they have about durian," explains Kray. 
Of course, the whole experience is best enjoyed while tucking into the flesh of the sweet fruit. The Durian Picnic Party Pack comes with a Mao Shan Wang, deliberately delivered whole in all its thorny glory for people to pry open to enjoy. 
"On the mat, we have included information on how to open your first durian, and even how you can use the husk to wash your fingers," says Melinda. "And we felt that this was important because it's precisely the hands-on experience that we have lost." 
Waiting For Durian is also part of a larger Singapore Art Week 2021 exhibition, If Forests Talk, that explores the relationship people have with nature. Through this interactive picnic, Kray and Melinda hope to reacquaint people with nostalgic durian-eating practices, and even start thinking about larger issues of the provenance of ingredients. 
Kray says: "It's about trying to get closer to the original fruit, and the original state of where our food comes from." 
HOW TO EXPERIENCE The Waiting For Durian audio story and picnic mat ($49) can be found at waitingfordurian.com. The full Durian Picnic Party Pack (from $99) can also be purchased from January 29 to 31 as part of the Singapore Art Week special. 
Source: Artist spotlight: An interactive picnic that reconnects people with local durian culture