A new University of Queensland Art Museumexhibition will explore how visual design, touch, taste and smell can shape our most poignant and powerful memories.
Artist Elizabeth Willing said an intimately conceived space reconstructed from her memories and impressions of her mother was the centrepiece of Through the Mother, an exhibition opening on 10 September.
"It delves into a specific childhood memory of my mother and her work shed that was permeated by the musty-sweet scents of drying roses, eucalypt, lavender, straw flowers and marijuana.
"I haven't made a direct recreation of that childhood space – instead I've attempted to interpret an elusive olfactory memory in ways that give the audience multiple access points to participate in the exhibition experience."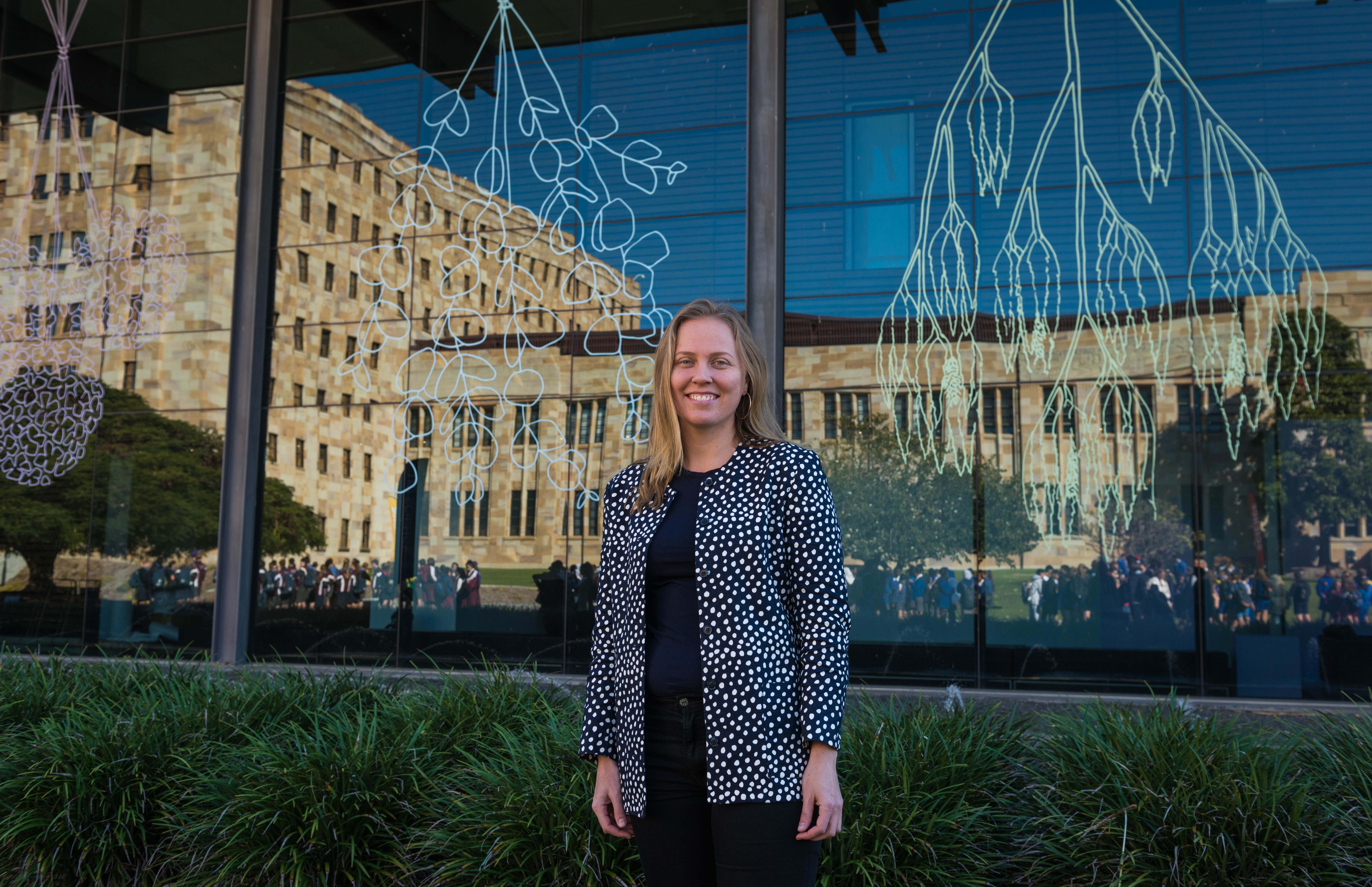 Senior curator Peta Rake said Willing had embarked on a curious and almost impossible task of retelling memories through carefully crafted objects and spaces distorted by smell and taste.
"Exhibitions often give precedence to the visual, and that is important for Willing, but this exhibition gives equal weight to all the senses," Rake said.
"Through this exhibition, Willing upends us into her fragmented narrative with things that are familiar – a table, stools, tea, wallpaper, a shed – but that are also rendered strange by wax and bush, grease and hibiscus, valerian and St John's wort."
Rake said the artist had hand-carved bunches of dried flowers into the top of a large table in the exhibition space – patterns echoed in Willing's floral-like wallpaper impressions and her front window commission at the museum.
Visitors are invited to sit at the table and to drink a tea blend designed to be calming and sedating, and to slow the mind and the viewing experience.
During the exhibition's development, Willing talked with UQ researchers including Dr Heather Smyth at UQ's Sensory Lab, and was specifically interested in her research formalising language about the olfactory and flavour qualities of Australian-grown plant foods.
"Heather and her team are working with a beautiful range of native foods, many of which were unfamiliar to me, and I was fascinated to learn how trained human laboratory tasters describe foods using the English language," Willing said.
"It seemed so familiar to my own practice – giving form to often intangible smell and taste experiences.
"Over the past decade I have explored personal food stories through multi-sensory gallery experiences."
Peta Rake said the artist's conversations at UQ led her to discover the pepper berry.
"It has a curious flavour; it's described as smelling like the Australian bush, with a hint of lantana," she said.
"Elizabeth connected with Essential Oils of Tasmania, which generously supplied her with the aromatic wax from the pepper berry plant, an unrefined by-product.
"She's used this as a varnish on the exhibition's stools, which will deepen and treat the wood, and reveal its fragrance throughout the run of the exhibition."
The exhibition runs from Tuesday, 10 September until 18 January. Entry is free and museum hours are here.
Contact: Sonia Uranishi, sonia@soniauranishicommunication.com, +61 409 387 623; Sebastian Moody, s.moody@uq.edu.au, +61 7 3346 8761.
Source: Art Museum show engages the senses to explore memory – UQ News – The University of Queensland, Australia