Art in Space provides the opportunity to artists to develop and extend their art through multi-sensorial experiences in their gallery in Dubai. Leveraging a unique technology, Lorenzo Rosettani, CEO, Art in Space and Céline Justin, Hcomm editor, both reveal how this multisensory digital art gallery is also bridging the gap between the digital and physical world.
Leveraging a unique technology, Lorenzo Rosettani, CEO, Art in Space and Céline Justin, Hcomm editor, both reveal how this multisensory digital art gallery is also bridging the gap between the digital and physical world
What specific kind of technology is being utilized at Art in Space and is technology a necessity in art?
"For us, technology is a first an ally way to access your senses in another way. Science has been trying for many years now, to translate emotions, feelings, even dreams, into physical sensations. Strengthening this link, our mission is to make a synesthetic experience accessible to everyone.
"We developed an exclusive technology using a special microLED pixel pitch about 1 mm2 while working with the best worldwide manufacturers of micro LEDs with high resolution (above 25°C of surface temperature instead of 40°C in the market).
"We have reduced electromagnetic waves emissions to the lowest level in the sector and shielded the wavelength of the blue colour that is harmful to the eyes. For artists we have created a simple chain to follow their multidimensional evolution with multi-sensoriality."
What the key premise for initiating Art in Space in the context of a multi-sensorial experience?
"Our story began a few years ago with Maurizio Rosettani. As a designer, stylist, and HSIGN founder, he always paid attention to humanise the creative expression of oneself. HSIGN is an interior design company launched 40 years ago.
"In 2010, he decided to turn his 1978-degree thesis into a project: 'Man-Space relationship, exploring the interactions and his/her results in terms of emotions, effects on health, and also the satisfaction of creative expression needs and self-seeking: a fluid space'.
"Art in space comes from a cause on how art can heal when connected to senses. Rosetanni was involved in this ambitious project with experts, scientists, universities, and research centres from all over the world in Fermo's headquarter (Italy)."
Why does the meeting with art need to be experiential?
"Through listening and vision we can build the 'art of living'. For this reason, as suggested by John Dewey, the meeting with art needs to be experiential, searching for our own harmony that can be reached also by governing our own will and existence: by being present, lucid, focused, coherent with ourselves and with our possibilities.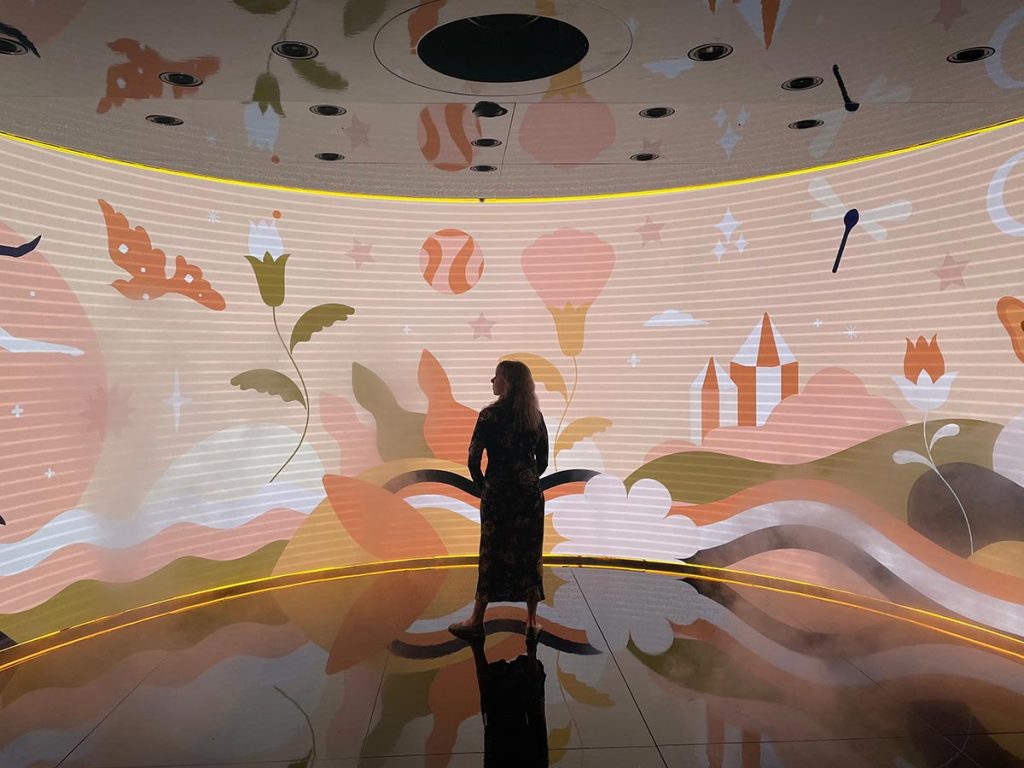 Oasis by Barbara Maragoli
"This is why Art in Space is developing multi-sensorial tailor-made solutions for the world of ART (galleries, museums, residencies) as well as for hotel suites, restaurants, private residences, corporate offices, business meeting rooms, clinics, and spas."
What is the key element that will take your event to the next level?
"We will that everyone can remember its own creative potential. This streamline is at the core of our programming and needs to open new spaces of work, discussions, reception, transmission. We want to be facilitators and translators. Our project aims at exploring artists' inner worlds, showing how it brings community together (art students, scholars, associations, curators. As architects, we build a framework linking galleries that will support in event, interdisciplinary meetings, and promotion.
"Secondly, IMAA (Immersive Multi-sensory Art Association) where people can browse for registered artists, galleries, private art collections, single artworks and events organised by members. IMAA will regulate the relationship between artists, galleries and Art in Space. And a personalized online marketplace dedicated to Multisensory Immersive NFTs Art.
"Also, an online section for artistic cooperation – ARTIST&CO Online co-working platform for artists' collaboration in creating art, and finally, an online section to finance art and artists – I'Maecenat A;  a crowdfunding platform for artist and art. We are dedicated to value interactions within the network, and consciously release how therapeutic and regenerative Art in Space could be regenerative both in physical and digital."
Who are some of these project builders and what kinds of projects are being highlighted?
"As curators, we follow artists connected to the project in their creative path. We believe in a 'white card approach' where they enter an unknown, but safe zone free to connect with sound designers, musicians, fragrances explorers, motion designers…that echo with their vibrations. This is what we explored and will share for our first gallery opening in Dubai alongside with VESA (Finland) – John James (Canada) – Akiko Nakayama (Japan) – Victor cord'homme (France-Denmark) – Caroline Derveaux (France) – Igor Imhoff (Italy) – Barbara Malagoli (Brazil).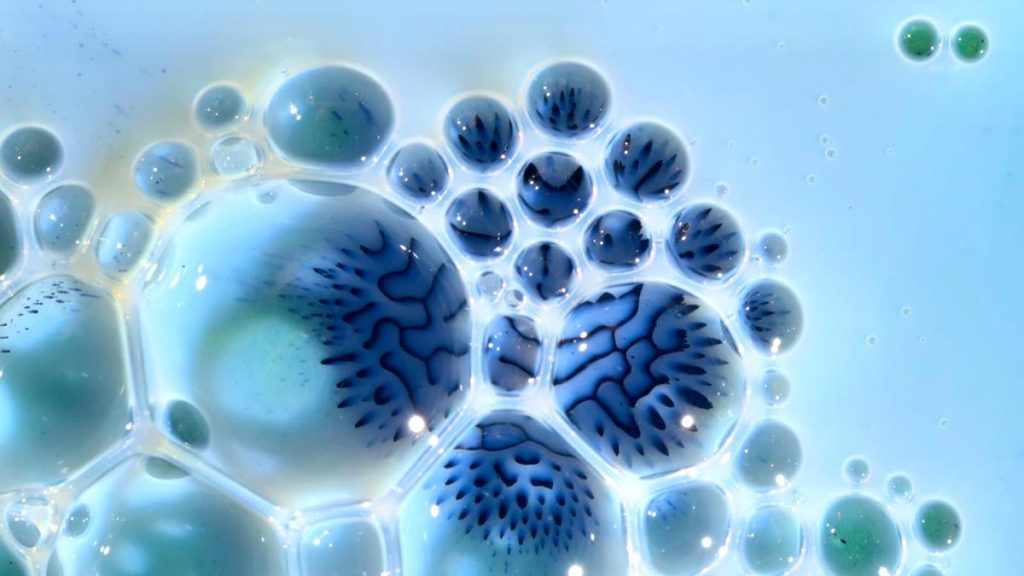 "With partners we want to share and advise our artists to explore with. For instance, it is the case with Healer(s) Studio launched in October 2020 using productions based on Alpha, Theta, Gamma, Delta, Bêta frequencies to activate brain waves and enter a modified state of consciousness. As an artist creating under Theta Waves could be interesting, as for publics discovering pieces with healing sounds will connect them to their inner landscapes."
How do you aspire to create synergies with local artistic scenes?
"Working side by side with galleries, but also allowing emerging artists to showcase when it can sometimes be difficult in the contemporary art market. Developing common or off programming with traditional and new digital centres around the world such as TeamLab Borderless in Japan, Artechouse (NY, Los Angeles) or Sharjaart in Dubai would be fantastic."
Are NFTs the way forward in art?
"NFTs are everywhere allowing multiple projects to appear. Contributing financially and supporting projects can sometimes get close to following a trend unconsciously. In Art in Space, we prefer to build collectively. Applied to the art field, NFTs permit a project based approach. We are dedicated to create conditions allowing artists to walk new paths in their work, regain autonomy, while creating new creative forms."
Why are people willing to spend millions on something they could easily screenshot or download?
"NFTs took this place because it opens a 'free zone' as all underground streams that became massive later, it creates a vortex of curiosity and sometimes easy money. For collectors it can be a way to support artists they follow exploring new paths and maybe creates once in a lifetime piece of art.
"For unknown creatives it is also a chance to rise and be spotted. NFT is touching an interesting edge in the art space as everything becomes possible, meanwhile, without regulation it also opens the door to massive and very often uncertified auctions that devalue or hide promising projects.
"With humility, we would love to bring sense to the table within our programming, developing a reasoned curation approach between top digital artists, emerging or tiny yet excellent studios, and unknown creators."
Your multi-sensory Art Room was conceived as regenerating bubbles to share art in another way both for discovering and for healing. How is healing being interwoven with art?
"The mental state of a person is their environment, the conditions of joy, happiness or health begin in the mind. Therefore, a place, perceived as positive, will benefit our mind and soul as both environment and vital processes interact with each other.
"Mind interprets the environment, if I can act on the environment, I modify my thoughts and perceptions of my reality. The Art Room proposes to change the signals that reach our cells while regulating its functions.
"So as soon as you enter in the Art Room either the 360, the 180 or the individual ones, you enter a bubble of regeneration directly impacting the brain with images, temperature and sounds. Our tailor-made approach allows each member of our community to enter its own state of consciousness."
Source: Art in Space: four-day event in Dubai to provide a uniquely synesthetic experience