Butterfly pea flower extract is not only super trendy right now, for food and drink, but also a soothing shade of blue, which Americans are in the mood for. (iStock)
With the new decade now fully underway, the researchers at Technomic, Inc. have been able to analyze data from the offerings in more than 30,000 restaurant menus to gain some solid insights into what Americans want to eat and drink now across limited-service. Those findings were at the heart of a busting-at-the-seams, fast-paced session covering the most promising 2020 restaurant trends at the Mid-America Restaurant Expo in Columbus, Ohio, this month.
The audience's food trends tour-guide for the hour-long session was Technomic Consumer and Industry Insights Manager Allison Grace, who honed in on a handful of primary areas that restaurant brands need to seriously consider in coming months.
We're kinda 'blue' … and purple and … 
The first relatively offbeat finding from Technomic's evaluation of those thousands of menus was the finding that cool colors — as in blue, green, purple and all shades in between — are what all the equally "cool" restaurant dishes are wearing this year.
These soothing colors are showing up in everything from purple corn and vibrant green sea beans to blue algae and the wildly popular deep indigo-tinted flavoring, butterfly pea flower extract. In short, diners this year want to see, smell and eat soothing shades on their breakfast, lunch and dinner plates.
"This isn't the first time we're seeing the design world and the restaurant world intersect," Grace said, reflecting a preference for similar colors in the most trendy room interiors and fashion.
Grace said this color-centered trend promises to return year-over-year menu growth. She highly recommended that brands consider these types of colorfied cuisine, particularly in the industry's increasingly popular limited-time options. In fact, Grace said that of the more than 1,500 new menu items shown on their menu data base this January, 88% were actually LTOs.
The vast majority of those LTOs, Grace said, were actually entrée items. In fact, when she asked how many restaurant brands represented in the audience had introduced LTO entrees in January, dozens of hands shot up, confirming the Technomic findings.
Why it not 'just' a fad
While food fads have plenty of naysayers, Grace said data indicates that food fad dishes are proving to be menu magic for brands that create their own renditions of popular food fads. But she also added that many of the fads being adopted for menu fare qualify as "headscratchers," often triggering strange reactions when eaten or in a few cases contain ingredients that approach, if not partially cross, the line into somewhat questionable legal territory.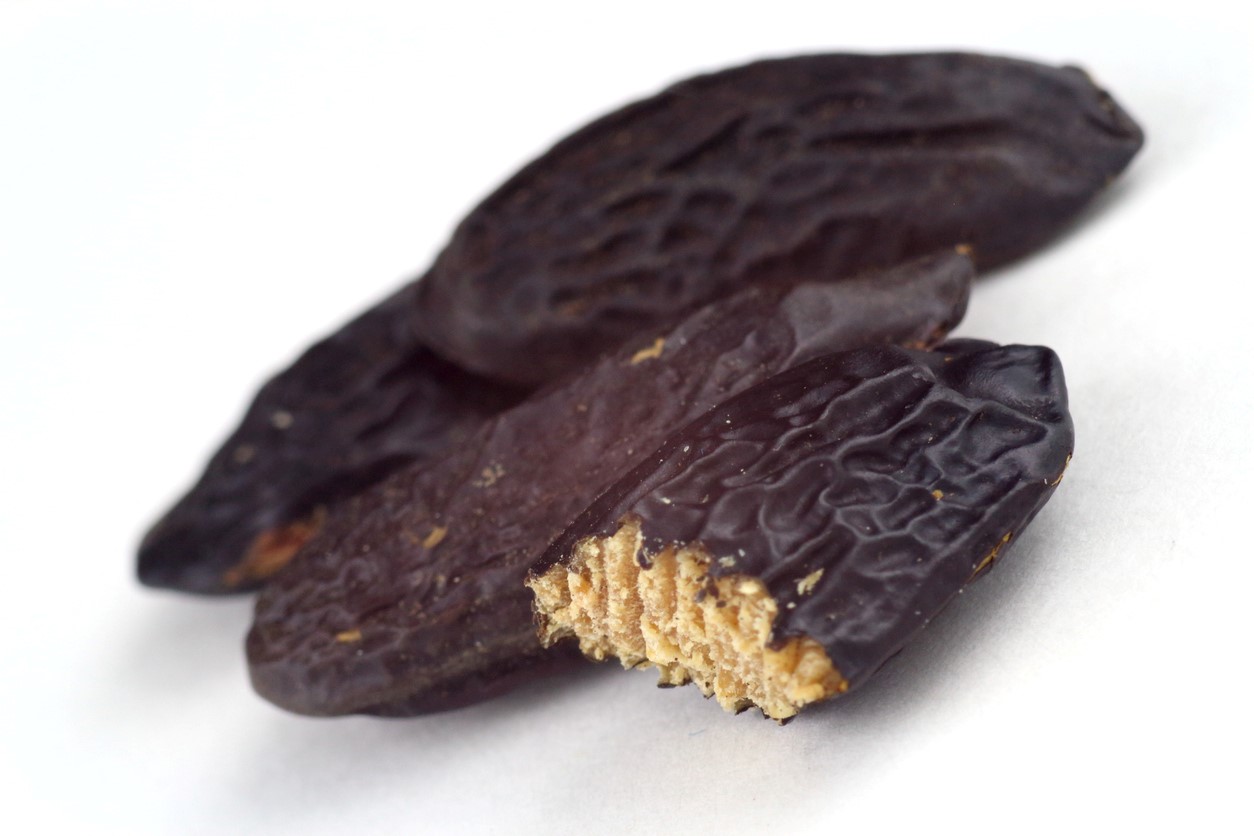 Tonka beans are hugely aromatic and flavorful, but also federally prohibited in the U.S. (iStock). 
What are we talking about, specifically? Well, as examples, Grace mentioned items like the tonka bean, which is actually banned from use in the U.S. due to some of its chemical ingredients, but has managed to pop up in a number of daring brands' LTOs. On the legal edge, but still lawful items include Carl's Jr.'s cheeseburger delights in Denver locations served with CBD sauce.
"Cannabis has a 47% five-year penetration growth," she reminded listeners.
Other "headscratchers" that are fully within the boundaries of the law, but still perplexing as food fads, include cheese tea (just what it says, tea with cream cheese in it) or the rare corn fungus known as huitlacoche or Mexican truffle, and even edible insects. The bottom line is that these oddities can be entertaining if not a bit scary.
"Why fads now?" she asked the audience. "Well, attention spans are narrowing, according to a recent study out of Denmark. … So, we'll see more 'wow factor' (ingredients) and uber-limited time LTOs that are expensive, laborious, hard to acquire and off the wall."
Finally, she said many brands are having great success under this food fad heading by combining seemingly surprising flavors and food qualities. For instance, the so-called "sweet lemon," with a flavor just like the name indicates, is an offering Technomic has recommended as being used in concoctions like those that blend the juice with some simple syrup for refreshing beverages that may or may not have booze.
Forces of nature
Another emerging trend is the inclusion of non-traditionally used parts of natural foods in edibles and potables, like the increasing use of beet greens, sweet potato leaves and avocado leaves and blossoms. Grace said these types of ingredients not only bring in something new and different, but are an outward consumer-facing sign that a brand is creatively working to cut the planet's production of food waste by using all parts of the plant or animal.
Also under this category is the increasing move away from the use of cow's milk, and into things like almond and oat milk. By way of example, she referred to Dunkin's oatmilk latte, as well as many other coffee-centered brands that have "branched out into using different types of milk."
"As these large coffee chains start to branch out into different types of milks, it will be interesting to see how (restaurant foodservice) suppliers change their offerings to meet that need," she said.
Eco-everything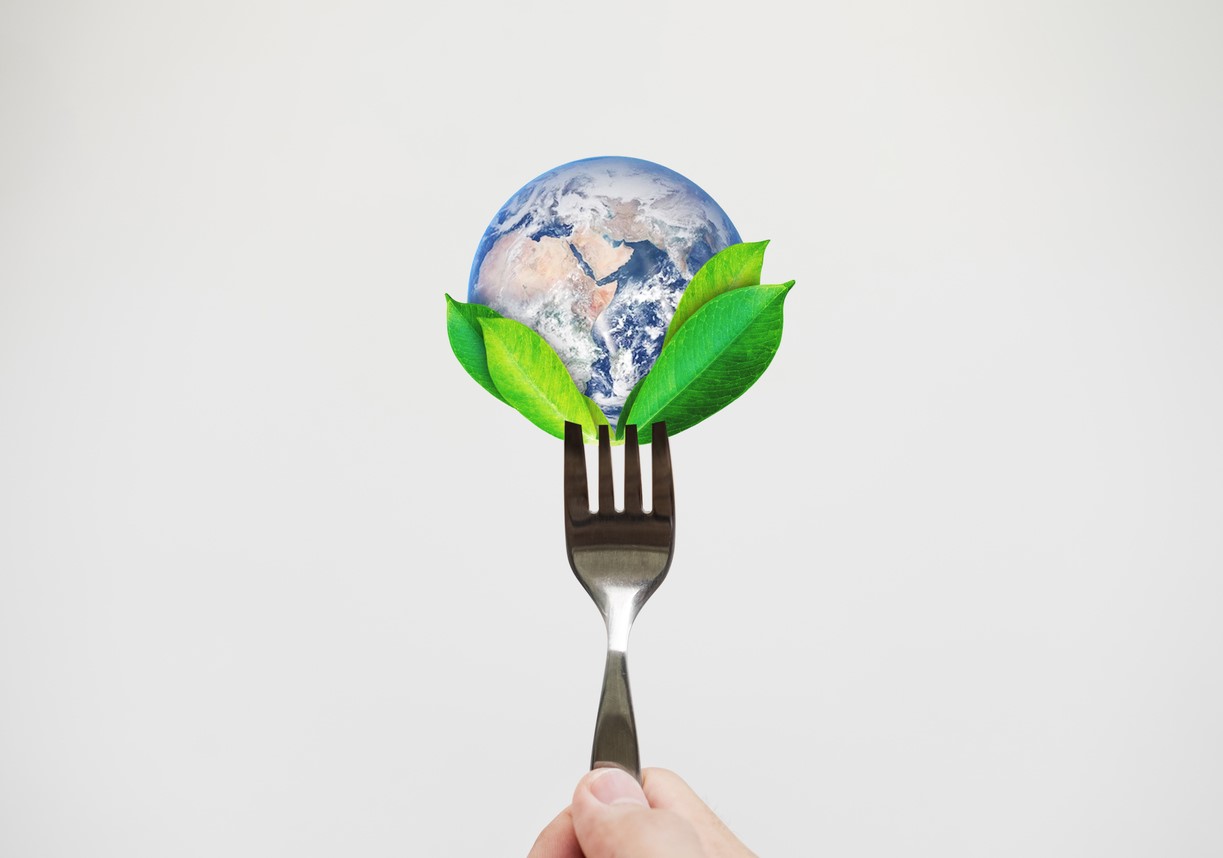 QSR customers today demand brands operate sustainably (iStock). 
To say the world (especially those adults in it under 45 that restaurant brands covet so much) is worried about the environment would be an understatement, as everywhere the planet's populace is pulling hard for a cleaner, greener more sustainable future for themselves and their offspring. And all those caring consumers also eat out and order in … a lot. As a result, they fully expect the QSRs they patronize to take the issue of waste reduction, resource management and overall sustainable operations very seriously.
That means these consumers want to see restaurant brands taking action, Grace said.
"It's not just about sustainable sourcing for menu items anymore," she told the audience, "Consumers want the total restaurant using sustainable sources. … This means moving from linear to circular thinking … and how they create, use, reuse, recycle and sustain, all at the same time. Operators are going to have to get a lot more creative."
As examples of how some brands are incorporating this mentality into their operations, she pointed to an increasing use of wood fiber bowls across brands, and the use of things like "strawless lids" at some Starbucks or that brand's sustainable cup program in the U.K., where Starbucks also has a $1 billion sustainability bond for companies to provide sustainable products to them.
"And Dunkin' announced it would eliminate foam cups in 9,000 locations this year," she said. "There are also a lot of grassroots programs at independents that have mug-share programs, as well as an increasing interest and insistence on traceable sourcing for paper products used in restaurant and sustainable packaging that still holds up to the demands of the brand. So do (packaging suppliers) have sustainable packaging that also works for takeout and keeps the integrity of the food."
She said many brands are meeting some of their responsibilities under this consumer sustainability imperative by looking into new and more sustainable ways to process and distribute leftovers. To assist in this task, many brands with buffets are using tools like BuffetGo that sells brands' donated "eat-able" leftover food online, then donates 100% of those proceeds to feed the hungry.
Not 'talking about my generation'
Finally, Grace said that many successful brands are moving away from targeting different generations (a.k.a. Gen Z, Gen X, boomers, etc.) and toward focusing on the

Brands need to direct attention to the stages of life their diners are in, rather than just their generation. (iStock)
stages of people's lives. She said this approach is being adopted simply because there are so many differences in each generation category, and most of those differences have to do with individuals' specific stages in life.
"There are no more monoliths, or really working just on attracting 'millennials,' because there are so many differences between older millennials and younger millennials. … Or retirement and boomers — well, some are retiring and some are not," she explained.
These variables within each generation mean wholesale generational marketing targets tend to miss or misinterpret lots of people's needs from restaurant brands, she said. Inherent in these understandings of consumers' needs and their life stages is the subject of dine-in versus off-premise sales. In fact, Technomic found that 78% of restaurant operators said off-premise sales are now a strategic priority.
"In 2019, we saw 30% growth in off-premise alone," she told the crowd.
As a result, as previously reported, longtime casual chains like P.F. Chang's have spun off to-go models, while so-called virtual or ghost kitchens are increasing in number as well. For instance, Arby's and Sonic parent, Inspire Brands, recently applied for a trademark for an off-premise program they want to call "Inspire Kitchen" and a ghost kitchen operation, called "Alliance Kitchen," according to U.S. trademark applications reviewed by this website. Inspire Brands told this website, however, the company is not yet ready to publicly discuss its plans for these units.
In short, there's one trend that remains from many year's past for restaurateurs — this is still a very uncertain business operating in even more uncertain times. In fact, Grace said Technomic sees this year as an erratic one (or perhaps we should say more erratic than usual) for restaurateurs.
"We're going to see a lot of bouncing coming in this year," she said.
Aside from it being a presidential election year in the U.S., Grace said many economists expect a recession to start this year or next. Similarly, the global and national effect of the coronavirus is largely still an unknown.
But if the the data gurus at Technomic had to say, they'd tell brands to soak in all of the aforementioned findings and possibly take action on these three recommendations, in particular:
Invest in fads and menu innovation as long as it makes sense for your brand. So if the use of bugs, like grasshoppers and beetles, on your menu is too radical, maybe your brand can consider trying a little of that deep blue and wildly popular butterfly pea flower extract in a beverage instead.
Pay attention to the needs of all generations at their different "life stages" when you plan your offerings, with special attention to how each stages change an individual's needs from favorite restaurant brands.
Act first and act fast to be a leader in your brand's space, but prepare for some types of environmental and/or economic upheaval because it's pretty much guaranteed.
Source: American QSR customers enter their 'blue mood' | QSRweb