Jeff Yang, who owns the music store Chicago Strings in downtown Evanston, is also a violinist with the Chicago Philharmonic and other ensembles. He also organizes concerts with his nonprofit organization, In the Realm of the Senses. (Photo by Callie Lipkin)
In the Realm of the Senses concert April 22 to benefit Ukrainian relief
Today he owns and operates the music store Chicago Strings at 1642 Orrington Ave. in downtown Evanston. He is also a violinist with the Chicago Philharmonic and other ensembles and organizes concerts with his nonprofit organization, In the Realm of the Senses.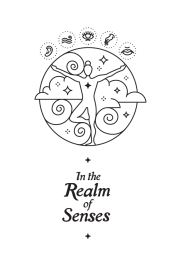 The organization's website describes it as "a sensory art project representing a symbiosis of artistic mediums that engage all of our five senses through music, visual arts, gastronomy, olfactory art, literature, theater and dance."
Of a multimedia performance in 2019 by In the Realm of the Senses of Mussorgsky's renowned piano suite Pictures at an Exhibition, Third Coast Review wrote, "The experience of beauty through the engagement of our sense of sound, sense, smell, sight and taste blended together in one cohesive performance piece was unparalleled."
Yang will reprise the Mussorgsky piece at 8 p.m. Friday, April 22, at Epiphany Center for the Arts at 201 S. Ashland Ave. Tickets are $50 and can be purchased in advance from the In the Realm of the Senses website. All proceeds go to Ukrainian relief charities. Doors open at 5 p.m. for Epiphany's "fabulous Golden Hour and food, cocktails and music before the show." More information is available here.
To render the many instrumental sounds of Pictures at an Exhibition as orchestrated by Maurice Ravel, Yang will perform on violin, viola, cello and four different Baroque recorders, and will be accompanied by Belarusian pianist Lyudmila Lakisova.
Unlike conventional music performances, Yang has invited a whole cast of artists to contribute their vision of the piece, including Galina Shevchenko providing visual projections; Christophe Laudamiel pairing "scent sculptures" to the music; and the works of visual artists LIviu Pasare, Farnaz Khosh-Sirat, John Gaudette, Maja Bosen, Azadeh Houssaini and Kioto Aoki.
"We will be creating new content for this performance," he said, noting that he has engaged the work of artists in film, stop motion photography, animation, perfumery and more.
He has performed the immersive multimedia version of Pictures at an Exhibition before, including at City Winery, Chopin Theatre, Ukrainian Institute of Modern Art, in a Chicago Philharmonic chamber music series and at PianoForte Chicago. Each performance is uniquely different "based on the work and the vision of the selected artists," he said.
Perhaps Yang's eclectic artistic vision reflects his eclectic background. His father fought in World War II as a colonel for the Chinese Nationalist Army under Chang Kai-shek and spent time in a Japanese prisoner of war camp. He moved his family to Taiwan as refugees from China, and when China threatened to invade Taiwan, relocated to Seattle. Yang points out that Taiwan's situation today is not unlike Ukraine's before the Russian invasion, because China has frequently threatened to repatriate the island.
In Taiwan his father set up an import-export business that afforded his family a comfortable life. Yang started violin lessons at the age of 4. His two sisters studied music too, though neither went on to a professional career. He holds three bachelor's degrees – in music, arts and industrial engineering – from University of Washington in Seattle, where he studied violin with the renowned music teacher and performer Steven Staryk.
Yang later studied with Gerardo Ribeiro at Northwestern and went on to DePaul University to study with Joseph Genualdi, who founded the Muir String Quartet, Chicago String Quartet and led the Chicago Chamber Musicians.
Since then he has performed in a wide variety of classical and contemporary music ensembles. For 10 years he was a member of the Corky Segal Chamber Blues as well as the band Mannheim Steamroller. In addition he has served as concertmaster for the New Millennium Orchestra in Chicago, Emerald City Orchestra in Seattle, Spoleto Festival in Italy and the National Repertory Orchestra in Colorado.
He has also appeared in numerous PBS Sound Stage performances with Jewel, Faith Hill, Lyle Lovett and others, as well as supporting artists such as Bruce Springsteen, Stevie Wonder and Bernadette Peters in concert.
"It's been a wonderful, varied and interesting career," Yang said. "Making music in all these different ensembles has been enormously satisfying, especially the unique collaborations that make up In the Realm of the Senses."
Source: Yang takes music on a different path – Evanston RoundTable