Edible Forest at Grace in Kolkata.
Galleries are collaborating with chefs to curate multi-sensory experiences inspired by the works of art on display
What is art if not a medium of expressing human emotion? The origins of this truism date back to 200 BCE-200 CE, when Bharata Muni identified and collated nine specific emotions in a treatise known as the Natyashastra, collectively christening them the navarasa (nine emotions).
These were adbhuta (wonder), bhayanaka (fear), beebhatsa (disgust), hasya (humour), karuna (compassion), raudra (rage), shringara (romantic love), veera (valour) and shanta (peace). Since time immemorial, performing artists have employed facial expressions and body language to display each emotion vividly. The visual arts too have relied on them. Now they are also visible in dining experiences.
This is evident at the India Art Fair 2023, where chef Bani Nanda, founder of the Delhi-based Miam Patisserie, will "perform" her craft to showcase the artistic and expressive quality of food at an event, Deconstructing Pleasure: A Food Performance, for the Young Collector's Programme, to be held at the DLF Chattarpur Farms on 11 February. "While artists present their work in the vicinity, one can see a chef responding to the beauty around them. The chef assumes the artist's role. Gently building the opulence of pleasure, this performance by Bani Nanda transforms a chef into a performer. The chef constructs the idea of the evening for everyone to experience, openly," states the Fair note. Nanda will focus on creating dishes that allow one to eat with their eyes, while also observing the textures and other components of food on display. For her, every aspect of the dish has to be satiating and add to the final taste, so that it becomes a work of art in its own right.
Similarly, a showcase held in November 2022 at Hotel Le Méridien in Delhi, Enduring Legacy—Navarasa In Contemporary Indigenous Practices, attempted a confluence of art, music, dance and food. Conceptualised by Ashwini Pai Bahadur, director and founder of Artspeaks India, a platform that promotes the arts, this exhibition of paintings and photographs by indigenous artists, curated by Lina Vincent, provided a beautiful backdrop to a nine-course vegetarian tasting menu designed by chef Davinder Kumar. In a Kathak recital, Pallavi Lohani performed nine dance pieces reflecting each emotion sequentially between courses.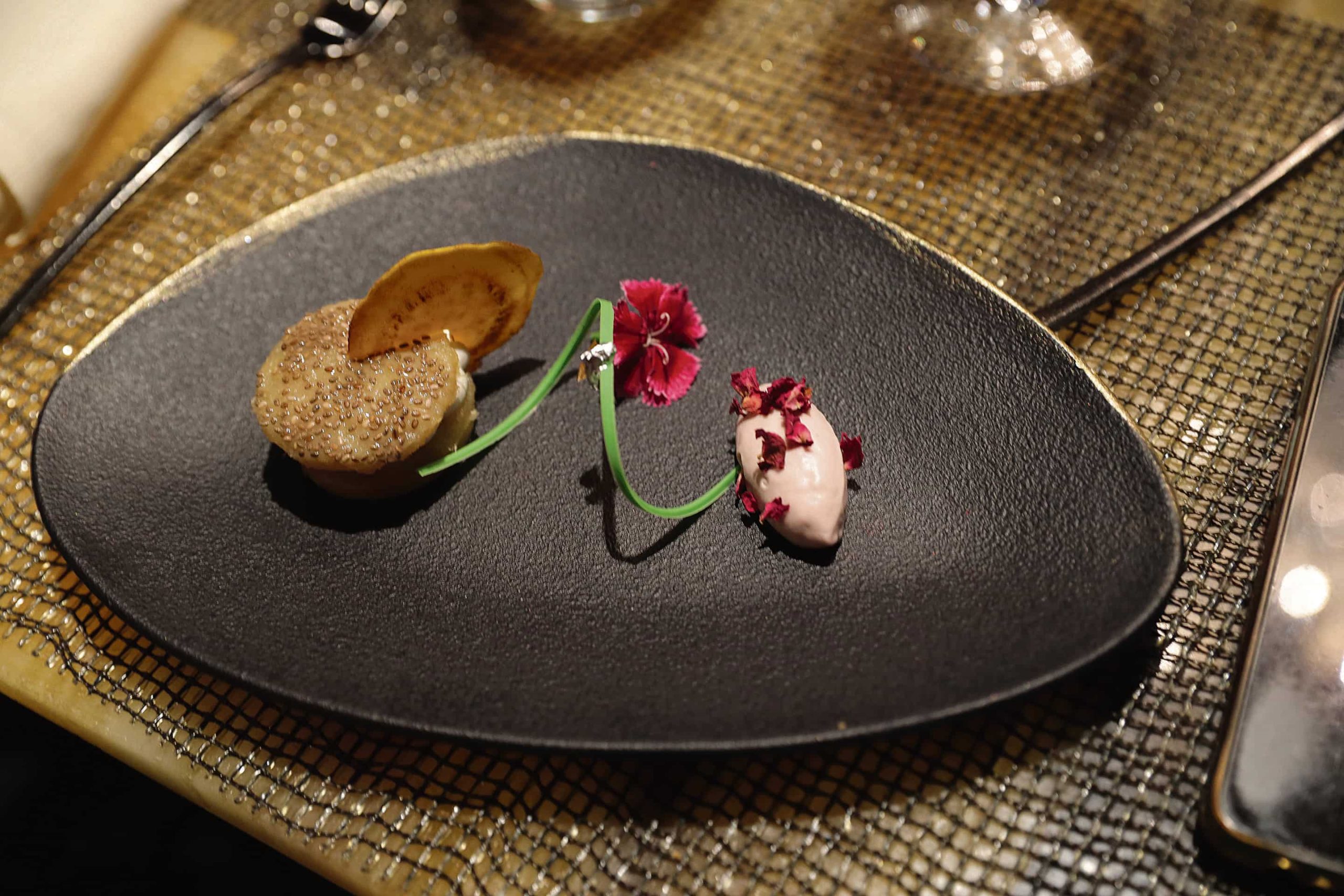 The 'shringar' course, with 'ananas halwa', coconut mascarpone and strawberry 'rabari', that was presented at Hotel Le Méridien.
The green vibrancy of a deconstructed Patta Chaat steeped in the sweet tartness of a fig and jaggery chutney provided a tangible allegory to the dance depicting "wonder" at the beauty of nature, as did artist Jonnalagadda Niranjan's Tree Of Life, made in the kalamkari style. To invoke fear, Lohani took inspiration from Kaavi artist Janardhan Havanje's Sharbheshwara (mythical demon) as guests tasted a spicy mixture of cumin-infused asparagus cappuccino. Peace, or the state of being without emotion, was explored through the form of Ardhanareeswara (half man-half woman), both on stage and on the canvas in Suresh Muthukulam's Kerala Mural, as the guests savoured an orange and berry compote, signifying a harmonious mix of ingredients. Chirag Kumawat's contemporary miniature painting, Gypsies Evening Dance, representing humour, played out through Lohani's Lord Krishna in dance and the rich and rare Guchhi Musallam accentuated with a whimsical lemon foam on the plate.