The Edinburgh-based musician and BBC Radio DJ teams up with Scotch Malt Whisky Society to combine the worlds of whisky and music
Smoky, zingy, sweet or peaty are just some of the words used to describe the varying flavours of whiskies. But in search of a way to make whisky tasting more entertaining, the Scotch Malt Whisky Society has honed in on an under-explored dimension of the nation's famous drink – how it is complemented, or even elevated, by the power of music.
Alcohol and music have long been considered a match made in heaven. In fact, it's hard to imagine a musical scenario – whether it be a live gig or a club night – without it. So when the SMWS tasked long-standing BBC Radio Scotland DJ Vic Galloway with creating a soundtrack to a selection of his favourite SMWS flavour profiles, he was more than up for the task.
'To me, the worlds of whisky and music going together felt absolutely natural,' Galloway said, comparing the likeness of complex whisky notes and flavours to the many sub-genres of music. 'I think that whisky aficionados may be a little surprised at some of my music choices, but I hope that they will go with me and try each genre when tasting that particular, associated dram. I haven't gone for obvious, traditional, folk music or 100% Scottish artists either.'
He recalled tasting the 12 different malts, ranging from 'Young & Spritely' to 'Heavily Peated', and drew from his musical instincts to pair the notes with a complementary genre, artist and song.
'As [the flavours] got more peated, to me they get more powerful and more potent. So I felt like I should go with slightly more potent music. So as they get more peated it goes into psychedelia, punk and rock, which obviously I love. But of course you can't have 12 drams in a night…' he explained.
The finished list of pairings includes 'Young & Spritely' matched to Dream Pop, 'Sweet & Spicy' to Indie Folk, 'Old & Dignified' to West Coast Jazz, and 'Light & Delicate' to Singer-Songwriters.
Vic Galloway's song selections are available to listen to in a Spotify playlist and may even act as a new entry point for non-whisky drinkers to embark on a sensory journey.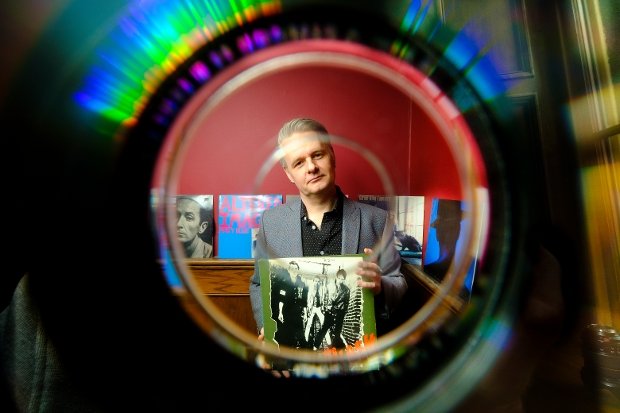 'I realise that whisky isn't for everyone…' he admitted, 'but listening to 'Southern Soul', 'Dream Pop', 'Roots Reggae' or 'Goth' might persuade certain people to delve into something they hadn't necessarily liked before. Maybe by having the soundtrack, the accompanying written captions, and the tasting notes… they might then immerse themselves in the world of whisky and have an epiphany.'
Although the experience of listening to Galloway's curated playlist and a selection of SMWS whiskies makes for a perfect night in, he's also looking forward to enjoying a dram in some of his favourite Scottish venues in the coming months.
'I live in Edinburgh, so always enjoy a trip to Sneaky Pete's and Leith Depot for smaller acts, and the legendary Leith Theatre for bigger events. For me the Barrowland Ballroom in Glasgow takes a lot of beating too.'
Naturally, there is also an appropriate SMWS dram that Galloway feels matches the vibe of three of his favourite Scottish venues. For the Glasgow Barrowland Ballroom it was the 'Peated' flavour (paired with 70's Punk). The Edinburgh Leith Theatre would be accompanied with a 'Deep, Rich & Dried Fruits' (paired with Southern Soul) and Aberdeen's Lemon Tree with the Oily & Coastal (paired with Electronica & Post Rock).
As the summer months approach, Galloway revealed he is already looking forward to Doune the Rabbit Hole taking place in August.
'I'd imagine watching Teenage Fanclub headline, with a whisky in hand, as the sun goes down might be an emotional moment for me… and many others,' Galloway said. 'It's been the toughest of all years, but whisky and music will see us right.'
As an active member of the SMWS, Galloway said 'if you've not already, I encourage you to become a member of this phenomenal organisation, which in my eyes really is the world's most entertaining whisky club. Slainte!'
The Society offers a range of membership packages, already enjoyed by more than 27,000 whisky enthusiasts globally, where offers on new whiskies are added every month.
More information is available on upcoming SMWS member events and Vic Galloway's full Whisky Rhythms.
Source: Vic Galloway uses music to elevate whisky tasting to new heights | The List