VINYL BLADE BY THE WEEKND X MSCHF
Canadian singer The Weeknd has collaborated with New York-based art collective MSCHF to create a playable vinyl saw blade promoting his latest single 'Out of Time'. Pressed into an actual, working saw blade, the cherry red record was produced in a run of 25 copies sold during a 24-hour blind auction in early April 2022.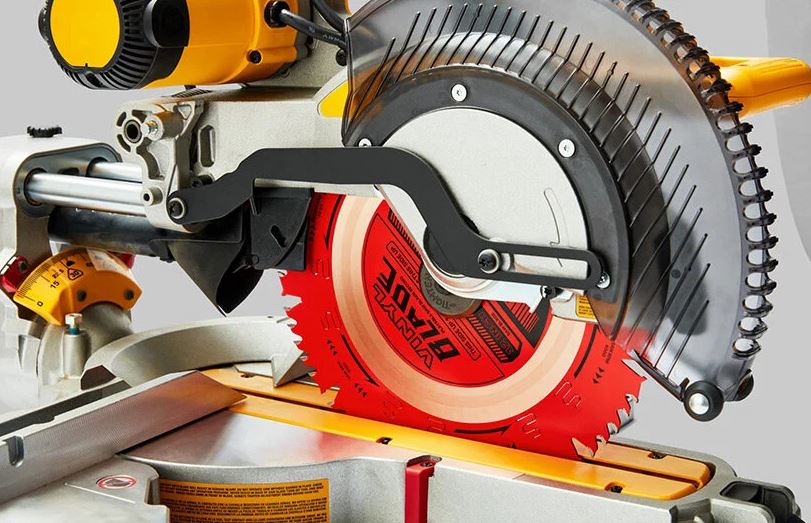 all images courtesy of Vinyl Blade
COMPATIBILITY WITH RECORD PLAYERS AND …SAWS
Vinyl Blade comes in a bright red color with black accents, featuring branding graphics by both the musician and the art collective, as well as other visual elements similar to an actual blade. Set on a saw plate, the piece includes an adaptor that is compatible with most turntable designs. However, users must note that it has very sharp edges, is a non-standard diameter, and is significantly heavier than the average vinyl. The creators also warn that some record players may not be able to handle the piece, since it is possible that its copper-clad steel groves will wear down the turntable's stylus. For these reasons, MSCHF suggests a playback speed of 33 RPM.
Although the promotional video shows the vinyl in use on a saw, the website mentions that the piece is not intended for use as a functional saw blade. 'Attempting to use Vinyl Blade on a saw could result in serious injury or death.' the packaging states, while the Weeknd simply warns, 'Do not operate while heartbroken.'
THE BLIND AUCTION
The Vinyl Blade was produced in a limited run of 25 copies, which were made available via blind auction with a minimum bid of $1,000. The auction was launched on April 7, 2022, and lasted for just 24 hours. After it closed, the top 25 highest bidders were able to get their hands on the limited vinyl, while non-selected entrants were refunded.
Source: the weeknd teams up with MSCHF to create limited vinyl pressed on actual saw blade