A "unique and immersive" retail experience awaits visitors to the new Puma NYC flagship store unveiled on Fifth Avenue.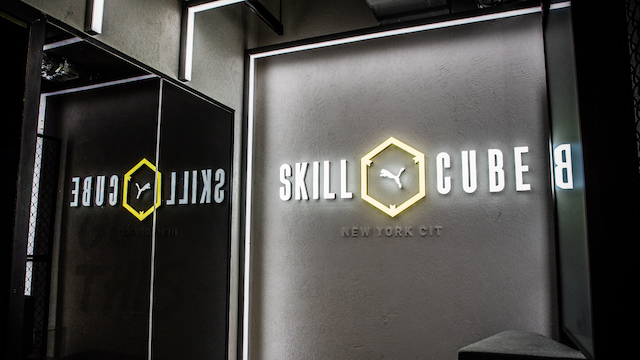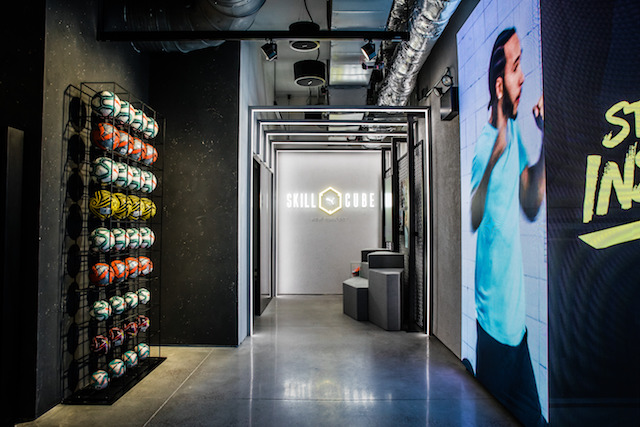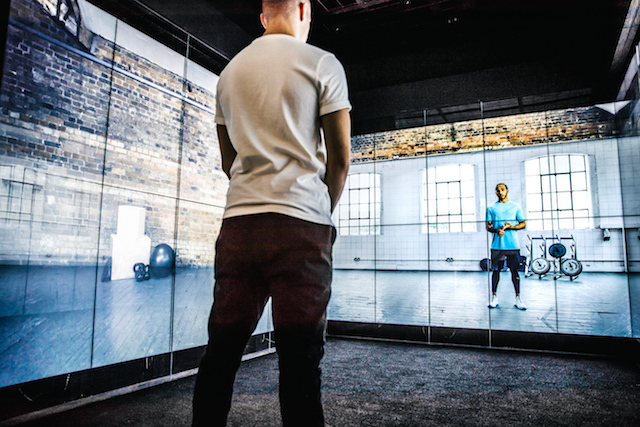 The athletic footwear and apparel brand has opened a two-story store which features an industry-first multi-sport, multi-sensory Skill Cube, designed and developed by human experience design studio Green Room.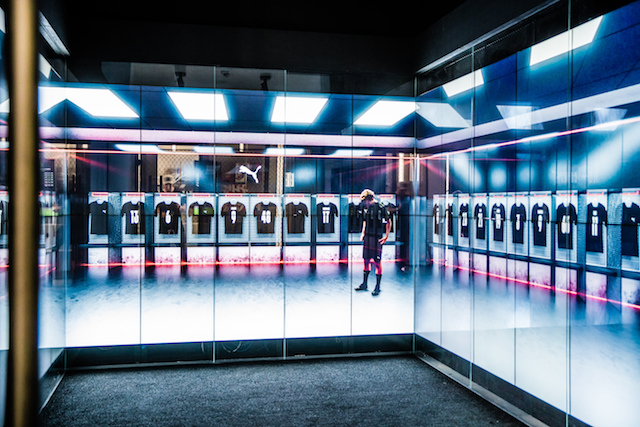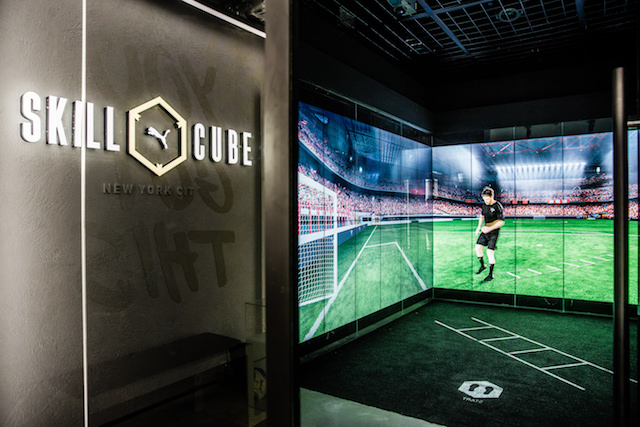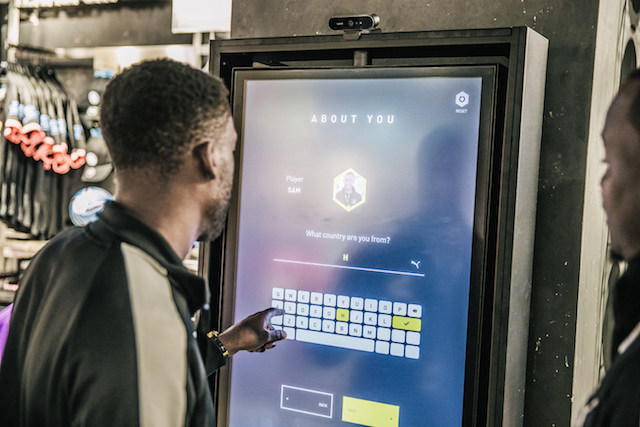 The creative platform integrates global Puma brand ambassadors into an immersive experience, positioning them as virtual training buddies – an approach established, through behavioural research, as key to better engaging the lifestyle traits of Puma's Gen Z target audience.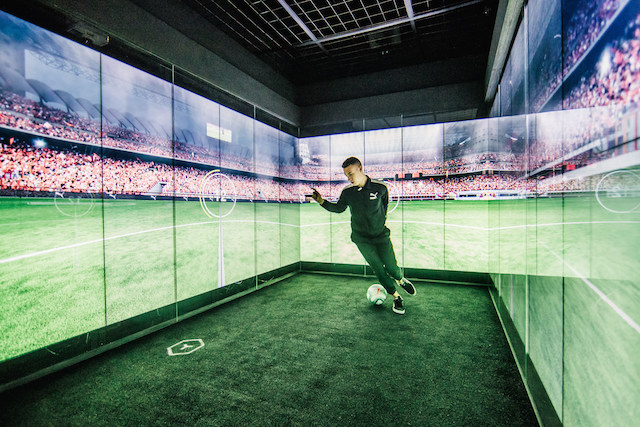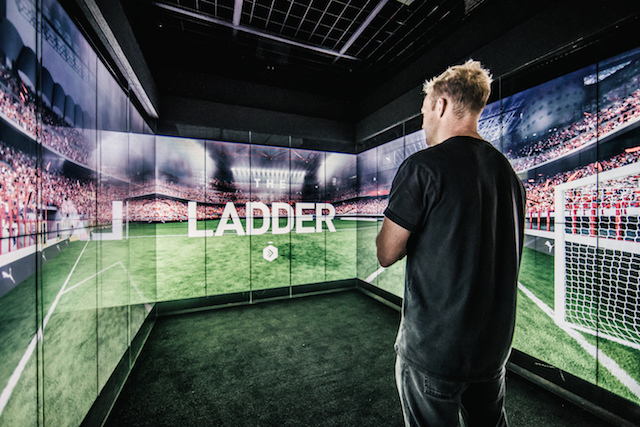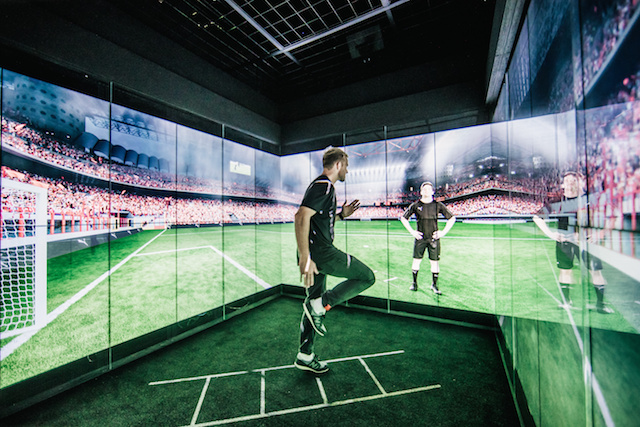 Respected for their training regimes and prowess, athletes Lewis Hamilton, Antoine Griezmann and Romelu Lukaku host coaching sessions that transport customers either to a virtual football stadium or a disused warehouse; an experience specifically designed to deliver the best authentic footwear trial whilst still in store.
"Facilitating unique and immersive experiences is central to our long-term commercial strategy and the Skill Cube New York delivers on this in every way," said Puma's global head of commercial marketing Jason Isenberg. "This is truly a one-of-a-kind experience, and we are confident that our shoppers in the Puma NYC flagship store will find it extremely engaging and compelling."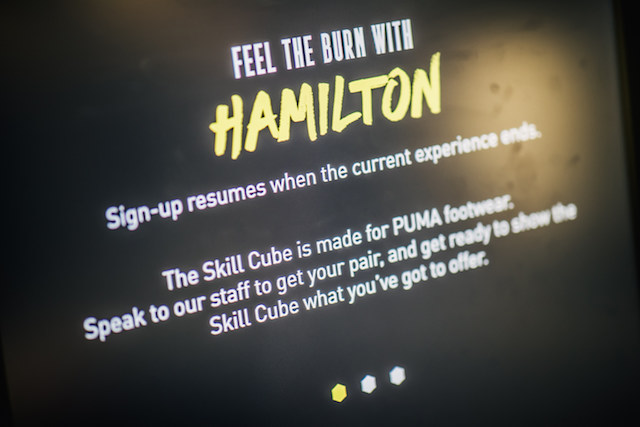 Once inside the Skill Cube, visitors are immersed in a multi-sensory environment incorporating 270° floor to ceiling LCD content screens, graphic projection, motion sensing devices, dynamic lighting and surround sound. The floor covering is a high-quality, multi-sport, synthetic turf, designed to bring the footwear benefits to the fore by simulating authentic trial conditions, further enhancing a life-like experience.
Converging analogue and digital worlds, the Teamsport experience kicks off in a virtual Puma locker room with footballers Griezmann or Lukaku; trialists are transported to a CGI replica of a capacity-filled San Siro Stadium. Reconstructed to a superior level of detail and adaptability – featuring an impressive 5 million individual blades of grass – the virtual environment offers full flexibility and control over 152 lights, independent movement of all 80,000 football fans in the crowd and updatable sponsorship boards, TV screens and pitch patterns.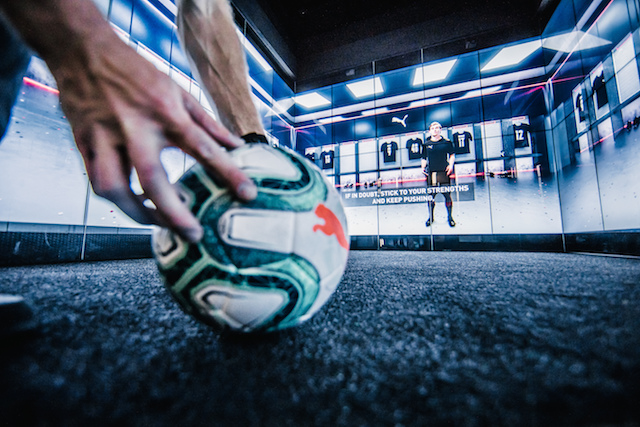 Visitors to the Puma NYC flagship's Skill Cube are scored on their performance and at the end of the experience, the stadium comes alive with confetti cannons, fireworks, and a cheering crowd. The training experience then transports participants into a warehouse to train with Lewis Hamilton, who takes them through three trials; ladder, jab and jump.
"Our approach was to encourage engagement and disrupt 'autopilot customer' browsing," said digital experience director Martyn Palmer. "By introducing a highly curated approach to the experience zone, we have succeeded in creating a harmonious customer journey that mixes physical and digital interactions to elevate a positive product experience."
Source: 'Sporting idol experience' unveiled inside Puma NYC flagship – Inside Retail Asia