Danny Weiss / Courtesy of Bombay Sapphire
So What Happened at the First-Ever Sensory
On October 19th, Bombay Sapphire took a giant leap to upend the art world by hosting the first-ever Sensory Auction, at New York's Lume Gallery, in which emotional responses to a one-of-a-kind sculpture by Dan Lam were the bids, not money.
The auction not only celebrated the iconic Bombay & Tonic cocktail on International Gin & Tonic Day, but it also made art more accessible by taking money out of the equation. Art lovers were given designated time slots to view Dan's sculpture and fitted with state-of-the-art "neuro-aesthetic technology" to measure their emotional and impassioned responses. We're talking electrodes placed on the scalp to measure brain wave, galvanic tech placed on the skin to measure sweat droplets, and eye trackers to measure focus and engagement with Dan's piece.
"(This) gives people access to work that they might not ever think about buying just because it's a certain price range," Dan told UPTOWN a few days before the auction. "The concept is really different in that it's about an emotional response versus how much money you have in the bank or whatever."
Dan, who is known for her drips, squishes, and blobs sculptures, said she saw overlaps in the way gin is distilled and a cocktail is built and how she layers polyurethane foam, acrylic paint, and resin to make beautiful, thought-provoking works of art. Her Bombay & Tonic-inspired sculpture captures the deep blue color of the iconic Bombay Sapphire bottle swirled with white to represent tonic water and completed with a myriad of spikes to express the complex ingredients used in distilling the gin.
"Bombay Sapphire has always encouraged modern gin drinkers, bartenders and artists alike to embrace their own creative self-expression – that is the very essence of our Stir Creativity platform and remains at the heart of everything we do as a brand. For us, creativity is essential so to visually showcase the beauty and simplicity of the classic Bombay & Tonic and ignite people's senses, it was natural for us to partner with Dan Lam on our mission to making the art world more accessible," says Jaime Keller, Brand Director Bombay Sapphire North America, in a release. "After the last year, we found that people were craving outlets and access for creativity more than ever before. We are excited to participate in the conversation to democratize the art world, with the event's focus on passion and conviction as the route to collecting an incredible piece of art instead of access to money."
Bombay unveiled Dan's sculpture at a preview on October 18th much to the delight of a selected group of press and influencers who were not participating in the auction the next day. The preview also afforded Bombay the opportunity to demonstrate the technology of the Sensory Auction. In addition, attendees sampled the exclusive Dan & Tonic, a cocktail that is inspired by Dan's creative process of layering materials, and The Muse.
Bombay Sapphire's Dan & Tonic Cocktail Recipe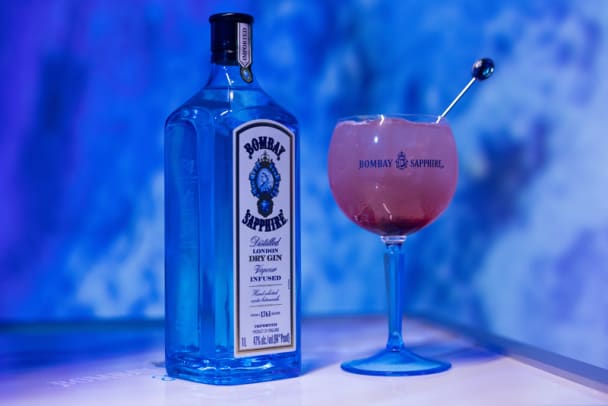 Cookbook author and foodie Chloe Tsakiris logged the highest emotional response to Dan's sculpture that seemingly oozes out of a wall.
Bombay Sapphire's Sensory Auction was the perfect "throupling" of art, technology, and cocktail science.
Source: So What Happened at the First-Ever Sensory Auction?!