Researchers from Monash University and RMIT have created a multi-sensory 'musical' ice cream cone called WeScream! in celebration of World Ice Cream Day.
WeScream! includes two interdependent 3D-printed ice-cream cones that play musical sounds generated via the act of eating ice cream together by two users.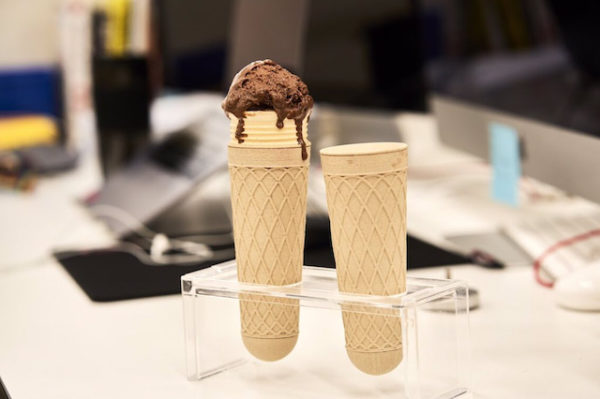 "Our research found that WeScream! facilitated an enjoyable experience for participants eating together, whilst also increasing their awareness and attention to the taste of the ice cream," said Florian 'Floyd' Mueller, director of the exertion games lab in Monash University's Faculty of Information Technology.
The name WeScream! was inspired by the popular 1927 song "I scream, you scream, we all scream for ice cream".
To understand users' experience better, during the study, 10 participants were invited to experience the innovation. Each of them held one cone to create musical sounds via licking or biting a regular off-the-shelf ice cream.
"WeScream! offers the characteristics of gameplay where participants can explore different musical sounds or create a steady flow of sounds through the act of eating ice cream," said Yan Wang, exertion games lab PhD candidate at Monash University.
"We believe our work will not only help game developers design playful experiences around food but also encourage food designers and chefs to incorporate interactive technology into their practices," she said.
Source: Researchers create 'multi-sensory musical ice cream' for World Ice Cream Day – Inside FMCG